The Footy Mumble: Racist players to be sacked? Guardiola for Milan?
1.71K //
07 Nov 2012, 18:48 IST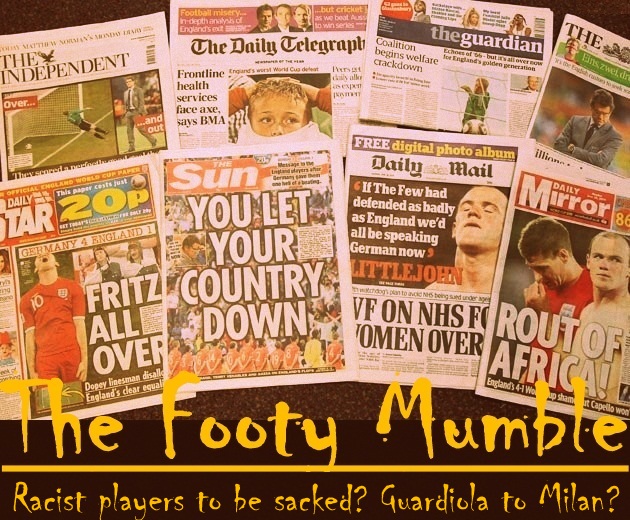 AC Milan reject Guardiola reports
AC Milan have rubbished reports of talks with Pep Guardiola's brother over the possibility of the ex-Barclona manager succeeding Massimilano Allegri.
Gazzetta dello Sport had claimed that Milan boss Adriano Galliani held talks with Pere Guardiola in a restaurant in Milan regarding a possible move.
However, the club's website has quickly denied the news, saying,
"AC Milan denies the occurrence of a presumed meeting between vice president Adriano Galliani with family or agents of Mr Guardiola, following news stories that have emerged from several outlets."
The story seems like the result of months of wishful thinking on the part of Milan fans who have seen their club struggle this season after selling their top stars in Zlatan Ibrahamovic and Thiago Silva.
Racist players to be sacked?
The Union of Black Lawyers, who were also the ones to file a racism complaint into the Clattenberg affair, have now demanded that players found guilty of racism be sacked!
And that's not their only demand, according to the BBC. Here's a few other major demands:
a minimum six to nine-month ban for racial abuse, rising to a five-year ban for a third offence
any fines going directly to Kick It Out to fund grassroots anti-racism initiatives
the creation of representative associations for black players, managers and coaches
guidance for referees to send off players using racist abuse and the power to call off games where the crowd is using such abuse
a 20% quota at all levels of the FA, PFA, clubs as well as football agents and referees
racial abuse to be a matter of gross misconduct incorporated into players' contracts
clubs to invest in the personal education of all players, including university or college education
recording referees and assistants during matches to pick up any possible abuse by players.
a system for reporting racial incidents to be set up with details of such incidents, both on and off the pitch, published each year
Video: Streaker messes up own team's goal attempt
Watch a video of how a Dynamo Kiev fan messed up his own team's goal attempt against Porto in the Champions League last night
Liverpool face illegal approach charge
Liverpool are all set for a hearing by the F.A over claims by Fulham that they approached Clint Dempsey illegally earlier in the summer.
Liverpool manager Brendan Rodgers admitted publicly that the club were interested in the striker. That move failed in the end, however, with a bid from Liverpool failing to materialise and the player moved to Tottenham instead.
Fulham did not back down however, and reported Liverpool to the F.A.
If found guilty, Liverpool could not only be fined by the F.A but also face the risk of a suspended point deduction.
Nani set for United exit, Ali Habsi for Liverpool?
Portuguese international Nani's stay at Manchester United could be coming to an end, if ESPN is to be believed.
Ferguson was reportedly unhappy with the winger over his performance against Chelsea in the Capital One Cup and the criticism is said to have angered the winger.
Ferguson is apparently looking at alternatives to Nani with James Rodriguez, Isco and Tom Ince all mentioned as possible targets. This all depends on the successful sale of Nani first.
Meanwhile, Wigan goalkeeper Ali Al Habsi has been linked with a switch to Liverpool.
Pep Reina has been in indifferent form the past couple of seasons and replacements have been mentioned ever since. And unsurprisingly, Habsi himself ruled out a move, claiming he is happy at Wigan.