The Footy Mumble: The Managerial Carousel!
2.63K //
03 Dec 2012, 19:59 IST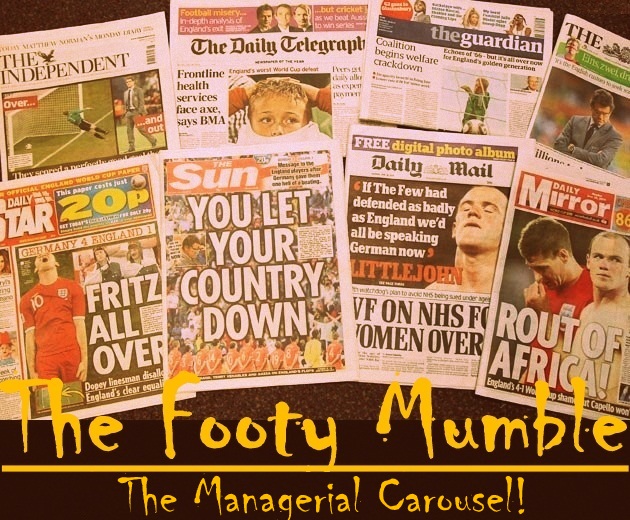 Today's Mumble seems to be a manager' special, and Chelsea, Real Madrid and Arsenal all involved. Yes, even Arsene Wenger's long tenure at Arsenal is allegedly coming to an end!
Jose Mourinho to leave Real Madrid?
Sensationalist Madrid paper Marca are making news again, now claiming that Jose Mourinho's relationship with Real Madrid president Florentino Perez has broken down irretrievably, and he will leave the club come the end of the season.
Adding to this, the paper claims that Mourinho will not stay at Real beyond the end of the season even if he manages to win the Champions League this season.
And even more unsurprisingly, rumor-mongers have promptly linked the Portuguese to Paris Saint-Germain, who, some rumors claim, have offered Mourinho a blank cheque!
Avram Grant back at Chelsea?
Rafa Benitez has barely begun at Chelsea, but two goalless draws and a 3-1 loss to West Brom has not helped his cause. A website, hasrafabenitezbeensackedyet.com has already gone online, and now, Avram Grant has been linked with a Chelsea return.
No, not as Benitez's replacement, but as an 'advisor' to the current Chelsea manager.
The Daily Mail has even claimed that 'the Russian fears he has made a mistake bringing in Rafa Benitez and sees the re-appointment of Grant as an advisor to the Spaniard as a possible solution.'
The Mail even claims that Abramovich 'is not opposed to firing Benitez if he believes it is the only course of action to save the season.'
We at the Mumble won't rule out the possibility of Benitez breaking the record for shortest tenure as manager just yet, which is currently held by Paul Hart, who was sacked after just 28 days at QPR in 2009/10.
In yet more managerial news, Arsene Wenger has been linked with a move to Paris Saint-Germain, who reports claim, are tired of director Leonardo and manager Carlo Ancelotti.
The news comes just a day after Wenger told the press that he would review his future at the end of the season. And considering it's a line oft-repeated by Wenger in his 16-year tenure at Arsenal, we wouldn't believe it just yet!
Lewandowski to United, Lampard to Arsenal
And finally some player news in today's transfer updates, and Robert Lewandowski, yet again, has been linked with a move to Manchester United.
Some reports claim that a deal between Borussia Dortmund and United has already been signed, with the Polish striker moving to United in a deal worth €15 million deal on July 1st, 2013. The low price is reportedly due to the striker's contract with the German champions ending in 2014.
With United's mouthwatering line-up already featuring some of the world's best forwards in Javier Hernandez, Danny Welbeck, Wayne Rooney and Robin van Persie, it is still some point away from being believed. Although, we must admit, the addition of Lewandowski would be simply staggering to say the least!
Meanwhile, if you thought that Arsenal only sold players to rivals, you will be surprised to hear them try buying from their rivals as well! And its none other than Chelsea's Frank Lampard who has been linked with a move across London.
With Chelsea offering one-year contracts to players above 30, both Lampard and Ashley Cole have been linked with exits. And now the Mirror claims that Wenger may be tempted to put in a cash offer for the midfielder in January, before he becomes a free agent in June.
Video of the Day: Mother confronts son's opponent for tackle!
Mother confronts player who injured her son! Brilliant video you should not miss!