The future of England looks brighter than ever!
1.49K //
06 Mar 2013, 00:25 IST
This article is opinion-based, and differences of opinion may prevail.
There is a certain cliche about being an English player. It's often said that no matter how promising you might be, you'll never succeed abroad or in internationals, and will eventually succumb to pressure. Michael Owen, who was once one of the most feared strikers in all of Europe, withered away after his not-so-successful time with Real Madrid.
Steve McManaman, one among a very small group of successful 'English' wingers at his time with Liverpool, accepted a chance to switch fortresses, moving from Anfield to the Santiago Bernabéu in the 1999-00 season. His first season was a good one, but sadly after his four-year spell with the club, we have to admit that his first season was his best at the club. He returned to England in 2003, only to be signed by Manchester City.
Paul 'Gazza' Gascoigne, one of the most celebrated players in English footballing history, probably one of the best midfielders that England has ever seen, was tearing apart the German defense in the 1990 WC semi-finals. However, his career would soon take a drastic U-turn. Gazza's heavy touch prompted him to reach out for the ball, but in the process, he ended up fouling the incoming defender. Antics from Thomas Berthold and a lot of card-waving from the bench provoked the referee to produce a yellow card, which meant that Gazza would miss the finals if England were to win. Excessive weeping forced Gazza to take up alcoholism, and that's how England once again brandished Gazza as "What could have been…".
Beckham and Rooney both earned red cards in important international matches, which led to a German reporter proclaiming, "If you want to become famous, just pray to the almighty that he doesn't hand you over to an English family."
The English midfield has seen a plethora of stars take up the coveted position of the 'CM'. Recent ones include Lampard and Gerrard, but none have managed to make an impact as a central midfielder. The England football team, as a whole, seems to be a force to be reckoned with. Big names such as Hart, Lampard, Cole, Gerrard, Rooney, and Young have all taken to the field with a lot of expectations heaped on their shoulders, as England fans, pretty much like Liverpool fans, keep falling prey to the notion, "This is our year."
As they say, the past is to be forgotten, the present is to be assessed, and the future is to be acted upon.
The present gives us a simple, yet important moral to the story. No matter how star-studded the team is, success is not always guaranteed.
Let's have a look at the ones that could make an impact in the English national teams a few years from now.
I've selected a team of 5 players. Who'd be in your best 5? Let me know in the comments section.
1) Goalkeeper – Jack Butland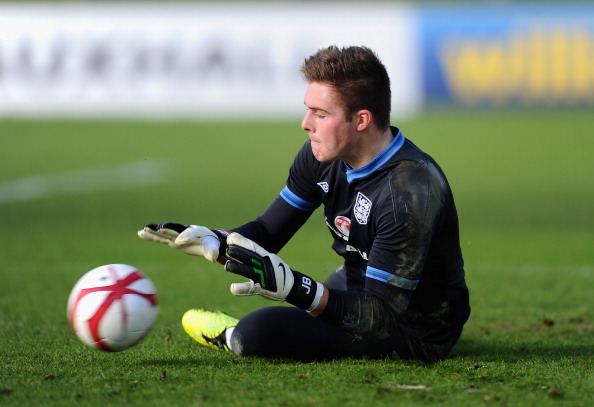 The English goalkeeping department is one that's always been in peril. Great keepers over the years have failed to perform on the international stage. David James, Paul Robinson, Robert Green, et all have all failed to earn the managers' trust in holding on to the coveted number 1 jersey. Joe Hart seems to be an exception though. The Shrewsbury lad made an immediate impact during his loan spells with Birmingham and Blackpool, urging Manchester City to sign him permanently as a long-term prospect for the club.
It's been a stellar ride for the Manchester City shot-stopper, as he hasn't put a foot wrong for the England national team and has sealed his place as the number 1 for the England squad.
But this, like every dog-fight, isn't devoid of competition. And that's precisely what Jack Butland provides. Joe knows that a single slip could prove costly, and could be a possible stepping stone for his envisioned successor.
Aged just 19, Jack Butland took to the field against Italy at a packed stadium in Berne, setting a record as the youngest English goalkeeper to represent the country! He showed glimpses of brilliance as he halted the Italian attack from sneaking the ball into the vulnerable English net. He was substituted at half-time, but had already established himself on the big stage as the 'next big thing' for English football.
Being called up for the Great Britain squad, and coming up with some great performances, especially the half-time cameo appearance against Brazil in the pre-tournament friendly, showed his true worth. As quoted by the Telegraph,
"Only three late saves from Jack Butland prevented the scoreline from being more emphatic."
He's like a rough diamond, and if moulded and worked on properly, it would be safe to say that England have a real gem in their grasp!
Honourable mentions: Ben Amos, Fraser Forster.
DEFENCE – Phil Jones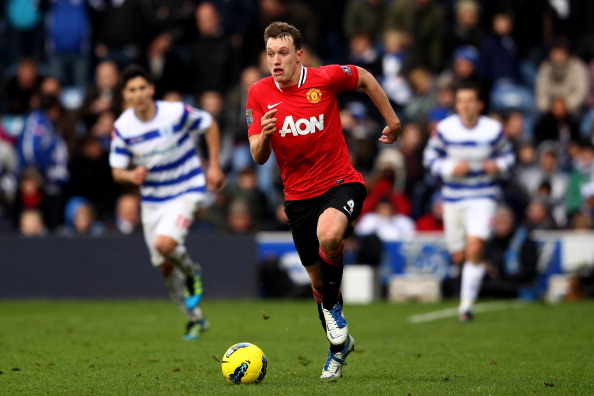 A true, gritty Englishman – that is the image that Phil projects.
Hard work, determination, focus and versatility are some of the traits of Jones that prompted Manchester United to snap him up from Blackburn. Jones had 'championship material' written all over him. His talent is not something that can be questioned, he's performed and earned some well-worded reviews in both his spells with Blackburn Rovers, and currently at Manchester United.
Being a young international player for your country tends to put a lot of pressure on the shoulders of most players, but that doesn't seem to deter Phil Jones. His approach to football is similar to that of his Manchester United senior and his mentor, Paul Scholes.
Another of his pros is his versatility. Having begun his career as a forward for his school team, Jones can generally stride forward and contribute to the attack like a traditional sweeper, his maze-like runs catching the opposition defence by surprise and very often leading to success. He can actively play as a RB, CB, CM, CDM and can also play as a LB, as he did for Blackburn Rovers in his breakthrough season.
So far, he hasn't set a foot wrong in either his domestic or international career, and his performances come as a relief to the England coaching staff, as they can now finally get young shoes to fill the void left by John Terry and Rio Ferdinand. Jagielka and Lescott have been beyond unconvincing at the back, and a change is necessary. With Phil Jones, along with his contemporaries Caulker, Smalling and Cahill, the England defence looks towards a strong future at the back.
Honourable mentions: Ryan Shawcross, Ryan Bertrand, Martin Kelly.
MIDFIELD – Jack Wilshere and Tom Cleverley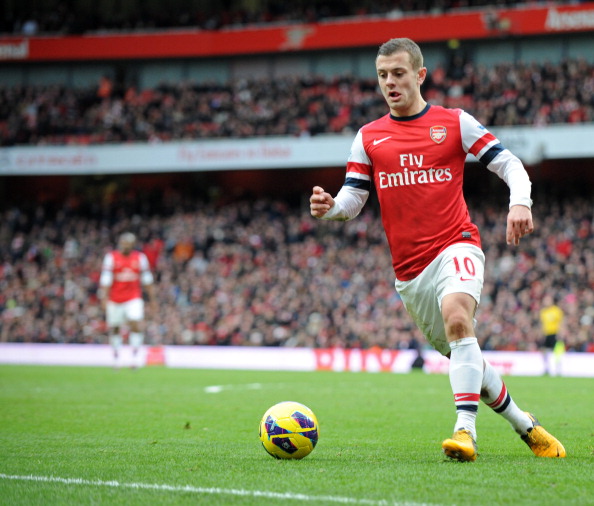 When Jack Wilshere first made his debut in the Premier League, as an 84th minute substitution for Robin van Persie, while aged just 16 years and 329 days, he had set a club record as the youngest player to have played for Arsenal in the Barclays Premier League. Little did Arsenal fans know that he'd hold volumes of importance for the future of the club!
Wilshere stands young, yet resilient. Perhaps his performance on that starry night against Barcelona, where he tamed the maestros of world football – Iniesta and Xavi – is still rooted in the minds and hearts of Arsenal fans. In a recent interview, Wayne Rooney called Wilshere the 'Paul Gascoigne' of the current English team.
What has earned him his plaudits?
Injuries have plagued his early years, but they haven't deterred him from displaying world-class performances for both club and country. He is known for his silky touches, accurate passing and vision to kill.
He's proven that he's up for the challenge after a man-of-the-match performance in the midweek friendly against Brazil. In a match with star-studded attraction in the form of Neymar, Ronaldinho, Rooney, Gerrard and Ramires, a certain young bloke from Stevenage stole the show and took much of the sheen away from Ronaldinho's much-anticipated return.
Wenger has dubbed him as a midfielder capable of playing for any team in the world. He said that he had a "Spanish technique, but an English heart". He's certainly proven his versatility by shifting to being a winger, a holding midfielder and of course, his position of a number 10, behind the striker. He's often praised for his leadership skills, and his ability to take a knock and still stay on his feet, which is impressive given his tiny size frame. What Wenger praised in particular about this talented midfielder is his commitment to the club, as he clearly loves Arsenal and is the architect of what seems a bright future for England.
However, his main minus point remains his temperament. If he keeps that under control, he's a force to reckon with.
Over the years, the Manchester United academy is known to have produced some of the bright talents in England, and Thomas William Cleverley stands out as one of the best.
The bloke from Bassingstoke has indeed stamped his authority on the Manchester United midfield and has delivered when it matters. Sharing the midfield with evergreen names like Ryan Giggs and Paul Scholes is a learning process for any midfielder, and Tom Cleverley has benefited from this. A regular on the team-sheet, and blessed with Iniesta-esque movement, he elicited this comment from Pep Guardiola after playing against Barcelona in a pre-season friendly: "He's like butter, he'll slip away from you, it was very tough to take the ball from Tom".
Tom has had to be very patient with his in-statement into the first team. Having successful loan spells at Watford, Leicester City and Wigan Athletic, he has very much justified that he's the orchestrator; the player at the spine of any team he plays in.
Who can ever forget his everlasting contribution in United's successful comeback from 2-0 down to winning 3-2 in last year's Community Shield?
His sheet-anchor role for team Great Britain in the London Olympics all but sent a clear message to Roy Hodgson that he has the future of English midfield in Cleverley and Wilshere.
This season has been no exception; Cleverley has been instrumental as ever, and is a gem that United would hope to keep shining for ever.  Tom Cleverley is to United, what Wilshere is to Arsenal.
Always available for the ball, it came of no surprise when Barcelona stated that they had sent scouts to England to scout Cleverley and Wilshere.
This season, Cleverley's increasing partnership with Michael Carrick has proved lethal, and when the two of them pull the strings together? They spell danger for the opposition.
Cleverley's tactical game is what he's best known for, and his movement off the ball has justified his comparisons with Iniesta. Having influence in the game-play even when the ball is not at your feet? That's world-class alright.
Moreover, he's calm and doesn't rush through his tackles. Composed on the ball, and playing the ball out of trouble as if it wasn't even there. Another great prospect for the English football team!
Honourable mentions: Jordan Henderson, Jonjo Shelvey.
Attack – Connor Wickham
England have had some gifted forwards in the past, like Wayne Rooney, Alan Shearer, Michael Owen and Robbie Fowler. But again, this unit has failed to click or generate a fruitful partnership with the English midfield. The future looks bright, and here's a look at a talent that could ensure the same.
Standing at 6'3″, Connor Wickham is sure to intimidate the strongest of defenders when it comes to set pieces. Born in Hereford, England, he's been dubbed as the next 'Peter Crouch'.
Peter Crouch, as an English national team player, has proved that being a tall striker is not so bad, as 22 goals is a good tally on the international scene. Connor Wickham justified it with some great performances for Ipswich Town, from where he moved to Sunderland to experience the rough nature of the Premier League.
A regular in the U-21s, Connor is a self-made footballer. Having come up the ranks at the extremely talented youth club of Reading, Connor turned a few eyebrows with his catchy and consistent performances in the U-19 and U-21 leagues.
Roy Keane, who is not known as much for his coaching as he's known for his footballing skills, is given the credit for bringing Connor to Ipswich Town. In fact, he has blatantly said that Connor Wickham was too good to be 'English'.
Some of Connor's skills include dipping volleys, using his physicality to wrestle with defenders before calmly tapping in home, outrageous heading (yes, outrageous; watch some of his goals online and you'll know what I mean).
Connor had the option of choosing Liverpool or Tottenham over Sunderland. He could have worked under Kenny Dalglish, Harry Redknapp (in 2011) and Steve Bruce. His decision to choose Sunderland over the rest was baffling, as Steve Bruce, like Roy Keane, couldn't shine much for Sunderland either. But Steve always liked to have a physical presence upfront who could either knock the ball down for an easy tap in, or head the ball in from set pieces, which had Connor's name written all over it. It was a denial from Connor Wickham that prompted Liverpool to pursue Andy Carroll, and the rest as they say, is history.
Currently on loan to Sheffield Wednesday, Connor is still in his learning years. He has already been termed as a prodigy, but it's his development from a prodigy to a revelation that matters for England. He's had his fair share of injuries that plagued his progress, but let's just hope he turns out to be a 'Shearer' rather than a 'Davies' (no disrespect to Bolton fans though).
Honourable mentions: Danny Welbeck, Wilfred Zaha, Tom Ince, Benik Afobe.