The Grand North London Derby: Stoking the fire
743 //
02 Mar 2013, 10:10 IST
It's coming and we are all over north London again. It's red if you haven't realized it yet and that's been the color for a while now. 5-2 away and then 5-2 at home, let's be cocky about it. We thrashed our noisy neighbors at their tiny stadium and then in front of our home lads too. Let's get a third one now.
Form Guide:
Tottenham: They're above us in the league. Four points ahead of us, in third place. If Arsene gets a trophy for finishing in the top four, then the Spurs liken it to winning the Champions League. They've been outstanding really, with misfiring forwards, a shambolic defense and yet they are up there with the Manchester clubs. Bale's upto his best run in the league ever and that's enough to win them games. Pin down the Welshman and you can have AVB squatting on the touch-line at the Lane. No Sandro, no Kaboul either. And Adebayor will be too busy celebrating his delusional goals after scoring, that is if he does.
Arsenal: Out of the FA Cup after Blackburn managed to bamboozle them in front of their home fans and then troll them after having a former Arsenal youngster score the winner. Kazim-Richards, 'ere you go.
We're virtually out of the Champions League, after that thrashing from Bayern. But they're past the group stages and the cash reserves are brimming. No hardness there.
Arsenal are fully capable of taking the fight to the Spurs, considering their recent late-winning antics and their better form over the last 5 games. 13 points out of 15, best in the league, only equaled by Manchester United over the same time. But then again, things could go awry and Wenger could slip into that long tube coat of his and slither away to safety. A massive win and he'd be gloating over it for the next few weeks.
Manager Guide:
Andre Villa-Boas: After Chelsea were done with him, he took over Daniel Levy's tiny club. Considering it is a mid-table club, any tiny success for Spurs will be considered an equivalent of defeating France in a World Cup final, though England are miles away from a final in any case, and so are France.
But overall, he's a nice chap, with a good dressing sense and he's not trash talking at the moment. At least, he's tactically astute, unlike 'Arry.
Arsene Wenger: He's the best after Sir Alex Ferguson in the entire country, at the moment. Give him his own area in the stadium now and stop expecting me to write about him. Maybe he's a tad bit barmy, but it's okay.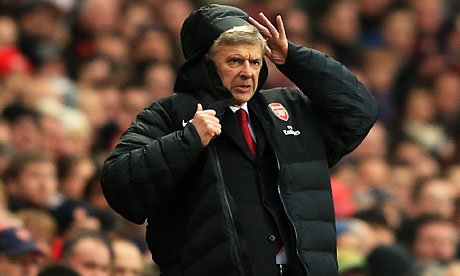 Winning Factor:
Tottenham: Cut out Arsenal's passing before they bore them to death.
Not play Adebayor? Or not let him score a goal?
Shunt Cazorla from all sides. Cut off the supply to Podolski or Walcott and let Giroud run around on his own. Or pray that Diaby or Ramsey start ahead of Arteta in midfield.
Arsenal: Hope that Jenkinson will manage to keep Bale busy, while also expecting Koscielny to not go all kung-fu panda on Adebayor. Keep Gylfii Sigurdsson in check, another massive threat. And keep testing Lloris until the France captain caves in.
Hugo Lloris is one player on the Tottenham you cannot want to hate.
Keep things simple and maintain a balance between defense and attack, not allowing Tottenham to score on the counter.
Players to abuse:
Tottenham: Adebayor, because… Well he is Adebayor. Expect the Togolese-elephant chant.
Scotty Parker, for he's a fancy diver all over the place.
Arsenal: They'll go for the gut. Arsene it will be.
Key clashes:
Arteta's solid hair setup versus Scott Parker's vintage do.
Corporal Carl Jenkinson versus Gareth Bale.
Cazorla versus the Tottenham back-line.
Abou Diaby versus vacuum.
Moment to watch out for:
Both the manager's doing the Harlem shake, in the last twenty minutes or so.
Probable scoreline:
Tottenham score 'x' goals, Arsenal score 'x+1?.
The universe wants it that way.
Safest bet, I'd call it a draw.
Possible line-up's:
Tottenham 
(4-4-2)
Lloris; Walker, Dawson, Gallas, Naughton; Lennon, Dembele, Parker, Bale; Defoe, Adebayor.
Absconding: Huddlestone, Kaboul, Sandro (all knee), Dempsey (calf).
Arsenal 
(4-2-3-1)
Szczesny; Jenkinson, Mertesacker, Vermaelen, Monreal; Arteta, Ramsey; Walcott, Wilshere, Cazorla; Giroud.
Will be missed: Gibbs (thigh), Sagna (knee).
Test: Diaby (calf), just keep him away. Yaay!