The heroics or the rules? Why FIFA should reconsider bookings for a goal celebration
3.44K //
08 Mar 2015, 14:53 IST
'The important thing about football, the most important thing about football – is that it is not just about football'
Professional sports is an adventure ride and just like every other adventurous outing, comes with its own set of uncertainties. It's not just the hard work but an equal amount of heart that sportsmen put into their game and everything surrounding it. Success is hard to come by, but when it does, speaks volumes of the daily hours put in to attain it.
Every sport has its own framework of rules to bind it into a healthy competition and it is how you follow them, makes you the sport you really are. If we take a look at a lush green football pitch, almost an automatic parallel image of the fierce competition within it comes to mind.
The career of a professional footballer is bound by the lines on the field and the ones within the rulebook maintained by the FA and the Referee's association. Again going back to the hard work put in and all that's at stake, a goal is something that can make a player stare into the eye of that hard work and be proud of it. Looking at the uncertain side of it, no one ever knows how long it will last.
So living every moment is worth that effort. The essence of this discussion can be summed up by a quote I came across where someone truly said 'I obviously take a lot of pride in what I do on the football field, because it has the ability to influence a lot of people. That puts smiles on people's faces.
The debate on FIFA's law 12
A player who removes his jersey after scoring a goal will be cautioned for unsporting behaviour," FIFA's Law 12 stated when it came into effect in 2004. "Removing one's shirt after scoring is unnecessary and players should avoid such excessive displays of joy."
Now, while we were discussing the euphoria involved after scoring a goal and mentioning again, the stakes that are involved with it, it is of no wonder that players go to great lengths of innovation (sometimes bizarre) after netting a goal. FIFA's justification for the yellow card involves cultural violations as a match is broadcasted in several countries spanning continents and culture. People of different cultures and hence, varied religious persuasions might feel offended looking at the bare bodies of sportsmen. The debate on the other side has a lot of potential too.
Over the years, especially in crunch ties, we have seen eminent footballers showing off their bodies or a message in their shirt underneath. With FIFA's Law 12, it does not distinguish what sort of a message is being displayed. Only the shirt covering the face or removed from the body is enough to merit a booking. So does it really matter who (and from what cultural background) is watching the game?
A full sleeved tight underneath with no message is certainly not offensive to any culture, is it? If it is, no one has ever made a rallying cry about it. The entire football fraternity has been witness to the 'Jesus Loves you' message displayed by Kaka numerous times after scoring. I cant recall Kaka removing his shirt to display that, but since people from different religions are watching, they might feel offended at the open display of Christianity, so why not book a player for displaying just any message?
The question now points to the law coined by football's supreme authority. Isn't it time for a proper definition of it, more so to avoid it looking vague at certain instances?
Business-minded FIFA and controversial bookings
A certain section of people have come up with an entirely different explanation of FIFA's controversial Law 12. Allegedly, FIFA do not want the sponsors to lose that moment of glory when a player removes his shirt and the name of the company in that glorifying moment is unseen. Advertising campaigns take a toss according to them due to moments like that.
FIFA's claim to applying the same rule even in international competitions ( no sponsor name displayed) comes up as a counter logic. But the present age is the time for the glorification of club football and with it a huge commercial boom with a number of multi national firms vying for a place on the jerseys. Does the law have a base far deeper than how we see it? Has the beautiful game been marred by this level of business and commercialization?
Carlos Tevez's chicken dance against River Plate (straight red) and Cavani's red for the gunman stunt after scoring are debatable incidents both of which can have variable and a wide range of explanations. It can be viewed as offensive to the fans for some reason or something as simple as an in-form striker 'gunning' down oppositions. Perhaps, it just matters how the lawmakers think and not how the rest of the world perceive it.
Nicolas Anelka's 'Anti Semitic' celebrations or Paulo di Canio's Fascist salute are all debatable and some already cleared . It would be interesting to know why Adebayor was booked after scoring against Arsenal and running down the pitch to celebrate it in front of the Arsenal fans.
If fans can 'boo' the players for certain reasons (Luis Suarez, a victim recently against Manchester City at the Etihad), it is questionable why don't the players have a right to get back at opposition fans. And how perfect it is to do that once they scored the telling goal!.
On a different note, there are certain referees who like to officiate the match by letting it flow even after crunchy tackles. The intensity of the game is preserved that way. Then a question surely remains, why would one try to inhibit the free spirit (as long as it's not too offensive and directed) that has ruled the game for centuries?. Isn't a celebration that just goes a little over the top an apt way for the opposition to buck up and show their true colors?.
The masked crusaders
Recently, Pierre-Emerick Aubameyang and Marco Reus went out of tune with the pair celebrating a Dortmund goal donning a Batman and Robin mask, respectively. FIFA's rule lists down that a player celebrating with his face covered by a mask or a similar item is bookable. But if the officials are to stay true to the rule-book, why book just Aubameyang and not Reus?
To take it to the next level, why book a player when he is posing just like a superhero most of us seem to like? Does it offend other 'superheroes' for that matter? I certainly can't think of football fans who would dislike that or feel offended. Fulham's former Argentine striker Facundo Sava was well known for sporting a Zorro mask when he scored. It would be a 'groundbreaking fact' to know if it served FIFA enough inspiration to coin the rule!.
When a law has been laid down, it is for the referees and the FA to adhere to it but in some cases certain exceptions based on the nature of breaking the rule can be thought of. A logical mind would support Zinedine Zidane's sending off after the head butt but an inquisitive one would question why Materazzi was unpunished for allegedly 'provoking' Zidane to commit his crime.
Isn't a verbal insult or a tunnel bust up a more serious offence than sporting a superhero mask or just removing the shirt while getting substituted?. Its time FIFA starts tying up the loose ends of its 'stupendous' disciplinary rules.
The beauty of the beautiful game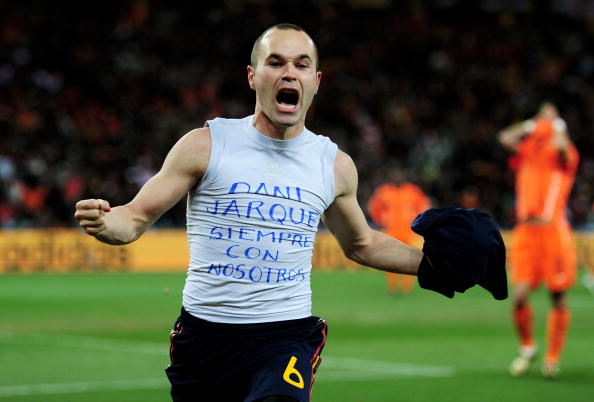 Football is a game beautified by the neat skills of its players,the sweet sound of the ball hitting the net and the appreciative roar of the fans. Fans, who treat their players no less than idols. Alas, FIFA's law prohibits a player to jump into the crowd immersing himself with the very fans who idolise him week in week out.
Nevertheless, the world of football has seen plenty of memorable celebrations and will continue doing so. Thankfully, there are still players who value a goal and its celebration more even if it meant crossing over to the other side of the rule blockade.And it is for them that the game still retains its free spirit. No rule book can ever coin out a bookable offence for dancing like a Roger Milla near the corner flag or a graceful somersault of Miroslav Klose.
A yellow card is just a mere color when a certain Andres Iniesta remembered to pay tribute to a dear friend in Late Dani Jarque after scoring the winner at the World Cup final.When a player steps into the field between those lines, each and every time, he puts every single muscle of his body and his life alike in jeopardy. A celebration recognizing a successful moment in such an uncertain arena is one worth going for, unpunished.
A tournament is remembered, not just for the winners or their tactics but for the goals and the players who beautified it. The Senegalese dance in 2002 or the more recent Colombian celebration in World Cup 2014. These moments have a far greater impact than just the thought of being on the borderline of a booking.
Our sports and the fans are the best reflections of our finest celebrations and a part of the process of celebrating life. At the end of the day, every one is human and living his life in different ways than others. And in a journey where you can fade away in months, isn't it worth making every moment a plethora of celebrations?