What's the story?
When you think of the Bundesliga, it is totally fair and alright if Bayern Munich and Borussia Dortmund are the only teams that come to your mind. After all, we have been accustomed to seeing a total dominance of the red Bavarians in the 18-team league, with Borussia almost always right on their heels.
However, these days the picture seems to have gotten a little wider. Bayern still remains the invincible (not entirely, but still) force and below them we have a host of teams contending for the second most important thing after the German League Title - a position in the UCL playoffs.
While Dortmund, and other teams like Schalke, Leverkusen and RB Leipzig have all become part of the coveted Champions League setup, today we're here to talk about one team that was most unlikely to be found up there, and yet has managed to do so. And about the one man who made it all possible.
Julian Nagelsmann, born 23rd July, 1987 in a small town in West Germany, turns just 31 soon, and in this short span of time, he is on the cusp of steering Hoffenheim forward to a Champions League spot for the second season in a row.
Nagelsmann, who achieved a fourth-place finish for Hoffenheim in the Bundesliga last season, thereby ensured a UCL playoff spot for the first time in the history of the club. This time, he is set to repeat history as Hoffenheim go one position better in the Bundesliga this season, finishing third - behind Bayern and Schalke, with top guns like Borussia, Bayer Leverkusen and Leipzig placed below them in the points table.
In case you didn't know...
Nagelsmann belongs to the latest generation of Bundesliga coaches - a group of people who can be called the "Laptop Coaches" - young, dynamic people who are more or less the same age of the squads they manage.
Like most coaches, Nagelsmann was a player too, once upon a time, enjoying respectable youth-career stints at Augsburg and 1860 Munich, until a knee injury forced him to exit the playgrounds.
He never made a senior appearance, and instead, turned his curse into a blessing by joining the university and learning Business Administration and Sports Management Sciences, before rejoining back in Augsburg, this time not as a player, but as coach, under the uber-talented Thomas Tuchel.
Nagelsmann moved to Hoffenheim in 2012, initially coaching the under-23 and occasionally working with the senior squad, before joining the main team as coach in 2016. Nagelsmann's first job was to try and save a sinking Hoffenheim from relegation. His undying efforts in the final games of the season pushed the team into 15th place, barely escaping what would have been a sure-shot demotion to the second division.
The details
Nagelsmann once famously said, "In coaching any team, 30% is tactics, the remaining 70% is social competence". While his ability to motivate and instill his ethos into the players is impressive, he is no slouch either when it comes to being the tactician that his team needs.
Throughout the previous two seasons, he has arranged his Hoffenheim squad into a 3-1-4-2 formation - three central defenders, a defensive midfielder who screens the back three, flanked by energetic and pacy wing-backs on either side, and a midfield pivot consisting of two central midfielders, playing behind two attackers. Overall, the squad would look something like this: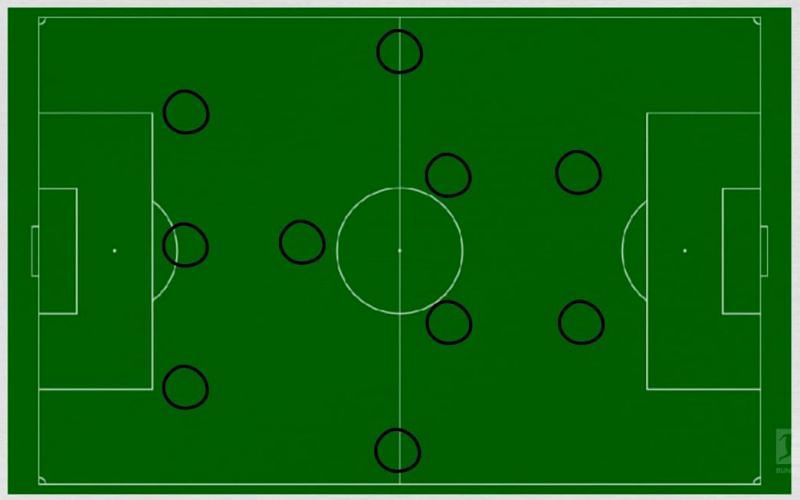 While Nagelsmann has occasionally used the 4-3-3 and 4-1-3-2 depending on the opponents, this 3-1-4-2 formation has been the most preferred and most successful for Hoffenheim.
The team usually plays a direct style of football, often looking to use their pace and combination play out wide, or by playing directly over the top, by getting around the opposite team's press with good long passing from the back. Center-back and vice-captain Kevin Vogt is a crucial cog in Hoffenheim's build-up play.
Prior to joining the club, he was making a mark as a not-so lustrous central midfielder in FC Koln. Nagelsmann made Vogt undergo a stark transformation as he now finds himself in the defensive setup of the team.
Vogt's ability to step up into the line with the ball or to push forward as a passing option when the other center-backs spread wide as Hoffenheim builds from the back, means he is often available to receive the ball, which in turn allows the wing-backs to push up, and for the defensive midfielder to move up through the center of the field and find space.
Ahead of this space, the central midfielders, mostly Serge Gnabry and Karim Demirbay, perform a crucial function. Not only do they occupy the central spaces especially in the defensive phase, but they also push up and wide in the attacking phase, working with the forwards or the wingbacks as desired, to create an overload in one part of the ground, resulting in long-passing or crossing opportunities at another part.
Gnabry, who is looking for a career revival after some poor spells at Arsenal, is an expert in pushing forward through the central spaces - a feature which has been used many times by the Hoffenheim players, with the forwards moving through wider channels parallel to Gnabry, as the trio easily infiltrates the opposite team's line of center-backs and full-backs, or into the space behind the wing-backs in case Hoffenheim is up against a team that plays three center-backs.
The Hoffenheim wing-backs then cut inside, which can create extra space in the center for another central midfielder into push into, as the opposition scrambles in confusion whilst looking down to close all the passing options - an impossible task considering the number of opportunities open.
Serge Gnabry has been a real revelation for Hoffenheim this season. The 10 goals and 5 assists made by Gnabry played a pivotal role in many of Hoffenheim's games. Mark Uth was another important player. A forward in terms of position, Uth often found himself advancing through the wings, under the instructions of Nagelsmann, but that hasn't stopped the man from scoring - Uth bagged 14 goals for himself and assisted in another 8.
At their best, Hoffenheim's quick vertical style built on a solid backline, and sudden transitions in pace through wide channels produce exciting football that leads to goals more often than not.
Julian Nagelsmann has built a young side full of spirit and a lot of quality. A consistent system and tactical outlook married to Nagelsmann's ability to develop and empower young players has seen his team challenge for European football yet again.
It is little wonder that Nagelsmann is one of the well-respected and in-demand coaches in the Bundersliga and beyonf. In recognition of his enormous efforts. Nagelsmann has been awarded the VDV-Manager of the Season award (Germany - 16/17) as well as the DFB German Football Manager of the Year award in 2017.
Author's take
The Bundesliga has always been known for producing remarkable coaches, with many famous managers like Thomas Tuchel and Jurgen Klopp finding their big breaks after managing German teams. Nagelsmann is certainly a man to watch out for, in the coming seasons, and so is Hoffenheim as a team.
Many players like Sebastian Rudy, NIklas Sule and Sandro Wagner, who have come out of the ranks in Hoffenheim, are all players targeted by the top teams in the world. From a viewer's point-of-view, the plain fact that Bundesliga would no longer be a single team's bragging rights is a delightful thing to think about.
Paul Merson predicts the result of Man City vs Inter UEFA Champions League final! Click here