The King and his Jesters
1.38K //
12 Mar 2012, 08:12 IST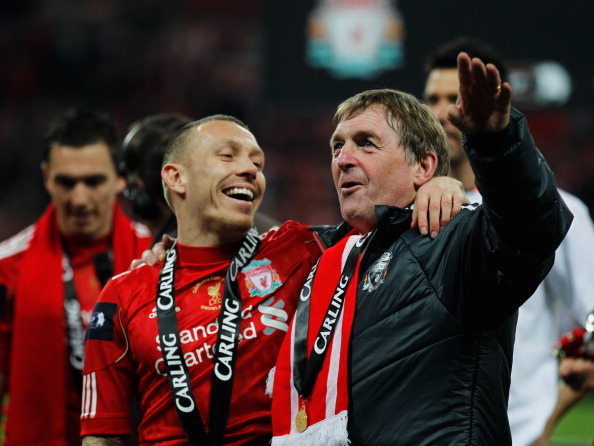 Supporting any team can become really frustrating especially when things don't go your way. The frustration level seems to be rising week after week watching my beloved Liverpool FC play the kind of football, which the Sunday league footballers play.
The loss to Sunderland on the 10th of this month just proves that Liverpool cannot attack, the  team have just scored 30 goals in 27 games, which to be fair is a pathetic record in front of goal. I won't be going into the price tag of our strikers since that has already been blown out of proportion but what does stick out is that, this is the same team that went on a scoring spree last season, when they were scoring for fun. In fact the team has actually been invested in and it still seems far away from the so called finished article.
King Kenny has said that the 4th champions league qualification spot is Liverpool's main target and with the investment in players like Downing, Henderson, Adam and Enrique, they really should have got it. Adam seems to turn up once in a blue moon to play well, and  probably that infamous 10 million pound tag on his set pieces by Alex Ferguson has jinxed his play. Henderson often is played out of his favoured central position for God knows what reason and then there Downing , who for the love of football cannot seem to play two games in which he can be called a decent winger.
The forwards aren't doing much better, Luis Suarez seems shaken ever since that racism row and now seems to do his strappy noodle leg dance every time he is close to the penalty box, goes down like he has been shot at and then every time there is a deflection in the opposition box, he starts waving his arms around like its a handball.
The only positive we can take from this season is that Martin Skrtel has finally stepped up and has been our best defender for the past couple of months, at least till Dan Agger stops getting injured for every little impact on him.
It is hard to accept such lackluster performances and it begs the question, can the King still do it?
Maxi Rodriguez is benched for some reason even though he could be our best winger, at least he would be better than Downing and Kuyt, as wingers. Then there is the curious case of Andy Carroll who had turned in a couple of good performances recently and then has been benched, with him only getting something around 40 minutes of football in the last two games against Arsenal and Sunderland.
It seems this season is an opportunity lost for the club, they really could have pushed for the 4th spot at least had they played a whole lot better and well had luck on their side, but were consistently denied by the post.
Kenny needs to rethink his strategy as well, his quotes after the game verses Sunderland were quite baffling
"I think we matched all the attributes Sunderland have. They've been on a good run, but I don't think there was much in the game other than the bit of luck that decided it." – K.D
I am sorry, matching Sunderland is not what the fans hope for, the team should be pushing and winning such games not playing out a toothless attack which had barely a handful of shots on target. Kenny should have also tried to get some investment in the January transfer window, it did wonders for the club last season when Suarez was brought in, everyone knows that the team lacks quality and creativity in attack, plus with the owners backing Kenny, he surely should have brought someone in but nothing is changing even though the play is becoming poorer. There is a need for a overhaul of at least some players, they need to be benched and some kids should be given the chance to show what can be done.
It feels like the season has ended already for the club and the Europa League spot that is now guaranteed with the League cup win was all that the team wanted, Europe was what all Liverpool supporters wanted but certainly not this "European challenge". The remaining games will seem to last very long and torture us a lot if we continue playing like this, surely the King can turn it around, he did it before, he surely can do it again.