The Manchester United transfer saga
7.12K //
25 Mar 2012, 04:26 IST
The latest news screaming in this week stated that frustrated no.9, Dimitar Berbatov was about to be offered a new contract extension by the end of this week to ensure he doesn't leave at the end of this season. This news in itself isn't a big deal, but the problem when it comes to news related to Manchester United is that there always is an additional piece of news. The addition this time stated that Berbatov, who is valued at around $10 million, will be used as a cash plus player deal to ensure Luka Modric's arrival at United. As a United fan this kind of news should be appealing to me, but then since it is a United transfer rumor, there is just a feeling of desperation. Every club has a fan base and the fan base loves to read the transfer rumors but when it comes to United, if what the fans read does turn out to be true, then United would probably boast of a squad stronger than the Galacticos of the early 2000′s era.
In the last three years, the number of players linked to a move to Manchester United have been in hundreds. It almost gives you the feeling that any player who is playing good football is a Manchester United target. It makes one wonder as to how this happens. Is it just fans who start rumors for the players they feel would be good for United or is it a tactic used by agents where they disclose informal approaches by big clubs in order to increase a player's monetary value? The answer can be anything but what is important is, as a Manchester United fan how do you deal with all the gossip that does the rounds? After all it sure is frustrating when you expect players of huge stature to arrive, but you see none of them actually arriving year after year.
In the summer transfer window, before the beginning of the current season, the players linked to United ranged from Wesley Sneijder to Rafael Varane. The frustration with Berbatov's role also led to rumors of Berbatov being swapped for high flying Diego Forlan. There were constant rumors of Luka Modric being a replacement for Paul Scholes and the usual bright young players like Alexis Sanchez and Javier Pastore. Rumors also had that Kaka was a prime target for Sir Alex Ferguson but of course, this was just rumor.
In comparison, the first player to be signed was totally out of the blue. Phil Jones was a player who was never once linked with United and though his signing wasn't what the fans had expected, sure enough Sir Alex Ferguson's signing can very rarely be successfully doubted. Phil Jones has been a brilliant signing with a huge potential for future. He is now a regular in the United line up and has at times been promoted to central midfield due to his ability to weave his way through the defenses. His ability and performance has been acknowledged by the national team and he is almost definitely going to the Euro's for England. For United, he is being touted to be the next Dennis Irwin, widely believed to be the best ever defender to play for United. At a time when every player with a FIFA 2012 game rating of over 80 demands a transfer fee of $35 million, Phil Jones has been a great signing for United.
The next player to be signed was Ashley Young and though Young has played well in patches this season, he is a proven performer in the Premier League and whenever he has been injury-free, he has managed to pull out very good performances for United.
The last signing was in the form of David De Gea. Though Anders Lindegaard had been signed earlier, he was seen more as a replacement for the error prone Kuzscak rather than the high flying Van Der Sar. So David De Gea was signed at a price which many felt was too huge for someone so young. They had their share of jeering at the beginning of the season where De Gea's keeping abilities were questioned as week after week he made errors that cost United goals and at times a few points as well. But he has moved on from that and has started justifying the price tag that he came with. With stunning saves against Chelsea, Arsenal and Liverpool, he has ensured United pick up as many points as possible and the only goals scored are those that are beyond the reaches of any keeper in the world. And the fact that he is just 21 should get the Manchester United fans excited for a long term future.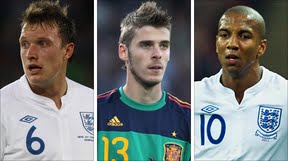 So that is as far as the recount goes. What does this whole thing show? It shows that the signs are clear, Sir Alex Ferguson doesnt sign players because they are best at what they do. If that had been so, Berbatov would not be leaving at the end of this season. It is because SAF buys players that he thinks will do their best in the way United play. That is why there is absolutely no place for Wesley Sneijder in the United team, while Tom Cleverley and Michael Carrick, players who are not termed "World Class" have been doing their job brilliantly for United.
That is the reason why this season Manchester United fans should not read much into the rumors of the huge number of players being linked to a move to Old Trafford. Though, as United fans, it is good to read that players of the calibre of Eden Hazard and Mario Gotze would love a move to United, the fans must know better than to expect the players to arrive. These are players who would no doubt be a big signing, but Pienaar would have been a bigger signing than Cristiano Ronaldo when Ronaldo was signed.
So, for one last time, let us not read into the tons of rumors that will start doing the rounds as the end of the season nears because this only leaves the fans with the feeling that no matter how bright the signings are, they are not the world class signings that the newspapers promised. Sir Alex Ferguson shall make the signings that are required for bringing the best out of United and I am sure he knows what the best signing for United would be. The signing may or may not be a huge footballing star when he arrives, but he will definitely be a star once Sir Alex Ferguson begins his work with the player. After all, this is the 'Theater of Dreams' we are talking about. We dont buy star players in this place. We make them..