The Plight of the Gunners
890 //
14 Dec 2012, 20:54 IST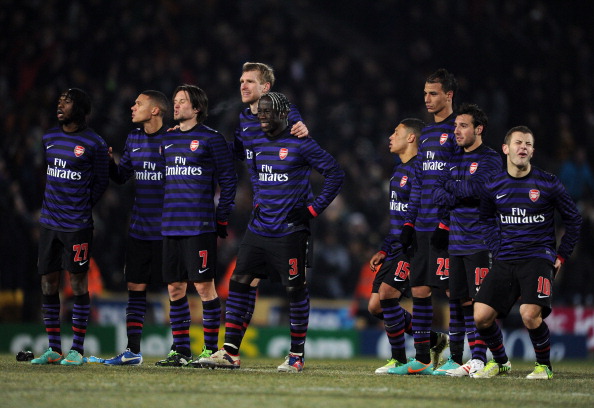 One word that comes to mind about our performance against Bradford is pathetic.
Our defense was pathetic. Our midfield was pathetic. Our forwards were pathetic.
Everybody knows we have a lot of talent. Unfortunately, we are playing with no heart. We are playing soulless and spiritless football this season, and every Gooner is disappointed. Disappointed with the owners and the players. It's not the managers fault, he's doing all he can. But he's getting no support at all. They say King Henry is coming back to the club on loan, and I hope he manages to instill a spark of liveliness in our performances. Because, let's face it, I highly doubt Wenger is going to bring him in for his on-field performances- what he does to the players in the locker room is what matters.
Football is changing, and Arsenal aren't adapting well to the change. That is one of the key causes to our failure. Players don't value the jersey anymore.
We have talent, there is no question about it. We have one of the best right-backs in the world, on par with Lahm and Dani Alves in Bacary Sagna. We have the most talented young Englishman in Jack Wilshere. We have the best Spaniards outside of Madrid and Barcelona in Mikel Arteta and Santi Cazorla and the top scorer in the French League last season in Olivier Giroud.
But we also have some pretty disappointing players who aren't good enough to wear the Red and White. Players like Gervinho, Andre Santos and Seb Squillaci. I feel that it's time for some changes. Not in the management, but in the philosophy.
This year, we saw Sir Alex move away from his favoured 4-4-2 to a much more conventional 4-1-2-1-2 diamond formation- one which plays to his team's strengths. We used the 4-4-1-1 during the 'Invincibles' era, with Lehmann-Lauren-Campbell-Kolo Toure-Cole forming the back 5, Viera and Silva through the middle, Pires and Ljunberg out wide and Bergkamp behind Henry up front.
We could move back to this system with Szczesny-Sagna-Vermaelen-Mertesacker-Gibbs forming the back 5, Arteta and Wilshere in the centre of midfield. Walcott and Cazorla out wide and Podolski behind Giroud .
We could use the Diamond with the same back 5. (Arteta, Wilshere, Ramsey and Cazorla in the midfield, Podolski and Giroud up front)
We could also use a 4-3-3- a much more narrow system with the same back 5, Wilshere, Cazorla, Arteta in the middle and Podolski, Giroud and Walcott up front.
But enough with the change in systems, there are some gaps that need to be plugged first.
The apparent problem this season is that Arteta is no Defensive Midfielder. He has tried, but hasn't been successful at Song's job. Last season he was spraying passes and controlling the midfield. This season he has just looked out of his comfort zone. Hence:
1. Arsenal need a DM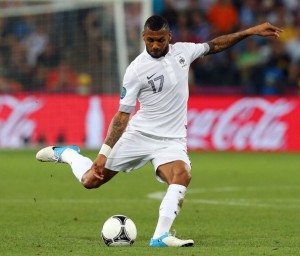 Diaby is injured and so is Frimpong; Coquelin isn't good enough. And in today's world, every team needs a player like Yaya Toure or a Sami Khedira or a Sven Bender- players who you can trust to stabilize the backline and make runs into the penalty box from time to time. The best candidate for this role is Yann M'Vila. Arsenal should sign him, even if he asks for 200k per week.
2. Podolski should play as the lone striker
Let's assume Arsenal signs M'Vila.
This would mean we have Arteta as CM, M'Vila as DM, Wilshere as AM, Poldi out left and Cazorla on the right, which could work.
But somehow, I don't think Podolski is comfortable playing on the left wing. He has reportedly conveyed his dissatisfaction of playing on the left to Wenger. I think we should play him as a striker. He can be our new left-footed superstar. This also allows Walcott to play on the right, with Cazorla on the left constantly swapping positions with Wilshere.
 3. Gervinho should go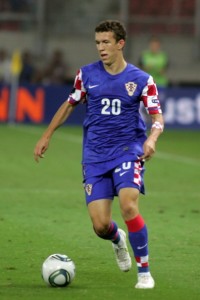 Gervinho is not good enough to be an Arsenal player. The only thing more pathetic than his ball control is his first touch. We need a winger as a replacement for Gervinho. There are a lot of contenders. My favourites are Nani, Ivan Perisic (Dortmund) and Marko Marin. I haven't seen Marin play since pre-season and it's reported that he's fully fit but still isn't played, which may give rise to dissatisfaction and ultimately a move away from Chelsea for him.
Ivan Perisic is good and has age on his side – qualities valued by Wenger. Nani has been a let down for Manchester United, but I think that he would do well with the Gunners.
 4. We need better subs for our defense
The only defensive position that is well covered is Sagna's (Jenkinson).
Others like Andre Santos, Squillaci and Johan Djorou aren't good enough for us. We need new centre-backs and left-backs in the squad. Some good choices are Yanga M'Biwa and either of Kolarov/Fabio/Cole.
Kolarov could a potential signing as he is dissatisfied with the amount of playing time he has been getting with Man City.
 If all of the above points are considered, and the 4-2-3-1 is used, the team sheet would look like this:
GK: Wojciech Szczesny
Defense: RB- Sagna ; LB- Kolarov/Gibbs ; CB: Tomas Vermaelen/Yanga M'Biwa/Per Mertesacker
Midfield: CM- Arteta and M'Vila; CAM- Wilshere; LAM- Nani/Marin/Perisic; RAM- Santi Cazorla
Striker: Lukas Podolski
Combined with a strong bench and using Walcott as an impact sub, we could achieve some real glory with such a set up.