The Preview - Manchester United vs Arsenal
1.15K //
02 Nov 2012, 15:45 IST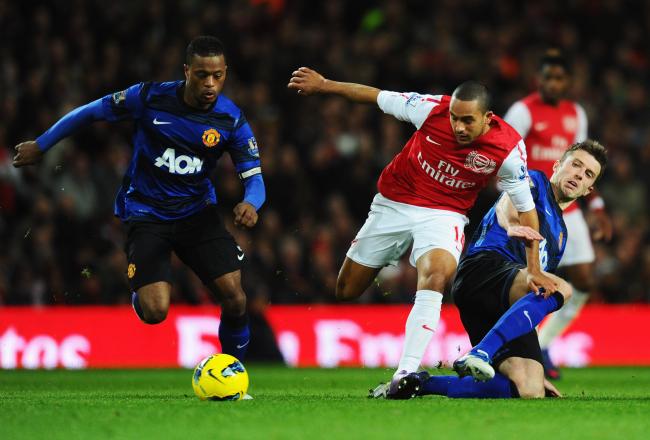 Manchester United vs Arsenal is, as most people say, one of the biggest rivalries in the Barclays English Premier League. Though in the recent past,it is clear which team had an upper edge, the contest between these 2 teams had always been thrilling. Manchester United have held their heads high after beating Chelsea, thanks to the late winner by Chicarito, while Arsenal would like to forget what happened when they last came to Old Trafford on 28th August, 2011. 8-2 was the scoreline in favour of United, and it was the heaviest defeats for Arsenal in the 21st century. What makes the match more exciting is Robin van Persie, who plays against Arsenal for the first time since his highly controversial transfer to Manchester United this year after spending 8 years with the Gunners.
Manchester United
Last week, Manchester United overcame a strong Chelsea in a 3-2 win, though it was clear that referee made numerous mistakes, and the match could've been ended in a draw. Di Matteo's men were quick to take the revenge in the Capital One Cup, where United rested number of their star players, still managed to score 4, eventually losing with a one goal deficit. However, in the Premier League, they are on a 3 match winning streak, which is a plus point for them. Their strikers are in tremendous form, with van Persie scoring in almost every Premier League game. Javier Hernandez (Chicarito) has been a super sub, who scored the decisive 3rd goal against Chelsea, providing us with essential 3 points, and closing the gap between us and the Blues. But United's defence has been a major problem, since the start of the season. They concede sloppy goals in the first half and hour of the game, which forces the manager to introduce forwards in the midfield to make their game attacking. However, Sir Alex Ferguson hinted of Chris Smalling's comeback against Arsenal, and if it happens, it's a huge boost, as he's one of the most talented young defenders in the league.
The focus of the game will be only on one man, the Dutch striker, and the former captain of Arsenal, Robin van Persie. Although Arsenal has requested their fans to keep their calm over Persie, Arsenal fans are in no mood to be so kind. It's clear that Arsenal fans will boo him every time he'll touch the ball; and it's natural, when a player spends 8 years with the club, and then leaves them to join direct rivals.
Nothing can be said about Chris Smalling, who was also expected to play against Stoke City last month, so SAF will likely be introducing the same 4-4-2 formation which he used against Chelsea last month, with van Persie and Rooney leading the attack. In defense, only Rafael had an impressive start to the season. Evans made couple of mistakes in his last game, but still, he could get a start in absence of Vidic, who recently underwent a Knee surgery.
Predicted Line-Up – De Gea; Rafael, Evans, Ferdinand, Evra; Young, Cleverley, Carrick, Valencia; van Persie, Rooney
Arsenal
Arsenal's performance in the recent weeks seemed to be unconvincing, as their current Premier League run includes a surprise loss to Norwich City, as well as losing in the Champions League encounter against German side Schalke 04. However, they recovered quickly with a 1-0 victory at Queens Park Rangers, and a thrilling 7-5 victory in the Capital One Cup encounter over Reading, despite some terrible defensive performance in the first half.
Arsenal are currently placed sixth in the league, and a victory will take them to fourth spot, just behind Chelsea and both the Manchester clubs (until Tottenham plays Wigan, and Everton plays Fulham). They have one of the best defenses, conceding only 6 goals in the league so far. The only problem in their defense is the terrible performance of Laurent Koscielny. In the game against Reading, and even before that, he never looked good enough. He is poor in the air, and never seemed more appalling. So, Arsene Wenger will likely be giving Mertesacker the start ahead of Koscielny. Bacary Sagna's return has boosted Arsenal's defense while Jack Wilshere's presence in the midfield makes them a strong side. Wenger might give Walcott a start, considered he scored 3 goals and provided 3 assists against Reading. Santi Cazorla, Lukas Podolski, and Olivier Giroud, all are expected to start against United.
Predicted Line-up – Mannone; Sagna, Vermaelen, Mertesacker, Santos; Arteta, Wishere, Cazorla; Walcott, Podolski, Giroud
FINAL PREDICTION
Arsenal will be looking forward to avenge last season's humiliation, while United will be looking to bag 3 more points and go to the top of the table (until Chelsea meets Swansea). United definitely have an edge over the visitors, with their forward van Persie in tremendous form. It will be the battle between the best defense and the best offense of the League. United has the home advantage, and considering their last few performances in the league, they definitely are the favourites to win this fixture.
Manchester United 2-1 Arsenal.