The three horse race for the top 4 finish - Chelsea, Tottenham or Arsenal?
1.20K //
19 Mar 2013, 01:26 IST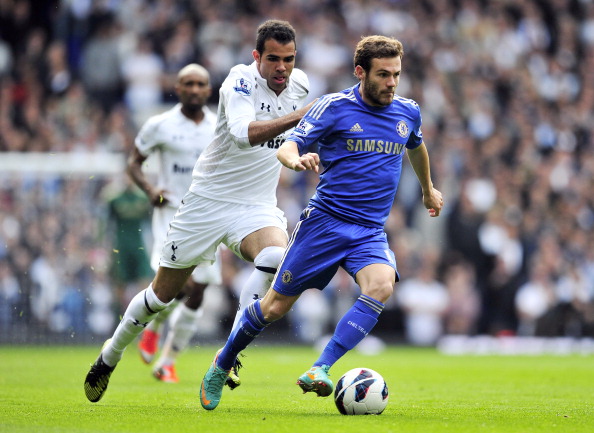 With 9 rounds of action to go, the race for next year's Champions League qualification is warming up, and with the top two spots all but taken, there is a real fight for spots 3 and 4. Let's have a look at the contenders, their chances and a few of their potential banana skins:
Rounds Played: 30, Points: 54, Position: 4
With one of the hottest assets in world football called Gareth Bale in their ranks, the mood in the Spurs' camp was nothing less than buoyant. That was until last week. A disastrous seven days, when they were defeated by Liverpool, Inter Milan and Fulham, sees Spurs in fourth place, four points clear of Arsenal and one behind Chelsea, although having played a game more. Noting that they kind of slipped up last year, and with a tough round of fixtures to go, one really can't help but raise questions about the certainty of AVB's men finishing in the top 4.
Potential make or break clashes:
Round 32: Everton (H)
Round 33: Chelsea (A)
Round 34: Manchester City (H)
Rounds Played: 29, Points: 55, Position: 3
Let's face it; it's been a sad, sad year for the blues. Post their Champions League win and big money signings, things haven't gone right for them either in the league or in any of the cups. The fight for fourth place seems like a real face saving target for Chelsea, and I definitely wouldn't expect them to slip up, although they might have a few very tricky fixtures up ahead, besides the distraction of the Europa League.
Potential make or break clashes:
Round 33: Spurs (H)
Round 34: Liverpool (A)
Round 36: Manchester United (A)
Round 38: Everton (A)
Rounds Played: 29, Points: 50, Position: 5
If Chelsea's season has been sad, Arsenal's campaign has just been plain deflating. Although not far off the pace in the race for the top 4, inconsistency has plagued the Gunners, and defeats against really weak opponents in the cups has all but confirmed an eighth trophy-less campaign. However, things looks reasonably bright as they have arguably the easiest round of fixtures left, and the fact that they have been eliminated from Europe altogether, might well prove to be a boon for Wenger's men.
Potential make or break clashes:
Round 29: Everton (H)
Round 34: Manchester United (H)
Things are delicately poised with Spurs and Chelsea having a few extra points, and Arsenal looking ahead at a few easy fixtures. It remains to be seen as to which one of these London giants will have to be content with Europa League football. My picks would probably have to be Spurs and Chelsea, with Arsenal just falling short and Everton and Liverpool rounding off the top 7.