The travesty of a Manchester United fan
1.80K //
08 Nov 2012, 13:51 IST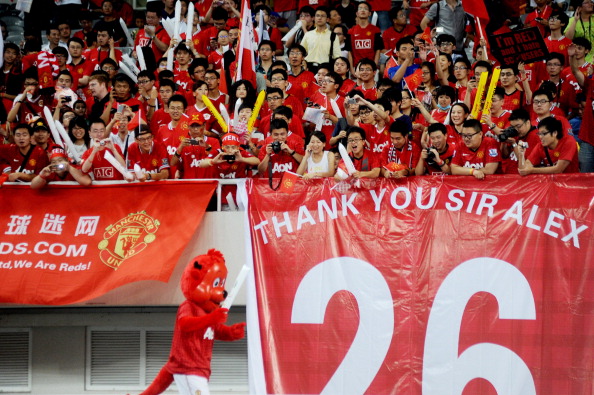 The coaches always tell you, that the team is always more important than the individual, a lesson that nobody understands better than a fan. And for a Manchester United fan, the lesson is the toughest; a dark actuality and verisimilitude. You walk into any sports bar or even a college common room wearing a Manchester United jersey, and one can but fail to notice the debasing sniggering and smirks that one has to go through. They will call you a "Glory Hunter", the "MANURE" song will suddenly come to the fore. It is but difficult for a Manchester United fan to walk in and be accepted as a football fan, let aside respect your allegiance to your chosen club.
And if you choose to complain, you will be a thrust in a shambling tirade where your knowledge and the chronology of your fealty and loyalty will be put to the test. You will be asked to name the team's squad, the captain, what you know about the Busby Babes etc. Well, I don't mind the yardstick as much as the disrespect.
Yes, it is the most successful franchise in the Premier League, winning a record 19 titles and primed to do it all over yet again. The trophy cabinet is awe-inspiring to say the least and has legends whose exploits are permanently etched in the minds of supporters till date. And maybe that is where the reason behind the slanderous slurs and remarks lie. As someone famously said, "NOBODY CHEERS FOR GOLIATH." The travesty of a Manchester United fan indeed.
The fans aren't so much hated for supporting the club, as much as being subjected to the frustration of the rest of the clubs. The clubs that have seen waves of change and transitions over the years; endured both the summer as well as the rain. However, here you have one club that has managed to play great football week in and week out for the better part of the last two decades. David wasn't ever going to win, but just to be humane everybody cheered him, egged him on. Goliath was never given that homage. And so does the unfortunate legacy of the Red Devils suffer, as cheering for them isn't considered humane. Everybody loves the underdog, and somehow people envisage that if the underdog wins, with him there is a victory of human spirit. Alas, its implications have scripted a tragic legend for the Red Devil faithful.
As a United fan, you have to bear the slanderous rival fans making excuses, belittling United's exploits and challenging you to defend the same. They will infuriate you, test your temperament making references to the humbling incidents in United history, unabashedly remarking as to how United has been favoured all throughout the season, and why the manager is an idiosyncratic pretentious supercilious browbeat. The players who play are just not good enough and random teams are better than them on paper, but they just win because they are lucky.
To add to this there are several ludicrous and inconsistent stats and studies that spring up, and gets unabashedly perpetuated using the new-fangled powers of social media. So yes, United go on and beat Chelsea at Stamford Bridge, and everyone accepts that up until the two red cards, the match had turned out to be a riveting encounter. However, even before you can start celebrating United's triumph, you have to face up against brassy acquisitions about how Mark Clattenberg is now on Manchester United's pay-roll and that in any other league, Manchester United would have failed to be in the top 4. What comes next are many Facebook trolls, some acrimonious tweets and the much prevalent practice of posting pictures of referees wearing United shirts. The brainchild of a certain Ryan Babel, who I believe will retire with the controversial picture being his most remembered contribution to the game.
Well, first and foremost I wish to make it clear that most of the sane United supporters concede to the fact that Chelsea were unlucky to have Torres sent off, and yes the goal was indeed off-side. Further, as any genuine football fan should feel, most of them were disappointed because the match looked sure to live up to the hype of a United-Chelsea encounter. Everybody wishes to see a contest, a display of attacking football. And even though the dismissals may have ensured the result, it wasn't certainly what anyone had wished for.
But the tirade and reaction from other quarters is surely appalling. If one does indeed go through a team's matches over an entire season, and recount calls that have gone both for and against a team, one would find that the number of such calls even themselves out over the season. The significance and momentousness of the call may vary, but talking sheer numbers alone, it does get even. And if it doesn't even up in terms of refereeing decisions, then in some other form. For example, all those Chelsea supporters disgruntled by the loss, just need to look back at their Champions League triumph of last season. To go to the Nou Camp and come up with a draw, after having Barcelona hit the post 4 times and dominate possession over both the legs, is most definitely an instance of the fortune wheels spinning your way. If any neutral fan were to see the encounter over two legs, he would certainly judge the match in favour of the Catalan giants.
Thankfully, it isn't about poetic justice and what matters at the end of the day is whether you can do enough to win. If you get lucky in the way, accept it and make the most of it and Chelsea did the needful. And on that day, Barcelona's star studded line-up didn't have their shooting boots on while Chelsea showcased a defensive intensity and discipline that was a class beyond anything the Catalans had come up in the whole run-in to the semi-finals. However, at some level they were lucky. And that is what needs to be considered. You get lucky sometimes; sometimes it is not your day. This isn't just about football, but a reality of life, and there is certainly no point fighting that.
Now many would come up with the counter-argument that whatever happens between the two sets of players is a part of the game, but it is unfair when the referee starts to influence the game. It is okay if the team doesn't play well and steals a win, but not so cool when the official decides the tie. Fair enough. Some calls in United games have definitely changed the course of games, and in most recent memory have done it in favour of United. One has the right to regret the same, but at some particular level understand that it is nothing more than just a human error. Referees however trained, remain humans and they do make errors. Just that when it happens with United, it gets to the spotlight far more easily, and is just made up into a much larger blunder than it actually is. But at no level is it the club's fault. And yes, the luck does even out on the longer run. It may not necessarily be in terms of refereeing decisions, because a team can get unlucky in a lot of many other ways. At this time the United team is battling injuries to vital players like Vidic. Sadly enough, this isn't losing luck for the fans as its implications aren't as direct as a red card.
The even more tragic issue is that some managers and players have come out and claimed that United get undue favours from referees. Now, the real purpose behind such statements is pretty apparent. If you wish to win the league, it takes much more than just talent to do it. There will be stretches when teams aren't playing well, but will need to grind out results. And in these decisions the last thing you want is a refereeing error making it more difficult. Sir Alex has been a master at this strategy, using the goodwill and respect that he has earned over his hypnagogic stay at the club to play mind-games with referees. Mancini and Mourinho used it against him when they started to play the sympathy card and complain against the Red Devils and the influence of their manager.
All interesting mind-games but to the simplistic and possessed fan, these are more than enough indications to get their mind racing and the rumour mill churning. Suddenly, everybody becomes a Sherlock and inferences and implications are drawn from inconsequential events. Their decisions driven by the rapid strides and development in digital technology, where they have the advantage of watching plays over and over in slow motion, suddenly makes them smarter and wiser than the guy with the whistle. Out goes the consideration that the referee on the pitch, doesn't have that luxury as he has to do everything in real-time, doesn't have a magnifier and for sure can't see a slow motion replay. The speculation, the possibilities and all such doubts start to creep in and being obsessed with the same they start to ignore facts, twist stats. Suddenly Sherlock isn't angelic anymore, as they don't deduce from facts but only see facts that they wish to believe. Elementary indeed, but such thoughts bore more Watson's than Sherlock's.
And then comes to the fore the awe-less and slanderous litigations, envisioning some imaginary conspiracy theory prevalent in the league. I am very confident that most people, who are at the epicentre of such a philippic, would not be aware of the league's policies and methods in selecting or allotting referees. Yet they put up a hypothesis and the smarting fan around will just add more fuel to the fire and take it onto brobdingnagian levels. But how ill-informed does one have to be to envisage a theory like this without any proof? Isn't it degrading to the very spirit of the game, the league and to the officials in general? You watch the league; you swear loyalty to a team that plays in the league and at the same time doubt the very fundamentals and ethos of it.
The managers who chose to play the subtle mind-game aren't however doing much to validate their remarks. They openly come up and claim that the Red Devils are favoured, but if they are so sure why not go on and launch an official complaint? Why not get it investigated? I am pretty much sure it is well within their power to do so, and it is very unfortunate that instead of behaving responsibly, they choose to play the blame-game and direct all the fire towards somebody else.
Further on, there are claims that the better half of Manchester choose to support City over United. The most popular club in the world is second favourite to its very own city. Manchester United is not even seen as the true quintessential archetypal of the city. So, the choice of a person living in London and choosing to support the heavily successful brigade is most certainly an act of glory-hunting, at least in England where club loyalties are mostly driven from locations and regions of residence. But, for fans who don't live in England, this certainly can't be a judging factor. Yet, still considering the global outreach and pervasiveness of the club, it is but natural that some juvenile and callow supporters would jump onto the bandwagon. People who would have heard of a Wayne Rooney, but when quizzed about a Nick Powell would give you references to scenes in a Hollywood action movie; Die Hard 4.0 mostly.
The existence of such fans however derogatory can hardly be avoided and it is silly to generalize every single supporter on a similar rostrum. I am pretty much sure that quite a few Chelsea fans can get away without these doubts being levied on them. I can assure you that not many of them would know who a Pat Nevin or Peter Bonetti was. Many so-called Liverpool fans have all their knowledge about Hillsborough derived from a wiki page. The point is that such shallow supporters would always exist with almost every big franchise. It is just unfair to single out a single club in this matter.
Despite everything a United fan has to learn to live with the never-ending slurs, remarks, repudiations and garbled revilements. And expect the ever-passionate Red Devil supporter to retort back. The great thing is that the club and its players actually help them a lot in this matter. Every single week the club goes out and embodies the never say die attitude, the unremitting grit and determination, the irrepressible desire that created legends like Eric Canton and Ryan Giggs. And in this run the fans are always there to back their team, egg them on, and give them the adrenaline boost and energy. The spirit, the belief and the audacity to overcome any obstacle are qualities that define the ball club. And the fans are a vital part of this entire structure. Even when United were mauled 4-1 by Liverpool at Anfield, or by Man City at home, they stood until the last minute, wishing and believing that their team could still comeback. The mathematical possibilities and probabilities are for idealists, and idealists don't make believers. And it is moments that defy such idealisms that make the experience of a Manchester United fan worthwhile. A great tribute to the same is the triumph in Munich, 1999. Almost everybody in Munich was ready with their glasses raised and waiting for the final whistle. It just took 2 minutes, and all the beverages turned sour. #GGMU