Tomas Rosicky: The face of Arsenal's renaissance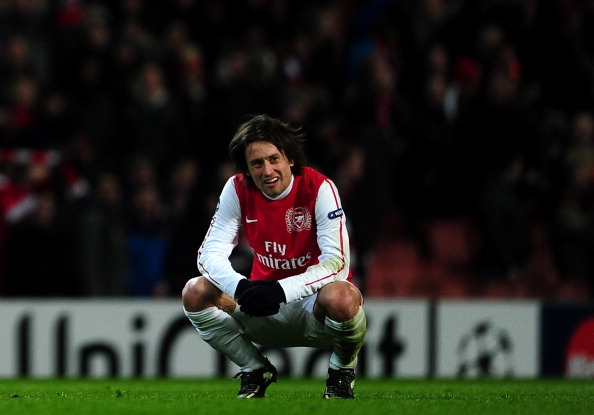 So Arsenal bowed out of the Champions League. I doubt very much whether any team has ever gone out of the competition in such a blaze of glory. Admittedly, Arsenal ran out of steam towards the end, but the way in which they came after Milan in the early stages was deserving of progression.
Arsenal have come in for a lot of criticism this season, most of which has been fully justified. Indeed, they were arguably at their lowest ebb a mere three weeks ago after defeat to Sunderland in the FA cup. So, whilst in recent seasons this has been the point where Arsenal have spontaneously combusted, they have, quite remarkably  bounced back with a show of character and tenacity many observers did not know that it existed within this squad.
Tomas Rosicky is a man who has been much maligned for his performances this season. I have been amongst his fiercest detractors but I have to admit, for the last month, he has been superb.
Ever since Rosicky signed from Borussia Dortmund, he has failed to live up to his £8m price tag. He has suffered badly from injuries and in 2008/09 failed to make a single Premier League appearance.
Along with Andrey Arshavin, he has bore the brunt of the Arsenal fans' criticism in recent seasons. For me, it has seemed at times that he just doesn't seem to care. The prime example of this was against Sunderland in a league game when he didn't turn around, while standing in the wall, to see if a free-kick had gone in. At that point I was certain he should be sold in the summer. I thought he was just another mediocre player picking up a hefty wage for sitting on the bench and playing the odd uninspiring 20 minute cameo. How wrong I was.
In a recent poll among Arsenal fans for their player of the month, Rosicky came a very close 2nd to Van Persie. Which, considering Van Persie has attained an almost god-like status at The Emirates, is quite an achievement.
It would not be unreasonable to suggest he has been the face of Arsenal's recent mini resurgence. The main feature of his impressive outings have been his driving runs, which have brought some much needed energy into central midfield. For much of the season, Arsenal's midfield has been rather insipid. There has been an alarming lack of attacking movement. Rosicky has changed that. Every time he receives the ball, he looks forward. If he cannot make a run, he will make a pass and swiftly move to receive the ball once again.
His goal against Spurs in Arsenal's remarkable 5-2 win is a case in point. He picked the ball up around the centre circle, made a pass. Then, he ran hard (showing the kind of commitment distinctly lacking throughout much of this season) and got himself on the end of Sagna's cross. It was a great example of how his game has transformed in the last month.
The task that now awaits Rosicky is one that also awaits the rest of his Arsenal team mates. They need to keep this run of form going until the end of the season. Arsenal have been famous for their end of season capitulations. But, they've never had a fit and firing Tomas Rosicky.