Tony Pulis - one of the best in the EPL?
1.03K //
19 Aug 2012, 20:55 IST
Since they were promoted to the Premier League in May 2008, Stoke City have gone from strength to strength. Whilst managers such as Arsene Wenger have cited their abrasive style of play as one of the key reasons for their success, surely their must be more to it than just ruthless aggression? Yes, there's no doubt that players like Abdoulaye Faye and Ryan Shawcross caused a massive stir when they first came to the Barclays Premier League, but there always has been a sense of danger, not flair, but danger.
Is this because of an incredibly potent strike force? No.
Is this because of quick, exciting midfielders that thrive when attacking? No.
Stoke City's danger comes not from flair, not from negative tactics and not from exciting attacking talent, but from a 54 year-old tactician.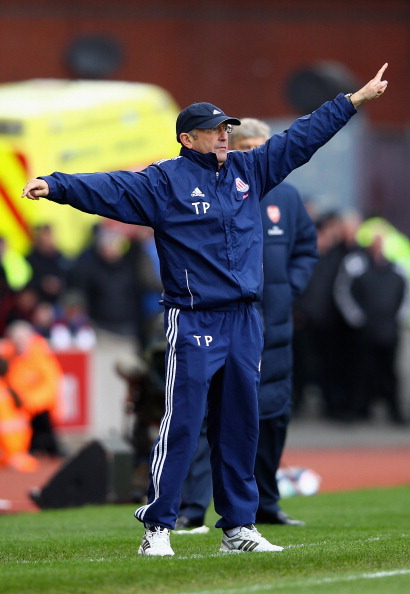 Tony Pulis was born on 16 January 1958 in Newport, a city in South East Wales. Pulis was a keen football fan as a youngster, supporting Manchester United and attending Cardiff City and Newport Count matches. He was also a talented young footballer, and joined Bristol Rovers' school of footballing excellence as a boy. Pulis went on to make 85 senior appearances for Bristol Rovers, where he played between 1975 and 1981. Pulis though, considers his time with the Bristol Rovers' academy an integral part of his success as a coach though, saying: "We learned our trade at a football club with really, really good people who had old-fashioned values." These are the same old-fashioned values that have been employed time and time again by Pulis.
When you attend matches at Stoke City's Britannia Stadium, you still get that traditional feel that has been discarded since the dawn of 50,000-80,000 seater works of art, home to the likes of Arsenal and Bayern Munich, for at the Britannia the smell of coffee beans lingers like the tension before kick off, and the fans' passion overshadows the rest of the league. Stoke City are, in fact, just about the only team not to have been overcome by their own success. It's as if they missed the evolution of football, and yet their success says otherwise.
Following their promotion to the Premier League, Stoke City's plan was there for all to see during the 2008/09 season. League was the priority, forget the FA Cup, forget the League Cup, the Premier League was the goal.
In the FA Cup, Pulis fielded a second-string side against Hartlepool in the third round. Ryan Nelson and David Foley dumped a half-hearted Potters out, whilst in the League Cup it was a different story entirely. Although Pulis fielded a largely reserve team for the majority of the tournament, they managed to scrape through to the quarter-final, where Derby County were victorious with seconds remaining. Their League began with a crushing blow, a 3-1 defeat at the hands of Bolton Wanderers. The team's fortunes quickly changed though, the Britannia Stadium becoming a fortress as The Potters secured wins against the likes of Arsenal, Tottenham and Aston Villa to propel themselves into mid-table. They finished a very respectable 12th place, with a total of 45 points.
After their successful breakthrough season, success was expected for Stoke City, and they didn't disappoint. They took advantage of their transfer funds, signing key players like Tuncay Sanli, Asmir Begovic, Robert Huth and Dean Whitehead. The 2009/10 season saw Stoke finish 11th place, an improvement on last season, but it wasn't the immediate improvement that mattered. What struck me was the plan that was being put in place, and it proved to be so.
The 2010/11 season is arguably their most successful yet. Signing stars such as Kenwyne Jones, Jonathan Walters, Eidur Gudjohnsen and Jermaine Pennant, Stoke City finished a slightly less respectable 13th place, but it was their FA Cup performance that raised many an eyebrow. The Potters made their way past the likes of Bolton Wanderers, West Ham United and Wolverhampton Wanderers to secure a place in the final against mega-rich Manchester City.
The Citizens breezed past Stoke 1-0, but it didn't matter. Stoke City secured a place in the Europa League because of their qualification to the final of the FA Cup, which is extraordinary considering that The Potters could only dream of the Premier League three seasons earlier.
The 2011/12 season was a blip for Stoke City as they saw the pressure of playing for both European and domestic honours, finishing 14th, but the plan is heading in the right place. 6'7″ Peter Crouch combined superbly with wing man Matthew Etherington and long-throw specialist Rory Delap, and Stoke kept their status as a potential banana skin to even the biggest of teams, a 1-1 draw against eventual champions Manchester City a prime example of that.
If there's one thing you can take from Stoke City, it's their ability to take things season by season and to have a goal. Where some teams would roll over and give up, Stoke City always have a goal. Something to aim for. For example: in the 2008/09 and 2009/10 seasons, it was to finish mid table and collect much-needed funds in doing so. In the 2010/11 season it was to go one further: to finish mid table AND compete in the domestic cups, which they did so well. The 2011/12 was a much trickier one with the pressures of the Europa League, but they still finished 14th and it was clear to see the difficulties they had with the hectic fixture list.
Tony Pulis has done what most nPower Championship managers don't: develop the side. First he managed to mastermind a promotion and he didn't stop there. Rather than just staying up, he gave his players a goal: to finish mid table. And his planning, his patience and his ambition has paid dividends for Stoke City.