Top 5 Arsenal goals
1.07K //
30 Mar 2013, 19:09 IST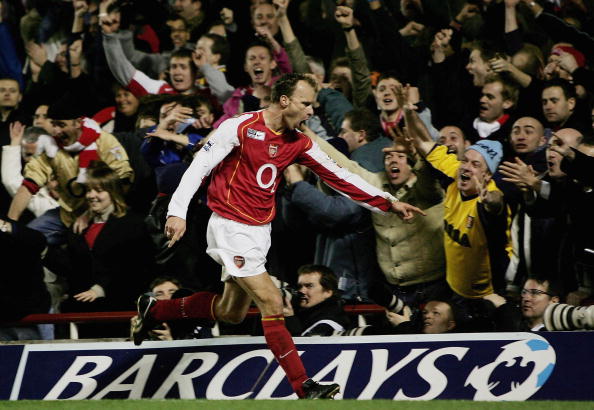 This series will give you some incredible goals to look at. The best 5 goals in the Premier League years for each club. They are presented from 5 to 1.
Now as you might expect, this was very tough. I found that the top 5 pretty much stood out above the rest but ranking them was a difficult but very enjoyable task. I tend to prefer goals that have many different bits of quality to them in my pecking order rather than individual explosions.
5. Thierry Henry vs Manchester United
At 5, we have this from Henry against United. He receives the ball under the close attention of Gary Neville but before it arrives, he knows exactly what he's going to do. He already knows that if he flips it up and puts his foot through it, he has a chance but the speed and technical execution is perfection.
4. Robert Pires vs Aston Villa
This was the original 'tikaboo' goal. Ljungberg recovers the balls and chips a lovely pass to Pires. From there on, it's all the French man though. When he gets the ball, there isn't any prospect of a goal coming but he sees otherwise. Scooping the ball over Boateng is impressive in itself but then rather than just smashing the ball in, he chips the ball over Schmeichel on the volley. Wonderful.
3. Dennis Bergkamp vs Newcastle United
The fact that I've had to put this at three shows how good the next two are. This is best known for the sublime Bergkamp turn at the end of it but the build up play is just as good. Vieira sticks out a long leg to rob the ball and it is swept out to Pires by a deep lying Bergkamp who then moves forward in to space. The pass by Robert Pires is laser like, millimetrically accurate through a sea of bodies in to Bergkamp's path. It's pretty enough in it's own right but then Bergkamp nudges the ball past a flailing Dabizas, spins around him, open his body up, and slots it home. Incredible.
2. Dennis Bergkamp vs Leicester
This goal completed a Bergkamp hat trick in a 3-3 and announced himself on to the English scene. Again, this goal combines some lovely passing with a moment of individual genius. Watch the way that the Arsenal midfield ping the ball around the centre circle, all one touch stuff trying to open up space which they eventually do. The ball drops in to David Platt who looks up and plonks the ball over the defence to Bergkamp where only he has a chance of getting to it. The first touch with his right foot brings it under instant control, the second is even better as he takes the ball straight out the air with his left and over Matt Elliott. He drags himself around him and somehow finds the time to open his body up and slide it in to the far corner. Absolutely amazing.
1. Ashley Cole vs Aston Villa
It has to be pretty good to beat these others but this has absolutely everything. Once more, this starts with a Vieira interception deep in the Arsenal half. He threads a ball through to Henry with the outside of his foot as Henry moves out towards the right wing. His first touch isn't great so he gets himself in to trouble. How he gets out of it sums his talent up perfectly. He shuffles the ball out from the sideline with quick feet then uses his power and strength to ride through two tackles. As he emerges from the mess, from left back Ashley Cole is running directly for the penalty box. Henry slides a pass over to Bergkamp who has dropped out deep. Cole blazes straight ahead, knowing that Bergkamp will see him and be able to find him. The touch from Bergkamp is stupendous, taking a ball high on the bounce and weighting it perfectly to Cole, and also on to his left foot. The finish is befitting of the approach play. Cole has a football's width of space to find in order to score and he does so by striking the ball first time on the run. From back to front in a flash. It sums up everything that was good about this Arsenal unit. Beautiful to watch.