Top 5 Arsenal Highlights for the year 2012
1.03K //
30 Dec 2012, 18:45 IST
2012 was a typically tumultuous one for Arsenal. Perhaps un-discernible from previous seasons, the same patterns emerged, leaving fans frustrated with an apparent lack of ambition. Despite winning the infamous 'Arsène Wenger trophy' for a top four finish, Arsenal failed to add to their trophy cabinet, leaving some fans calling for the manager's head. Yet again, big names were sold on for profits and contract disputes still remain. But, in spite of this doom and gloom, there have been some memories to savour and here are the best of them.
Having scored 226 goals in 8 illustrious years at Arsenal, gaining himself immortality, legendary status and even his own statute, Thierry returned to Arsenal. Having left 5 years previously for the fame and glory of Barcelona and then the riches of the MLS, Henry was allowed to train with Arsenal to maintain his fitness in the MLS off season. Arsène must have seen the magic that saw him win 5 trophies with Arsenal and a two month loan was agreed upon. This, of course, was met with much excitement from Arsenal fans, and indeed all football fans, and his 2nd debut was to be in the FA Cup third round clash with Leeds.
Henry was introduced with around 20 minutes remaining and with the game still goalless, the prospect of a replay at Elland Road was looming. But with 13 minutes remaining, and with only his fifth touch, Henry collected Song's pass before rolling back the years with a beautifully composed finish. The Emirates erupted and I would be lying if I said I did not have a tear in my eye. The King had returned.
Enjoy the moment again……….
Arsenal went into the match with Tottenham holding an unprecedented 10 point lead over their North London Rivals. Spurs were certainly on top and their fans were revelling in their surprising success, prompting their advice to us to 'Mind the gap'. Having endured a torrid January, Arsenal were reaching a defining point in their season and were in the race for the top four. The stakes were high and Arsenal were out to avenge their 2-1 defeat earlier in the season, but all did not start well.
Spurs looked to be on course for their first back-to-back league wins over Arsenal for 86 years as an early goal from Louis Saha and Emmanuel Adebayor's penalty saw them into a 2-0 lead. As it stood, this would have given them a surely insurmountable 13 point league lead. However, the game quickly turned and goals from Sagna and Van Persie shocked Tottenham to leave the score 2-2 at half time.
What followed in the second half will be a memory that will be cherished by all Arsenal fans and a result that would propel Arsenal towards 3rd place. A goal from Rosicky and two from Walcott left Spurs reeling and ultimately signalled their capitulation in form. Now the jokes were on them.
Winless in their last four, including a shock 3-3 draw against Norwich, Arsenal headed into the last day of the season, knowing a win would guarantee third spot. With Chelsea into the Champions League final, 3rd place could have been the last Champions League spot and a win was vital. Arsenal went to West Brom in what would be Pat Rice's last game while Spurs hosted Fulham.
All started well when Benayoun pounced on Fulop's error to give us the lead within 5 minutes. However, what should have been a routine victory from then on was anything but. West Brom poured forward and deservedly equalised through Shane Long before Dorrans put them into a shock lead. Meanwhile, Tottenham were leading Fulham and, as it stood, Arsenal would be in fourth.
They fought back though and Andre Santos' strike brought the scores level at 2-2. Then ensued another calamity from Fulop who failed to clear Van Persie's corner, allowing Koscielny to poke the ball in, giving Arsenal the lead. In typical Arsenal fashion, the closing minutes were frenetic and worrying as Gibbs made what may have been a vital goal saving tackle. Even Wenger could not bear the tension and he provided one of the most enduring images of the season as he buried himself in Pat Rice's lap, unable to watch any longer. It was a fitting end to Pat Rice's illustrious career at the club and once again Champions League football was secured, albeit in dramatic style.
Enjoy our final day victory to secure 3rd spot and ultimately Champions League certainty.
After around 17 months away from the game and countless heart-breaking setbacks,
Jack Wilshere
was finally able to make a return. A favourite with the fans, Jack had shown great promise and maturity in his performances, most notably against Barcelona, before injury curtailed a year of his career. His return was much anticipated by fans and on returning, he was compared to a new £30m signing. He certainly lived up to that and his performances since returning have been exceptional and just what the club needed. His return came against QPR where he put in a dynamic performance that brought the memories flooding back. His commitment to the club is unparalleled and although it may occasionally get the better of him, it has won the hearts of the fans. He scored his first goal since returning from injury against Montpellier with a lovely chipped finish that sent the crowd into raptures. Jack's back, and he is here to stay.
To enjoy it in full, check out a compilation of the best moments out together by the wonderful @CulannDavies.
Arsenal 5-2 Tottenham Déjà vu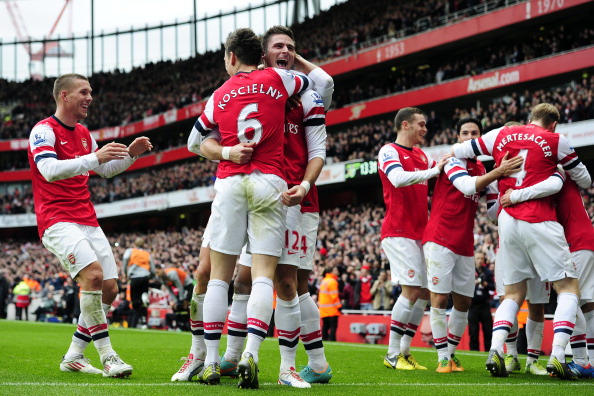 Winless in three games, Arsenal faced a key visit from Spurs to the Emirates. The famed 'Bould effect' seemed to have faded and defensive solidity seemed to be a thing of the past. Despite only losing once at the hands of Tottenham at home in 19 years, they knew this would be tough. Things appeared to be getting worse when 'you know who' poked Tottenham into the league after Mertesacker's lapse of judgement. However in the 18th minute, Adebayor flew into a high tackle on Cazorla. His madness prompted elation from the Arsenal fans as he was sent off.
From here, the game changed and Arsenal were in the ascendancy. A thumping header from Mertesacker, his first goal for Arsenal, and goals from Podolski and Giroud turned the match around for Arsenal, giving them a 3-1 lead. Arsenal proceeded to dominate the match and despite a consolation effort from Bale, prevailed to win 5-2. Again the jokes were on Tottenham.
Written by James Wareing