Manchester United played Tottenham Hotspur in the fourth friendly of their pre-season tour and emerged victorious by a 2-1 scoreline in the International Champions Cup. For the Red Devils, the goals were scored by Anthony Martial and Angel Gomes. For Spurs, Lucas Moura found the net.
In the first half of the match, both teams showed terrific intensity but United created the most chances. Martial hit the post early into the game, while David de Gea saved Dele Alli's effort on goal. The Red Devils took the lead through Martial's brilliant finish at the near post. Throughout the first half, Tottenham weren't doing enough with the ball and United were always looking threatening on the counter.
In the second half of the match, both Spurs and United made a lot of changes and the latter changed their whole XI. That worked for Spurs though as they started creating chances and Moura equalized through a deflected left-footer. After ten minutes, United went in front again as Gomes scored with a great finish from a very tight angle.
All in all, it was a pretty interesting match and here we take a look at the five talking points from the game.
---
#5. United's academy graduates impress again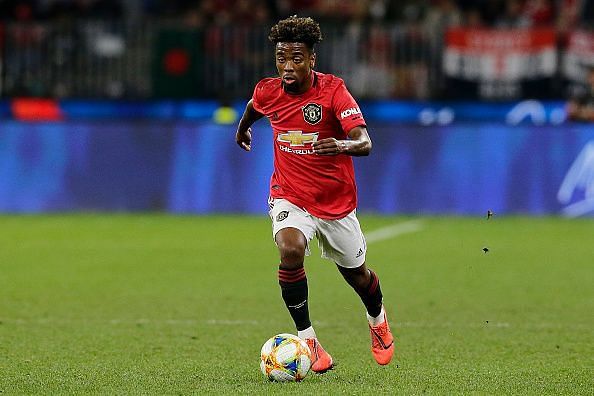 In the pre-season thus far, Manchester United's academy graduates have impressed massively. The likes of Tahith Chong, Mason Greenwood and, Gomes have taken their chances really well. Greenwood showed glimpses of his quality in the first half and in the second half, Gomes was undoubtedly one of United's best players.
He got United in front after he played a brilliant one-two with Juan Mata before the Spaniard put him through and Gomes finished from the left side. Gomes is a youngster who clearly has a lot of potential.
#4 United's pace in attack is proving unstoppable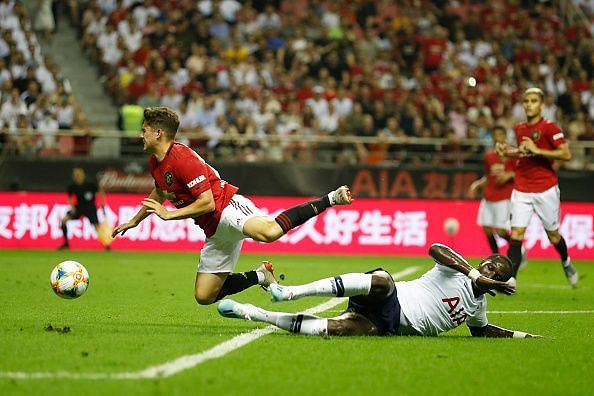 In all the pre-season games we have seen United play, they have looked devastating on the break. With the likes of Daniel James, Mason Greenwood, and Martial, United owned the Tottenham defense throughout the first half. So much so that James alone was fouled in the final-third more than three times and one of the fouls from Moussa Sissoko should have been a straight red.
Early in the game, United's press caused Tottenham a lot of problems as Martial hit the post early on when James pressed Sissoko into making a mistake and unleashing Martial through on goal. In the second half though, the pressing from the different front three of Rashford, Mata and Gomes was a little bit disjointed but that doesn't take away the fact that United have shown a lot of pace in the attacking third throughout the pre-season.
#3. Son and Moura changed the game for Spurs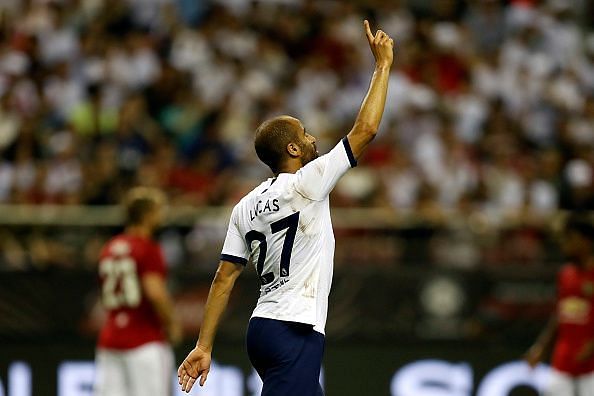 In the first half, Tottenham Hotspur lacked that much-needed sharpness in attack as there were almost no runners off the ball to work with, but the introduction of the South Korean trailblazer Son Heung-Min, who was impressive last season and Moura in the second half brought Spurs back into the game. Son, in particular, was very clever with his movement and he was taking full advantage of United's high-line in defense by making runs in behind.
He did miss a couple of chances but Moura made sure he took the one he got. Although there was some luck about the goal as it deflected off Nemanja Matic and went in, the work from Moura before was phenomenal. Mauricio Pochettino now has the tough task of fitting them both into the starting XI alongside Harry Kane.
#2. Martial impresses as a number nine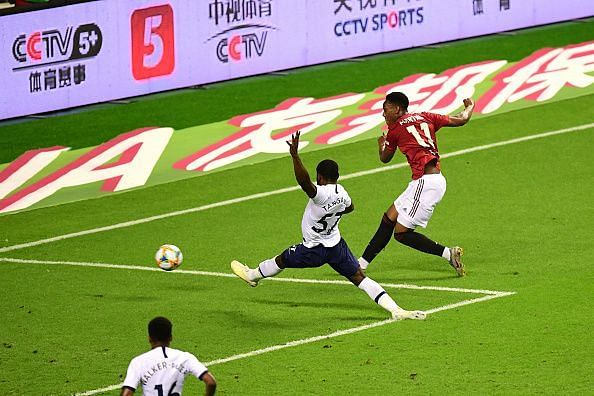 From what we have seen in this pre-season games featuring Manchester United so far, it looks like Marcus Rashford and Anthony Martial are in the running for the striker's spot and one of them is most likely going to play as a left-winger in Ole Gunnar Solskjaer's scheme of things in the next sea
So far, both Martial and Rashford have impressed in that role but the Frenchman seems to have the edge over the Englishman due to his finishing attributes.
Martial did himself no damage against Tottenham today as he scored from a very tight angle after being sent through by Andreas Pereira. From a Manchester United perspective, this competition for the striker's role is going to be brilliant to see and Solskjaer would be happy from what he has seen from both of them till now.
#1. United need to sign a center-back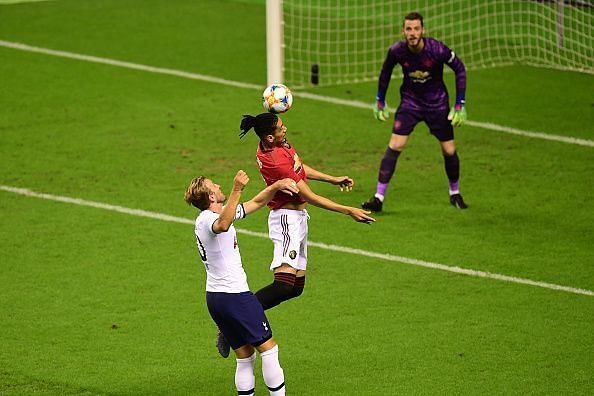 The injury to French defender Eric Bailly, who has become one of the mainstays of the Manchester United defense, had also brought home the fact that United need another center-back. It's not a secret that United lack quality center-backs, who can stay fit for an entire season, and the likes of Phil Jones, Marcos Rojo, and Bailly are prone to injuries. Also, Axel Tuanzebe hasn't really proved himself at the Premier League level, although he had a brilliant season for Aston Villa last season.
Manchester United have been heavily linked with Tottenham Hotspur and England stalwart Harry Maguire and if they are able to get that deal sealed, thenUnited's defense will most likely have a better look about them. However, nothing is final about Maguire's arrival to Old Trafford yet, and if the deal fails to materialize and injuries crop up mid-season, then Solskjaer might see his team imploding once again.