Tottenham Hotspur 2 Arsenal 1 – A dissection
826 //
09 Mar 2013, 19:43 IST
Tottenham Hotspur 2 (Bale 37, Lennon 39) – Arsenal 1 (Mertesacker 50)
Man of the Match - Gylfi Sigurdsson (Tottenham Hotspur)
It's nearly 5 days since that defeat in the North London derby, and I have finally found time to write a match review. In fact I will be doing a bit more, and try to investigate how we managed to lose a game, that we were so much in control of.
Like the Spurs game last February, Arsene named an extra midfielder. That time it was Yossi Benayoun, and this time it was Aaron Ramsey. Bacary Sagna's injury meant a start for Carl Jenkinson, and as an Arsenal supporting lad, he would well know the importance of these games.
Andre Villas-Boas, who had lost all his previous meetings with Arsene Wenger, his sides ending up conceding 5 goals on all occasions, surprisingly started with Gylfi Sigurdsson, in place of new signing Lewis Holtby. Scott Parker and Emmanuel 'Greedy'bayor started as well. Michael Dawson and Jan Vertonghen were the preferred central defensive partnership.
There were some frenetic opening moments, with Arsenal dominating possession, and fizzing the ball around with confidence, but were met with some stubborn Spurs defending. Michael Dawson, in particular was near perfect.
I was impressed with Arsenal's play in the opening half an hour. There was seemingly a very high defensive line, and Arsenal players were pressing at the opposition at every possible instant, and making it tough for them to thread any sort of attacks together. Mikel Arteta was disciplined as he stayed put just in front of the central defence.
Up top, Arsenal lacked a bit of tooth, with Giroud looking wayward, and almost every time losing out the ball to Spurs. In midfield, however, it was a different story, with Monreal getting forward on every possible attack, while Cazorla having a bit more of space to himself, as it looked like Spurs had clearly set up to stifle Wilshere. The danger signs for the Gunners high line was there for everyone to see, as Bale played in behind the defenders and almost got on the end of a cross, with only the goalkeeper to beat.
However, all hard work was undone with two moments of utter madness. Arsenal playing an extremely high line, and yet maintaining defensive shape, were completely undone by one pass. Sigurdsson, charging in from the left, spotted the run of Gareth Bale, who managed to escape the attention of Thomas Vermaelen. With Mertesacker staying put, Vermaelen came out to challenge for the ball, but Sigurdsson was clever enough to play in Bale, who put the ball into the back of the net, with only Szczesny to beat.
Spurs reworked the first goal again. This time, however, Nacho Monreal was at fault, as he failed to track the run of a charging Aaron Lennon. Arsenal again played a solid straight defensive line, but Monreal was caught ball-watching as Lennon made a surging run. Scott Parker spotted his run early, and played him in behind the defenders. Lennon rounded off Szczesny to score Spurs' second goal.
Arsenal clearly were shell-shocked at the quickfire concession of two goals. Arsenal started the second half in earnest, and pulled a goal back, when Walcott's free-kick went in off a Mertesacker header.
Arsenal upped the gear, with some more attacks. Carl Jenkinson's cross was smothered by Hugo Lloris, with Olivier Giroud and Aaron Ramsey looking to pounce. Spurs had their moments as well, with Gareth Bale almost scoring the 3rd goal off an Assou-Ekoto cross from the left, but blazed wide over, with the net gaping wide.
Arsenal were piling forward, as Ramsey moved to right back, and Jenkinson and Arteta were replaced by Rosicky and Podolski. Defoe, who had come on for the injured 'Greedy'bayor, almost scored, but his shot went narrowly wide. There was also time for some captain-on-captain (Vermaelen and Dawson) handbags.
Giroud and Podolski had a go each, but offered very little. Arsenal should have scored when Ramsey ran clear on the right side, but took too long to take a shot, and when he did, it hobbled wide. A Walcott free-kick too was narrowly wide.
As the referee blew the final whistle on a very intense and end-to-end game, it also signalled a 7 point gap between Spurs and Arsenal, a rising indication that Spurs may finally be able to finish above Arsenal for once. Times are certainly a changin'.
Here are some of my observations after the game.
Defensive Deficiencies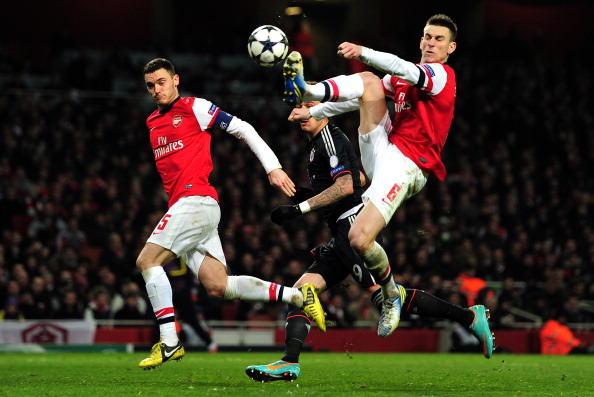 Yeah, I will be the first one to admit it. Our defence is pathetic. We seem to be clueless all the while, and all the goals we conceded have been the result of silly errors. Arsene is yet to find his best defensive partnership this season, and even though Laurent Koscielny was stellar last season, he has found his chances to be limited. Thomas Vermaelen seems un-droppable because he is the captain, while Mertesacker has been putting in strong performances, albeit some error-strewn once. The situation becomes more perplexing considering that the Koscielny-Vermaelen partnership is almost termed now as 'A Recipe for Disaster'. I have always felt Arsene Wenger has missed out on signing a really robust English styled centre-back for some time now. Phil Jagielka, Gary Cahill etc. etc., and with rumours now of Ashley Williams floating around, it could be a real possibility to get the defence sorted out.
Thomas Vermaelen has shown traits of being an English style centre-back, robust, strong on the tackle, and never shy of a challenge, but he has suffered from variable form and the burden of captaincy this season. Mertesacker has put up some strong performances but has been error-strewn, and has been caught napping far too often. Koscielny has been unlucky this season, with injuries and lack of chances. Djourou is out on loan, while the less said about Squillaci the better.
Signing a new defender may not be the solution to the problems, but clearing the squad of the unneeded ones and signing a new one certainly sounds good to me, at least in context of next season.
Jenkinson-Ramsey Conundrum
Carl Jenkinson had a solid start to the season in the absence of Bacary Sagna, but since the Frenchman returned, Jenkinson has had to rough it out. When given the rare chances, he has made costly errors, and looked like the lost boy he was last season. Consistency at the highest level is key, and young Carl has missed out on both, the consistency in playing opportunities and form.
Aaron Ramsey has been unlucky himself, first with his injury so early in his career, having to deal with the loss of his mentor, Gary Speed, while also facing stern criticism for his performances for Arsenal and Wales, which he eventually had to deal with by foregoing the national captain's armband. His earlier performances in the Arsenal shirt showed much promise and desire. But this season, and last season as well, he has suffered from indifferent form.
So, Jenkinson and Ramsey, two youngsters with plenty of potential, and heart. One of them is also a childhood supporter. According to me, Arsene has made a mistake by playing Ramsey out of position far too often. He was on the left-wing, central defensive midfield, and then right-back in the same game. While he does it to the best of his abilities, Arsene needs to decide the Welshman's best position, and help him adjust to the same, by playing him in the same position.
I still cannot fathom the bizarre decision to remove a natural right-back, and instead, play a central midfielder, playing on the left wing at the same position. Ramsey did manage to keep compatriot Gareth Bale quiet, but it sounded illogical to me.
Arteta Anomaly
The central defensive midfield role has been a problematic slot ever since Patrick Vieira left in 2005. While Gilberto manned the position for 2 years, and Flamini for 1 year, it has been one that has been a gaping hole. Diaby, Song and even Denilson have played in that position. Last season, Arsenal's central midfield partnership of Song and Arteta were partly culpable for Arsenal shipping 49 goals.
Song's adventures meant Arteta was left bare far too often, and this season he has taken over the role of sole defensive midfielder. While he has done his best, it still remains a problematic zone, because most of the goals that Arsenal concede are from poor defending in the middle of the park.
Coquelin has been far too inconsistent; while the deeper lying partnership of Arteta and Ramsey does bring something extra to the table, there is still something lacking, a bit of bite, power and muscle! Arsene, please sign some bad-a** defensive midfielder. It really is something the team could do with.
Podolski Paradox
Another aspect that confuses me is the hesitation from the manager to utilise Lukas Podolski. Podolski, to be honest, is not a central striker, as the past has shown, but brings a bit of directness, pace and energy into the game, and it surprised me he wasn't brought on until the 77th minute.
Since his move from Cologne, the German has been used sparingly, and has been brought off in almost all the games he has played so far. It is mysterious that the German doesn't get enough game time despite being the highest paid player at the club. Does Wenger sense some weakness in the German? Does he not consider him well suited to Arsenal's system? Well, that could remain a mystery for some time now.
Toothless Theo
Theo Walcott was almost anonymous against Spurs. Manned well by Assou-Ekoto, the English winger barely got any time on the ball, making 28 touches, fewer than even Tomas Rosicky, who came on as sub. What startles me is the number of poor performances he has been churning out since he signed the new deal.
Yes, he has his fair share of goals and assists this season, but his season has been riddled with a series of average performances. He gets stuck against some defenders, and if he cannot get his way for some time, it is almost as if his game is over. Arsenal need to utilise Theo's pace, probably channel it down the middle, if it isn't working down the right, and make sure he is able to make a contribution.
Goalless Giroud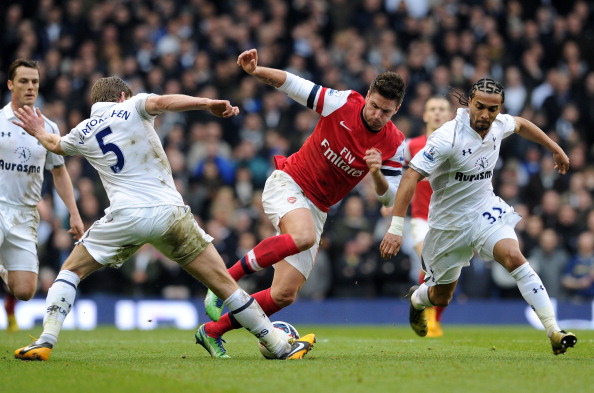 Olivier Giroud's transition from France's Ligue 1 to the Premier League has been hard. It was at times painful to watch him against Spurs. Far too often he lost possession of the ball, chesting it down and trying to find teammates. While it has been a new approach to Arsenal's game to use a target man, Giroud has failed to rekindle the kind of goal scoring touch that saw him top France's goal scoring charts last season.
While his silky smooth touches have fetched him 10 assists this campaign, he has managed 13 goals, including braces against Fulham, Newcastle, West Ham and Brighton, but still there seems to be a lack of a proper goal scorer, that would help bridge the gap between draws and wins.
Looking Forward
While the possibility of an 8th season without silverware looms large, barring a miracle in Munich, the only thing left to play now is a top 4 finish and securing Champions League qualification for next season.
Following are the upcoming games for Arsenal, Chelsea and Spurs as the race for the top 4 intensifies.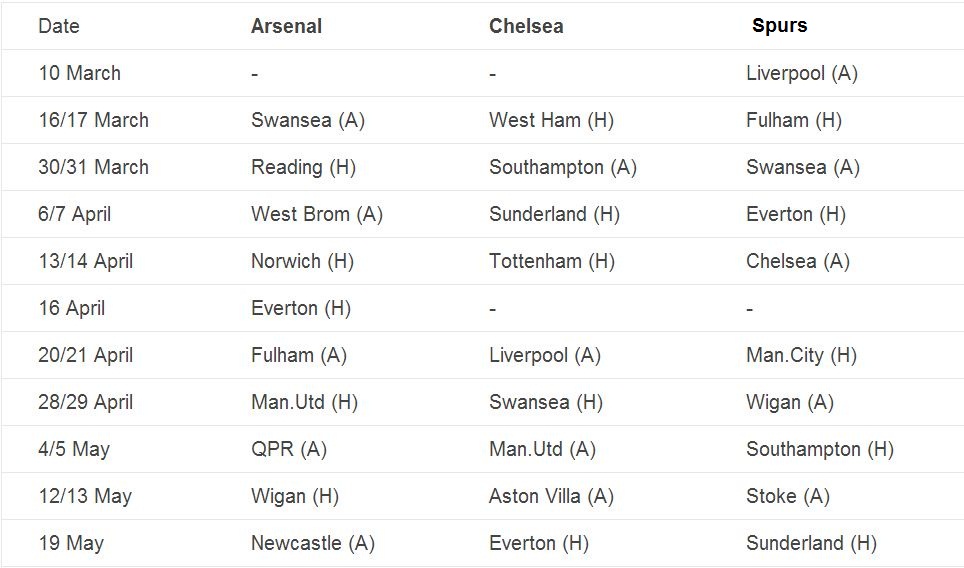 There await some potential proverbial banana skins for Arsenal. Swansea, West Brom, Fulham, Newcastle, QPR are all away games where we could drop valuable points, while Everton and Manchester United at home are big games.
While Chelsea and Spurs do face tougher fixtures on paper, it could go right down to the wire.
Hopefully, the team will be up for the challenge.
While you are about it, follow Blazing Cannons on twitter. @blazingcannons