Tottenham Hotspur vs Arsenal: An Arsenal fan's perspective of the proceedings
1.31K //
04 Mar 2013, 00:01 IST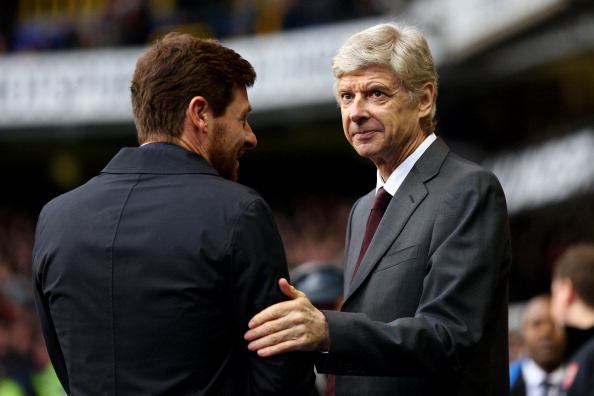 21:16 (IST) Greetings fellow Gooners, a slight nod of acknowledgement to other miserable beings that have no particular stake in the game but are watching it for the unfortunate demise of one of the clubs for the benefit of their own and an extremely icy cold shoulder to all Spu*s fans.
21:17 I'm scrolling past my TL and News Feed and looking for interesting matchday statuses that I'm going to insert here until kick-off.
Everyone said AW getting top four last season would be his biggest achievement. He got top three. Then everyone forgot that.

— Siân (@SianyMacalarny) March 3, 2013
21:21 Impatiently tapping on my keyboard, waiting for my Dad to finish watching some stupid mindless gibberish that falls under Hindi entertainment so that I can switch to ESPN HD.
21:24 This is ridiculous. There is going to be a war in my living room right about now. If only there weren't so many remotes that operated the TV, I could grab the nearest one and run. Damn you, digitalization.
21:27 On the phone with a Manchester United fan, don't know why he's calling me up when I have better things to do. "Five minutes to go," he says. Get a watch.
21:28 I'm a bundle of nerves and all that, and it doesn't help that the phones are ringing all over the place. Should've disconnected them beforehand. *makes mental note*
21:30  *silent prayer* And we're off!
21:32 Spurs with an early free kick. Bale looking all assured in his primitive form, causes the ball to go wide. So much for 'he can get a shot from any angle' like the commentator claimed.
21:34 Na na na na na Hey Giroud. You look so fine in HD.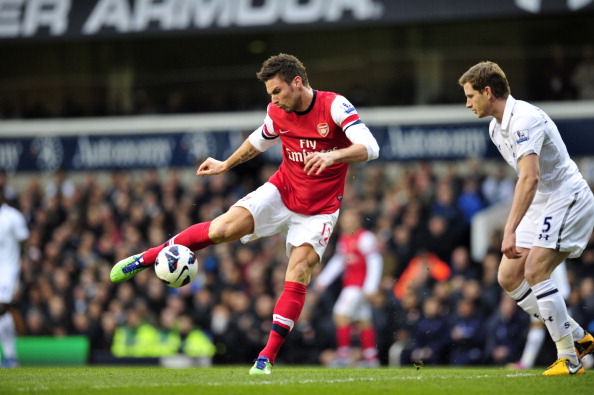 21:35 A fumble gives the ball back to us, deftly taken by Arteta, stopping the counter-attack and slowing down the pace slightly.
21:36 Our first corner of the game. I'm shaking.
21:38 A lot of running back and forth by Walker, an offside and some unnecessary noise in my neighbourhood. Shut your kids up, people.
21:40 Mum just brought a glass of warm milk, should help with the nerves. How thoughtful.
21:42 I have an inkling Walcott will score, but I'm agreeing to lose my credibility on that one as long as we score.
21:45 Nacho really needs to eat more, he's way too lean for a guy.
21:47 Bale surges forward and so does the crowd's volume…and nothing happens.
21:49 First yellow card: Adebayor. That's what you get for tripping Ramsey. That, and a lifetime of curses from me.
Adebayor should've been sent off just for that awful awful hair.

— The Funny Gooner (@FunnyGooner) March 3, 2013
21:54 Second corner. Walcott sends the ball in, Vermaelan out.
21:57 Spurs with a corner. Adebayor does a weird crawl on the pitch and loses the ball subsequently.
21:59 Another yellow to Jan whatshisname. My dad takes delight in yellow cards, the only part of the game he gets, I suppose. Ramsey booked too. I think that made his day, two minutes of the match he can explain.
22:00 Bale shoots straight into Scezney's hands. I know I got his spelling wrong again. Argh.
22:02 My screen just froze, and I realized HD was running a couple of seconds slower. Switched to normal ESPN where I can't really make out how pretty Giroud's eyes are.
22:06 It's getting harder to form sentences… Bale scores.
22:07 I am mentally preparing myself for the barrage of jeering texts and calls. Until we score and shut them up. I'm not fazed, I know it'll happen. 5-2 anyone?
22:09 Like I said 5-2. It shall happen.
22:14 It's down to the last minute before half time. So five goals equal a hattrick for Walcott, and we can divide the remaining two between Podolski and Wilshere. We play better in the second half, according to stats.
22:17 Half time. I hope I don't have to berate myself for eating pie beforehand in celebration. Come On You Gooners!
22:33: And we're off again.
22:36 Chanting 5-2 to mentally sort myself.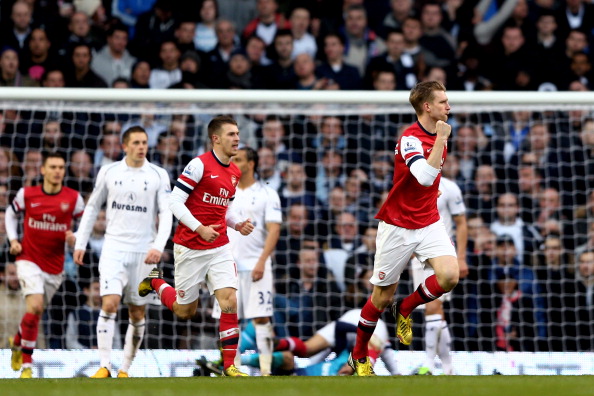 22:38 MERTESACKERRRRRRRRRRRRRR! Hits it right in the sack, er, I mean the net! Game on!
22:39 Monreal narrowly misses scoring his first goal in English football. Different game like the commentator said, different game indeed. I see a decline in the condescending texts already. That was close. Excellent cross by Jenkinson.
22:41 My fingers are doing a happy excited dance, tapping in anticipation of another goal and the probable overuse of the caps lock and exclamation marks.
22:45 Giroud knocked down. The game is getting really intense now. Projecting most of my energy on winning.
22:47 Bale misses. First sub. Rosicky on for Jenkinson. Let's get the goals coming in now, okay? An equaliser will not make me reach for the bottle in undue despair.
22:51 I've clawed more furniture than the cat. This is how people with bipolar disorders feel, always on the edge. Oooooh, a fight. One of life's indulgences, watching two strapping lads rough it out on the field.
22:53 Adebayor is off. His hairdresser called, apparently she made a mistake.
22:55 I just realized Clattenburg is maintaining quite a low profile this game, refereed fairly so far.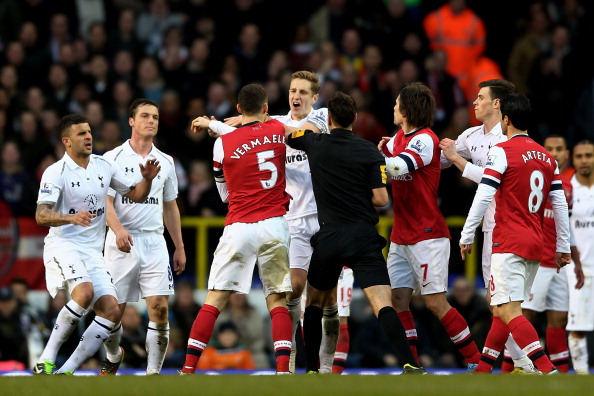 22:57 If I were on the radio, I would've been beeped for the entire moment there. Close. NOW RUN OFF TO THE OTHER END AND  STICK TO THE PLOT! Four more to go, remember?
22:58 My breathing is becoming increasingly constricted.
23:02 15 minutes, 4 goals. That's a goal every 4 minutes, roughly. Umm, okay.
23:04 If Tottenham scores again, we are going to break. And when we do, we might just go ahead and net in a couple more. It's that one goal that'll make the difference. Podolski on for Arteta.
23:07 Ramsey just spared someone their life.
23:12 I thought I was frustrated until I saw them zoom in on Wenger.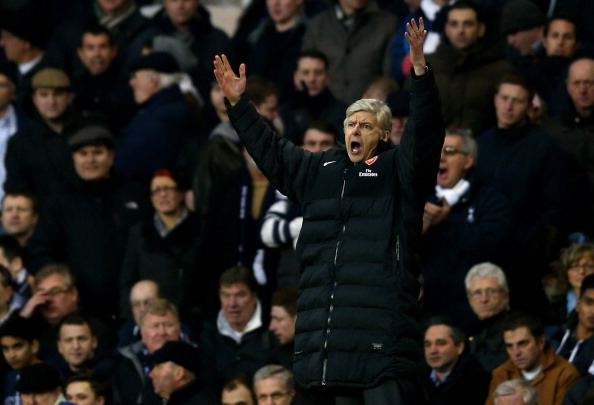 23:16 Theo! Argh, you could've atleast hit Bale. This is not good, I have a big cloud of doom hanging over my TV threatening to explode any minute.
23:17 Six Solid Minutes. It's like another game in itself.
23:20 …………………………………
23:23 I think I'm going to throw up, or pass out, or both.
23:25 FT.
K. I'm no longer attracted to AVB.

— Nazia(@snarkhunter_) March 3, 2013
Pros: I still possess a fake ID that states I'm of a legal drinking age.
Cons: Reasons why Arsenal have to win!