Tottenham make giant Champions League qualification stride with win over Arsenal
958 //
03 Mar 2013, 23:41 IST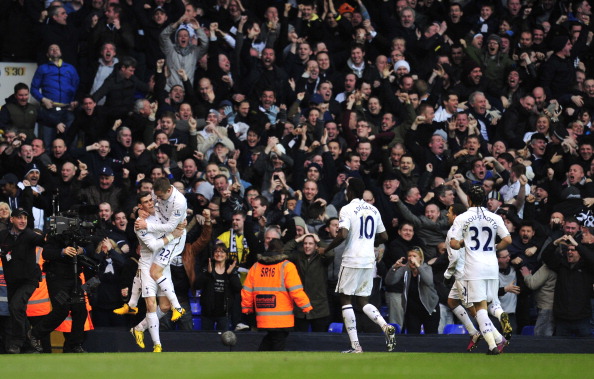 Tottenham put their recent North London derby troubles behind them by keeping all eleven men on the pitch, and running out 2 – 1 winners over Arsenal. Goals from Bale and Lennon were sufficient for the cockerels to leapfrog Chelsea back into third spot, and open up a 7 point lead over the Gunners, who pulled one back through Mertesacker, via Bale. An injury to Adebayor may be the only concern though for Andre Villas Boas as he celebrates a big stride for his side in the race for Champions League qualification.
There was a lively start to the game with both sides willing to run at the opposing defence, creating more than one half-chance, but never more than that. Arsenal seemed set up to attack down the flanks, while Tottenham had players driving through the middle with the ball at their feet. The best chance of the opening period fell to Olivier Giroud, who was put through on goal with a well-directed lob over the Tottenham defence, but was stopped by an excellent sliding tackle from Jan Vertonghen.
Emmanuel Adebayor had his heart in his mouth around the 18th minute mark, when he caught Wilshere with his trailing leg in a sliding tackle, but escaped with only a yellow card, as opposed to a red in the reverse fixture. The game then settled into a rhythm of sorts, with each side taking turns to attack; much of Arsenal's play coming down the right flank through Jenkinson. However, it was the home side who got the breakthrough with a goal from, surprise surprise, Gareth Bale. With less than ten minutes left in the half, an attempt at catching Bale offside failed for the Gunners, thanks to slow reaction from Mertesacker, and Sigurdsson slipped a perfect ball in for the Welshman. Bale, collecting it in his stride, made no mistake in slotting it past the advanced Szczesny, who could do little but curse his fate for being put in a one-on-one against a man in supreme form.
Just a couple of minutes later, Szczesny would have even more cause to complain as two separate runs, one on the ball and one off it, went completely unchecked and led to Tottenham doubling their lead. Scott Parker's run on the ball was distracting enough for Vermaelen and Mertesacker to ignore the inward run of Aaron Lennon, who had been let go of by Monreal, and the Spurs' duo combined perfectly for Lennon to round the 'keeper, and slot home his fourth goal of the season. That's how the score remained till the end of the half, leaving Arsene Wenger some real work to do in the dressing room.
Five minutes into the second half, Mertesacker made amends for his role in Tottenham's first goal by helping pull one back for the visitors with a glancing header. Having peeled off from his marker, Adebayor, the German defender got in front of Bale and flicked a header across goal which sneaked into the far corner, under the reach of the diving Lloris. Upon review, the ball could be seen glancing off the head of Bale into the net, making it worthy of being recorded as an own goal, but we will likely have to wait for the findings of the dubious goals panel on that.
The game was on the brink of a brawl about five minutes past the hour mark when Adebayor sustained a knock to his knee and was left indisposed, while Arsenal continued to play on, in spite of the Spurs' striker clearly being in need of medical attention. When the game eventually did pause, Michael Dawson took strong exception to Arsenal's actions, getting caught up in a verbal war with Vermaelen, which could have descended into more if not for the timely intervention of Mark Clattenberg who calmed the Tottenham captain down.
Arsenal continued to press, yet failed to create anything cutting edge, while Tottenham had their share of bright moments on the counter attack. In particular, an occasion on which Sigurdsson was through on goal but tried to square it to Bale instead of taking the shot on himself, was something Tottenham fans were left disappointed about. For Arsenal, Theo Walcott came closest with a free kick which was a comfortable foot wide of Lloris' near post, but could not do much more. Arsenal's attempts at an equalizer included Szczesny marching into the Tottenham box for a corner, but to no avail, meaning that White Hart Lane celebrated a memorable win.
Result: Tottenham Hotspur (Gareth Bale 36', Aaron Lennon 39') 2 – 1 Arsenal (Per Mertesacker 51')