Transfer Scouting Report: Manchester United should target flying left-back Ben Davies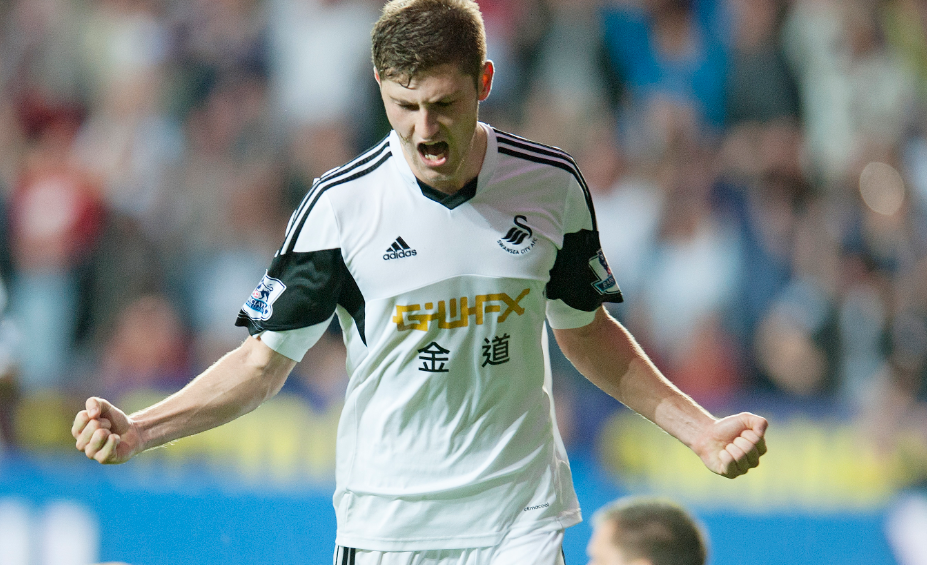 It's no secret that Manchester United want a new left-back.
The summer-long pursuit of Leighton Baines followed by the last-gasp attempt to snare Real Madrid's Fabio Coentrao on loan made it pretty clear that they do.
And that's understandable, given Patrice Evra remains unchallenged in his position. But following recent quotes from the Frenchman about his contract – which expires next summer – and future at the club, manager David Moyes is likely to place even more emphasis on signing someone for that position.
"It is not that Manchester United do not want me to sign a new contract," he said on French television programme Telefoot. "This whole thing is personal. Manchester United would like me to finish my career there, but this is something personal."
So with Evra stalling on a new contract and even hinting that he could leave at the end of his current one, a deal for Baines apparently too costly, and Coentrao likely to remain in Spain, it seems Moyes has to expand his search.
But he doesn't have to look too far out of the way. Just over in Wales playing for Swansea City is a talented young player in Ben Davies.
The 20-year-old Welshman really got his chance last season when then first-choice left-back Neil Taylor suffered a long-term injury. And he grabbed that chance with both hands, showing himself to be a diligent defender and an efficient attacker.
He made averages of 1.8 interceptions, 5.5 clearances, and attempted an average of 2.5 tackles per game last season, winning an impressive 73% of them and committing an average of less than one foul per game in the process.
So far this season, he has made averages of two interceptions, 3.8 clearances, and attempted an average of 2.3 tackles per game, winning a markedly improved 94% of them, and again committing an average of less than one foul per game, showing how tidy he is in his attempts to regain possession.
On the ball, however, there is a need for some adjustment. His long passing isn't particularly good, as he completed just 53.7% of these passes and an even more disappointing 36.7% of them so far this term. He averaged just three long passes per game for both seasons, which isn't much, but it's best he lower that figure by playing more short passes as well as making more use of his movement.
Speaking of his movement, he always makes himself available on the overlap, taking full advantage of the space left on the wing when the likes of Pablo Hernandez and Wayne Routledge cut inside. He likes cutting inside too, at times popping up in some very promising positions in and around the penalty area. His willingness to get forward at every opportunity saw him create 18 chances last season and five so far this.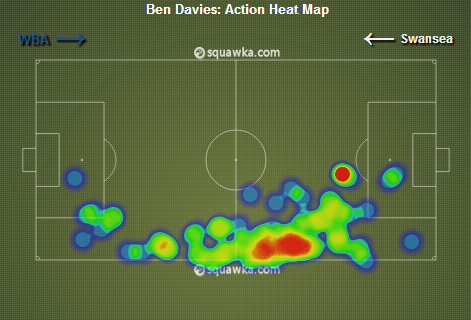 And he has got himself a few goals too, netting one last season and doubling that tally already this campaign. Setting up team-mates and getting into dangerous positions are things Evra does very well at present. Moyes would no doubt embrace the attacking endeavour of Davies, as he would help the position retain its attacking threat.
The Scot actually likes his full-back's to bomb forward as well as forge meaningful partnerships with the player just ahead of them on the flank. The huge impact Baines had on Everton's attack under his reign and the thriving partnership he developed with Steven Pienaar just ahead of him is proof of this.
Young Adnan Januzaj is currently making waves on the left flank for United. He, though naturally left-footed, likes drifting infield in addition to staying on the outside. Given Davies likes going either way himself, therein lies a fruitful long-term partnership.
And therein lies a very solid left-back, it has to be said. At 20, there is much room for improvement, but the potential is there for all to see. Southampton's Luke Shaw may be drawing much attention, but Ben Davies is proving game after game that he is deserving of some too. That said, Moyes would be wise to consider him.