Travails of an Arsenal fan
1.40K //
10 Mar 2013, 15:14 IST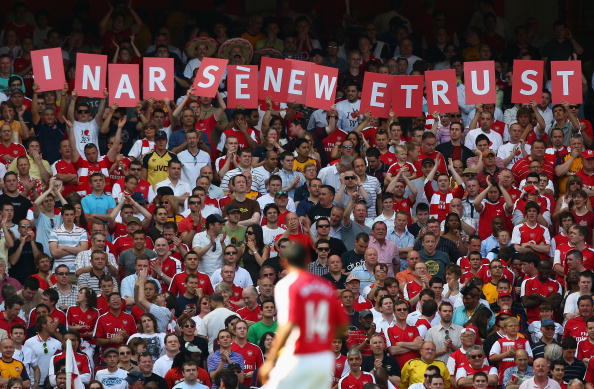 I write this article exactly a week after our bitter rivals Spurs beat us in what was a pulsating North London Derby. So, you can imagine my mood when I write this now. It is one of despair and yet one of reflection too. I have been an Arsenal fan for 7 seasons, the current one being my 8th, and let me tell you, it has been quite an experience. I had always admired Arsenal before but had never seriously followed them or watched their games. It was only in the 05-06 season that I made my transition from being just a casual fan to a fanatic. Though I can honestly say supporting Arsenal has been one of the best things to happen in my life and I love them dearly, the amount of heartache they have caused in this period has also been pretty darn bad. I don't think any relationship with a woman can cause this much heart ache (just kidding!).
The number of so near and yet so far and what if moments that this period has been littered with have been innumerable. What if Henry had buried those chances against Barca in the UCL final? What if Arsenal had not given away that last minute penalty against Birmingham in the 07-08 season? These and many other questions continue to plague the thoughts of Gooners the world over. The last 7 seasons have been a roller-coaster ride of emotions, many highs and many lows. We have been hailed for our beautiful passing game and the quality of football, but praise can only go so far. Without an end product, in this case silverware, the fans have become restless.
With talks of an imminent takeover and general club-in-crisis talk, we Gooners face a most uncertain and dark period. Fans like me who are part of the new generation or new breed as such have never gone through this transition like stage. In the past, Arsenal fans have really had to be patient at times, waiting for 10 or more years (the period between the FA cup win of 1950 and the Inter-Cities Fairs Cup win in 1970) before the club did land some silverware. So, in that sense, we can only hope. At times, I feel we Arsenal fans have been too pampered by Wenger in his first 8 years in charge of the club. In that time frame, we won 3 league titles, 4 FA Cups and 4 Community Shields – a total haul of 11 trophies. What was also very remarkable was the manner in which those 3 league titles were won.
In the 1997-1998 season, we overcame a 12 point deficit to snatch the league title from United. In 2001-2002, the team went on a remarkable winning streak to seal the league at Old Trafford. The 03-04 season saw us making history, and I don't really need to go into the details, apart from saying Unbeaten 49. But in Arsene's next 8 years in charge, his fortress of solitude, so to speak, has crumbled. He has been left vulnerable and broken at times. Don't get me wrong, he has achieved some quite remarkable results in that time frame. A Champions league final appearance and 2 subsequent league cup final appearances stand testament to that. But that mental strength that his players used to have is just missing in this lot. The fact that funds were not available to buy top players also does play a role. When Wenger first came to the club, he made smart bargain buys whom he then turned into superstars. But that mantra has grown old. Post the Abhramovich take over at Chelsea and with the oil money flowing in, the game has changed. Now you need to pay top dollar to get the best players who have the mental capacity to win you trophies.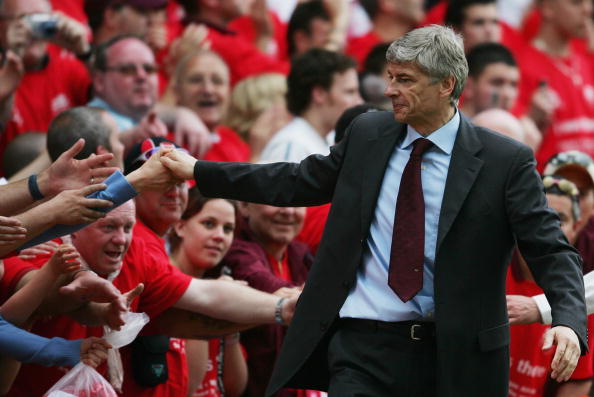 To be frank, this is the worst I have seen an Arsenal team perform in years, and it is just plain depressing. Defensive concerns over the last 8 years have not been addressed till date. The number of center backs we have had in those years have ranged from the likes of Gallas, Toure and Vermaelen to Senderos, Djourou and Squillaci. There has been no real stable partnership in those years. I guess, what frustrates most fans these days is the fact that we keep selling our best players every year. We just haven't performed in the big games this season. I fear that a trend has set in at the very top level of the club, a very dangerous trend where the board is content with mediocrity and money. All the board want is for us to qualify for the UCL and they will be happy. In fact, they have made it such an important goal that Wenger himself was forced to admit the fact that he considered qualifying for the UCL as silverware. This is not something Arsenal fans want to hear.
This team definitely needs to win some trophy; even a league cup could do wonders to the confidence of it. Back in 1987, when George Graham was manager, Arsenal hadn't won anything since the 1979 FA Cup. But Graham led them to a League Cup success and that kick-started a  very productive spell that led to 2 League titles, 1 European Cup Winner's cup, 1 more League  Cup and an FA Cup.
Trust me when I tell you how sick I am of listening to the banter from other fans regarding our empty trophy cabinet and the dust collecting in it, and having absolutely no comeback to those statements. As a fan though, one must come to accept these highs and lows as such and you cannot let it govern your thought process. But sometimes, it's come to a situation where I'm literally doing a prayer in the hope that Arsenal break their duck. All clubs go through this phase and I'm sure the day will come when Arsenal finally get back to the top of the pile. But until that day comes, we can only keep hoping and supporting the team we love. And as I conclude this article, I would like to end it with a quote from one of my all time favourite films. As Harvey Dent so eloquently put it in The Dark Knight, "The night is always darkest before the dawn and that dawn is coming." And I think this statement really does ring true for all of us Gooners.