UCL: Is the stage set for an all Spanish final?
1.39K //
16 Mar 2012, 17:51 IST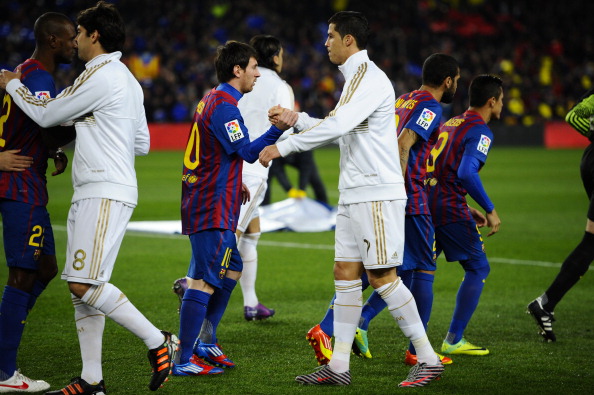 The draw for the quarter final of the Champions League was announced earlier today, with some intriguing match ups being made. The obvious stand out tie of the round being AC Milan against Barcelona. Real Madrid got the draw they were looking for in Apoel Nicosia. Chelsea matching up with the dangerous Benfica could be an exciting tie and surely Bayern Munich are favourites to emerge victorious from their meetings with Marseille. With the semi final draw also keeping Barcelona and Real Madrid apart; can anybody see the Champions League trophy going anywhere other than Spain?
With Barcelona's recent record in the competition, the quality of their squad and the mesmerizing style of play they adopt, they are favourites to take the title. Players like Xavi, Iniesta and Messi deserve to grace club footballs biggest stage, with another win in the competition only serving to further cement their place as true greats in the history of the game. Barcelona are head and shoulders above anybody in world football, in terms of ability, although they have had their fair share of shaky moments this year, especially away from the Camp Nou, which will cost them their domestic crown.
In Pep Guardiola, they have a manager who has complete belief in Barcelona's style of play. He encourages players to express themselves whilst in possession, to always look for a pass no matter what part of the pitch they are and he has instilled a calmness in his players, even in the face of the most unrelenting pressure (Manchester United found out the hard way in last seasons Champions League final). But what makes this Barcelona team different to previous regimes at the club, is the work rate Guardiola demands of his players. Barcelona are as devastating without the ball, as they are with it. Teams can't breathe with the constant pressure they are placed under by players like Pedro, Alexis Sanchez and Busquets, this is a hugely contributing factor to the high possession stats we see in Barcelona's favour in every single match.
Guardiola is also a strict disciplinarian. A claim proven by the fact that he had no hesitation in shipping Deco and Ronaldinho out of the club when he felt they were becoming a disruptive influence on one Leo Messi. He also recently dropped Dani Alves for going to an event and breaking a team curfew, after he had been refused permission by the club to go out in the first place. His stance on such matters will only gain him further respect of his players and sends out a clear message that, at FC Barcelona, the highest standards must be maintained in order to continue dominating European football.
But can we rule Real Madrid out? In Jose Mourinho, they have a manager who only knows how to win. Surely Mourinho is the best manager in the world? He has an aura about him which exudes belief amongst his players. He has a great habit of turning  men into champions. He brought FC Porto two European trophies, he brought Chelsea their 1st league crown in 50 years and he brought the Champions League to Inter Milan, a team who struggled to get past the quarter finals in previous years despite dominating the domestic scene in Italy. He is on the verge of his greatest achievement; Real Madrid will be champions of La Liga this year. To take the title from the best footballing team in the world, tells you everything you need to know about Jose Mourinho.  The machine like way the Real have been racking up wins in both La Liga and the Champions League, backed up by the fact that they have beaten Barcelona in last season Copa del Rey final (they were extremely unfortunate not to beat them in the semi final of this year's competition) makes it impossible to rule them out. The Jose factor is too great to be dismiss.  Don't bet against an all Spanish final, further proving the dominance of the Spanish league.