UEFA Champions League: Chelsea seize a thriller!
924 //
08 Nov 2012, 11:28 IST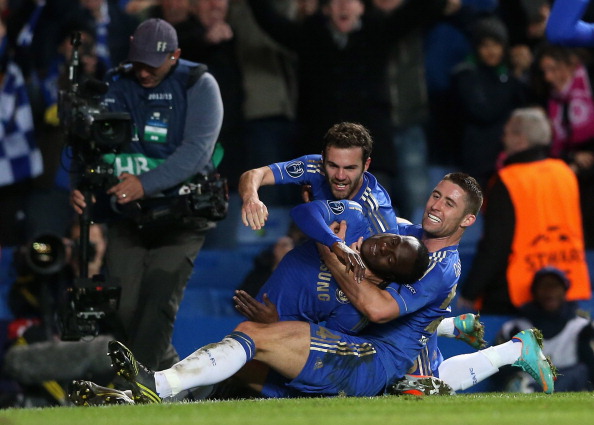 Victor Moses scored in the last second to end a 37-match undefeated streak of Shakhtar Donetsk, and put Chelsea on top of Group E  at Stamford Bridge, in one of the most entertaining football matches of the year. Chelsea won 3-2 in a match that could have gone either ways.
It was a must-win game for Chelsea, and their starting line-up said it all. With the likes of Fernando Torres, Juan Mata, Oscar, Eden Hazard and Ramires in the attacking front, it was a strong line-up. Petr Cech was given the Captain's arm band, as usual Blues skipper John Terry was on the bench. Shakhtar, meanwhile, had 9 Brazilians in their starting eleven, which included their star midfielder Willian and the scorers of the previous encounter with Chelsea, Alex Teixeira and Fernandinho, and had Adriano up front. Darijo Srna, the Croatian right-back, was leading the Ukrainian side.
Chelsea earned a quick lead after a blunder by Shakhtar goalkeeper Pyatov, which Fernando Torres took advantage of and was fortunate enough to get the goal. Willian equalized shortly after this, and Shakhtar started to dominate the European champions. Chelsea defenders had a nervous first half, with a lot of errors from David Luiz, playing at center back, and a few from Ryan Bertrand as well, who was replacing the injured Ashley Cole. Chelsea somehow managed to hold the Ukrainian attacks and keep the scores level. Just minutes before half-time, Oscar came up with a wonder goal, 40m from the goal and an amazing volley out of nowhere, to give Chelsea a 2-1 lead.  The Brazilian midfielder, claimed by Neymar to overtake Messi and Christiano Ronaldo in the next few years, celebrated a goal which will be remembered by Chelsea fans for a long time to come. Meanwhile, Pyatov, playing his 200th match for Shakhtar, wasn't having a good time at the Stamford Bridge. Half-time score was 2-1 in the favor of the home side. But the scoreline didn't completely tell the story of the match. Shakhtar were dominating the possession and the weaker Chelsea defense made the Blues vulnerable.
The second half started with Shakhtar equalizing with a Willian goal, for which Chelsea had only themselves to blame. The other part of the second half saw a different Chelsea; they were a more organized team this time. The game started picking up pace. John Obi Mikel almost scored his first goal in 5 years at Chelsea, but his header was ruled off-side. The only controversial decision of the match was when Ramires was brought down by Shakhtar defenders in the penalty area, but the referee found it clean. Shakhtar players by this time, started looking tired and it was then that Roberto Di Matteo made two game-changing substitutions, bringing on Sturridge and Victor Moses for Torres and Oscar respectively. The referee had given 3 minutes of stoppage time, which were over when Chelsea were awarded a corner. Juan Mata took the corner-kick, with Gary Cahill and David Luiz, both good headers of the ball, inside the box. But the ball went straight through to Victor Moses, who had hardly been on the field for 10 minutes, and he made no mistake in finishing off the goal.
Chelsea clinched a thriller, which saw them go to the top of the group due to a better goal difference than Shakhtar, who are placed second with 7 points. Juventus are third with 6 points, and Nordsjaelland are at the bottom with 1 point. All teams have played 4 matches each. Chelsea will travel to face Juventus in a vital clash while Shakhtar have an away fixture against Nordsjaelland.