United dominate disappointing Arsenal
666 //
03 Nov 2012, 21:08 IST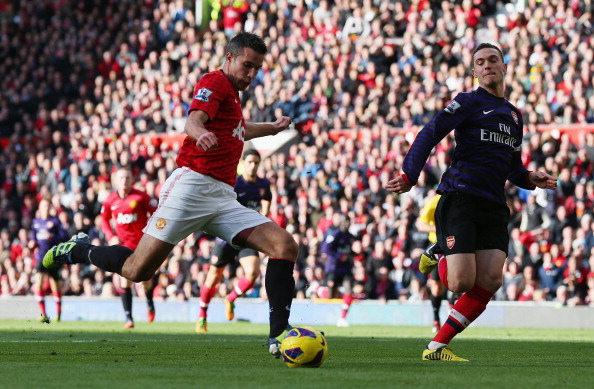 On paper, this was a game for the ages. In the premier league era, Manchester United v Arsenal games have been eagerly awaited and keenly contested. There have been feisty encounters, there have been one-sided encounters and then there was today. A boring game, if the adjective could be used and perhaps should be. The final score, on paper, indicated a close game; after all, there was only a difference of one goal in it. In truth, the game was part match and part training ground exercise.
The game kicked off and what was inevitable, did happen. After all, it was in the script, wasn't it? It had to happen and it did. Robin van Persie scored inside three minutes. The former Arsenal captain capitalized on a mistake by Arsenal's new captain. United were one up before one could spell Vermaelen and that was that.
The rest of the first half played out with United pretty much in the ascendancy but not really showing any great deal of urgency. United retained possession for long spells in the half and when Arsenal did manage to get some possession, they lacked the incisiveness that could cut through a United defence that has not really been the strongest this term.
The only real talking point of the first half was just before the interval when Santi Cazorla appeared to handle the ball inside the box and the referee pointed to the spot. Cazorla did argue that it was more a case of ball hitting hand than vice versa. Appeals fell on deaf ears. Rooney stepped up, scuffed his shot and it flew wide. United went into the break one nil up.
The neutrals hoped that the penalty miss would spur Arsenal on but the second half panned out quite similarly to the first. United again bossed possession and when Arsenal did get it, they hardly threatened. United scored a second when Evra headed in a pin-point Rooney cross to make it two nil. To rub salt into the wounds, Jack Wilshere was sent off after a second yellow. Game over.
Theo Walcott was brought on early in the second half but he failed to make an impact. Arsenal's going down to ten men did him no favours at all. Santi Cazorla did score a consolation (and what a strike it was!) late into injury time; so late, in fact, that it was the last kick of the game. The final scoreline was a respectable 2-1 but in truth, it was far more one-sided than that reflected.
For Arsenal, there were hardly any bright sparks, with Vito Manone perhaps being their best player on the pitch. They just seemed to lack that fizz or that spunk that characterizes an Arsenal team. They looked woefully short of ideas and the players appeared to be strangers to one another. Perhaps conceding so early on affected them mentally, with visions of the 8-2 coming into their periphery. Whatever the case was, they let United settle into the game far too easily and were second best all throughout.
For United, pretty much everything they tried came off. Valencia tormented Andre Santos all afternoon and Rafael ably supported him. Ashley Young was good going forward and tracking back. The defence, in truth, was hardly tested but whatever little they did have to deal with, they did deal with. David De Gea hardly had anything to do but he did make a couple of decent stops. Robin van Persie was his excessively intelligent self again and proved a constant threat. Carrick was a touch off-colour, missing a few passes and giving the ball away a little too cheaply at times. Cleverley was his industrious self.
The one player who stood out for United, however, was Wayne Rooney. He was everywhere. He joined in the attack, he tracked back to defend and did everything in between. He dropped deep into midfield and dictated play, carefully orchestrating where the ball went. United seemed to play through him. Fans would most certainly reminisce of a certain ginger headed midfielder seeing Rooney in action today. He was that good.
In the end, United go top of the table, temporarily, at least and Arsenal's stop-start start to the season has stopped once again.
Arsenal were average; United never got out of second gear. They did not need to.