Video: Did Luis Suarez try to bite Martin Demichelis' hand in the Champions League?
6.38K //
25 Feb 2015, 17:28 IST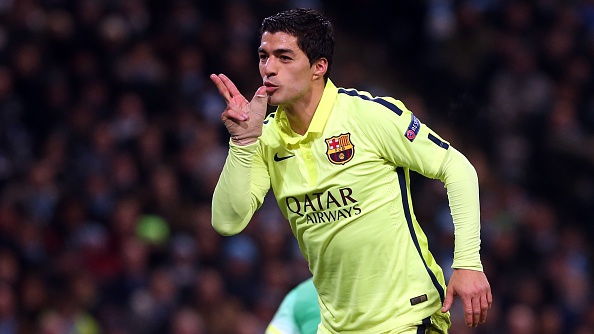 Luis Suarez had a brilliant outing at the Etihad Stadium against Manchester City in Barcelona's 2-1 win against the reigning English champions. His first half brace gave the Catalan club a comfortable 2-1 lead to take into the second leg of the Champions League round-of-16 tie at the Camp Nou.
While the Uruguayan would welcome the praise associated with his performance on the day, he also seems to have pulled off a vintage 'Suarez chomp-down' on the field yet again.
Near the end of the game, the striker tried to run across City's Argentine defender Martin Demichelis. The defender can be seen flicking his hands towards Suarez to block his run and Suarez seems to do little to avoid the flailing arm.
In fact, Suarez does exactly the opposite of evading the arm and appears to move his head towards Demichelis' hands. The question is, did Barcelona's £ 75 million man try another of his famous bites?
Demichelis didn't react to the Uruguayan's action, but Suarez has had a long history of trying to bite down on his opponents. Suarez has previously chomped down on PSV midfielder Otman Bakkal's shoulder while at Ajax. His move to the Premier League with Liverpool saw the Uruguayan sink his teeth into Chelsea defender Branislav Ivanovic.
Suarez again took a bite off in the international stage too after biting Italy's Georgio Chiellini during a 2014 World Cup match. He defended himself by saying he lost his balance and fell teeth-first on the big Italian.
All the above actions have earned Suarez huge fines and resulted him being banned for several matches.