Video: Manuel Neuer saves a penalty during Bayern Munich's 1-1 draw against Schalke
3.99K //
04 Feb 2015, 12:28 IST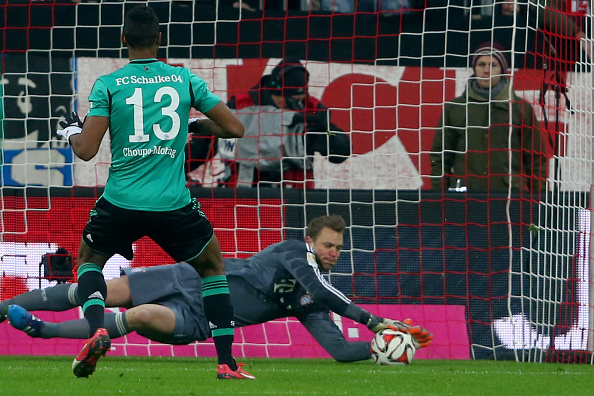 It was a close contested tie between champions Bayern Munich and fourth-placed Schalke as they played out a draw at the Allianz Arena, and if it wasn't for Manuel Neuer, Roberto Di Matteo and his men would have secured three crucial away points.
Bayern Munich had a nervy start in the game with Jerome Boateng being sent off in the 17th minute of the match after bringing down Sindey Sam inside the penalty box, forcing the referee to award Schalke a penalty, which was to be taken by Eric Maxim Choupo-Moting.
However, his penalty was just too weak and easy for the German International who came to the rescue as he dived to his left to keep the match goalless.
When asked about what his thoughts were exactly before diving to the right side to save the penalty, Neuer told Bundesliga's official website, "Before today Choupo-Moting had always gone for the other corner when he'd taken a penalty - I think he'd gone to the right [from a goalkeeper's perspective] the last eight times."
"But it's always special match when you play against Bayern and he knows that I study penalty takers, which is why I thought he might try something different. That's why I went to my left," he adds.
Likewise, Moting's frustration was evident post-match while stating, "If we'd gone in front with my penalty then you never know how things would've turned out. But when you go behind in a match you're always happy to come away with a point. I wanted to send Neuer the wrong way - but it didn't work, unfortunately."
"Of course, I should have struck it better but I was pretty sure he would dive the other way."
It was Neuer's fourth save in the last 9 penalties that he has had to face.
Watch the save here:
---