Wenger Out: A Cautionary Tale
975 //
28 Dec 2012, 11:02 IST
Arsenal fans have become accustomed to these sort of headlines in recent months and weeks, with even some of Wenger's loyalist supporters beginning to doubt themselves and the great man himself:
"Wenger will see out his deal but only a trophy may keep him at Arsenal."
"Arsene Wenger might not see out his contract at Arsenal," says Jeff Stelling
"Wenger must go, says former Arsenal star."
"Wenger: Future is out of my hands."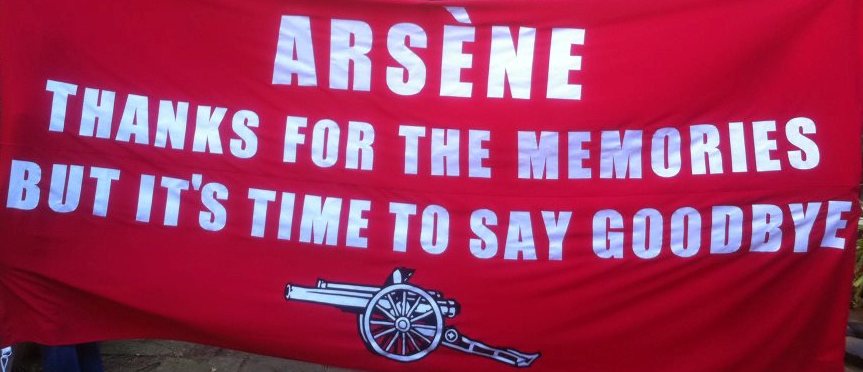 I am delighted to welcome top Liverpool FC blogger, Karl Koppack, @TheCenci to give us Gooners what I hope will be a very enlightening  perspective. A perspective on the current divide in our support base when it comes to the future of our current manager and the length of his tenure. This is his take on the whole situation: 
This isn't going to be popular.
See, I'm not an Arsenal fan. I never have been. I admire Arsenal, yes. I've had some dealings with the club and found them to be dedicated and easy going people who were anxious to help me. I've been to the Emirates more than a few times and been beaten. I've admired your ground. I've admired your pies. I like your comfy seats. I've stood on your pitch (long story) and I've liked Highbury. In fact, I've always found Arsenal to be top of my Least Irritating London Club award but I'm not an Arsenal fan. I'm a Liverpool fan. Sorry, but that's the way it is.
So why am I tugging your shirt tonight? What could I offer you other than a possible anti-Manchester and Tottenham empathy? Well, it's your manager.
I follow a few Gooners on Twitter and know many more in the real world including one named after Sammy Nelson (in fact I sort of know Sammy Nelson. Long story). I have had to read Piers Morgan's constant diatribes about dismissing Wenger thanks to an average start to the season, the odd embarrassing result and a few barren years. I've seen his views echoed in some quarters too and despite thinking that anyone that agrees with Piers Morgan should be the subject of some sort of investigation, this Sack Wenger movement is gaining some momentum.
My advice is this.
Don't!
Seriously. Don't!
Not because of a loyalty to the man, although that's always welcome for a man who's served you well, but because you don't know what's coming next.
I speak from experience. In 2009, Rafa Benitez confounded his ignoramus bosses and guided Liverpool to second in the League and was a John Arne Riise mindmelt into taking us to his third European Cup final in five seasons. We were on the up. In March, we put four past Real Madrid and Man Utd in the same week. Torres and Gerrard were magnificent. Mascherano and Alonso were the envy of many and our defence was staunch. Shout 'Rafa out' back then and you'd be shown the door with some speed via some quality Adidas footwear.
Fast forward twelve months later and things had changed. We finished 7th and were out of both Cup competitions in a matter of days (thanks for that). Europe fell by the wayside too as we failed to get out of an average group. The football was dire. Our home win against Debrecen was one of the worst games I've ever seen. I wrote at the time that we took the sting out of the game and kept it there. When Dirk Kuyt scored the winner, many laughed. Bloody awful!
Rafa was dismissed despite an unbelievable Champions League victory, an FA Cup, a League Cup final and another Champions League final. One bad season. Sacked. We've paid for that ever since. Last season, we finished eighth. For some, an eighth place finish this season would be a sign of progress. At the moment, we're trying to buy back a kid we released in the summer at a loss of £3.75m and he may be our only purchase in January. We had to ensure Rafa went to Chelsea just so we could over-pay for Daniel Sturridge. Suffice to say, the definition of success has changed.
I've always liked Wenger. I like that he got under Ferguson's skin and I like that he's produced some of the best football teams in the last twenty years. I was at Highbury when Henry played us off the park in 2004 and it was one of those games where you just have to admire what's beaten you. I've liked his signings of players I've never heard of but made them Premiership mainstays. Yes, he's bought the odd turkey (Gervinho, Chamakh etc) but he's also had to sell some great players. These things take time but you have a manager who can at least entertain a crowd. Yes, Bradford was embarrassing but you can still batter teams when the mood's upon you. Our biggest League victory is 5-2 but save for that our biggest lead has been 2-0. We ended up drawing. (NB. written before Fulham match.)
Should Wenger go, you're going to have to rely on money men picking a replacement as we did in 2010 and 2012 and it's a slippery slope of interim managers if you don't get it right very quickly. We've had Rafa, Hodgson, Kenny and now Rodgers since the money men stepped in. Four managers since 2010. Four managers pre Rafa would take you as far back as Dalglish in 1985. Managerial longevity does work, so don't risk it over a League you couldn't possibly afford or the odd lost trophy. Bradford cost you your easiest chance at silverware. Winning it last year didn't help our manager save his job.
Vieira's penalty in the 2005 Cup Final does seem like a long time ago but it's easier to fall away as we did than climb dizzying heights with a new manager, a new backroom staff and a new philosophy. Our greatest ever manager once went seven years without a trophy too. We had faith in him and he built a legacy.
I'd have the man in the Duvet coat in the LFC dugout in a heartbeat.
So be careful what you wish for and give the man in the duvet coat time to get it right. There's no one better around at the moment. I'd have him in our dugout in a heartbeat.
Thanks again Karl for bring an intelligent outside perspective.  Food for thought for the Gooners.