The first Madrid derby ever to take place outside of Europe ended in a humiliating fashion for Los Blancos who conceded 7 goals and managed to score only 3. What was expected to be an even contest among the city rivals turned out to be a complete demolition of the Real Madrid defense.
Even if the game was just a pre-season friendly, to concede 7 goals is an alarming issue that Zinedine Zidane needs to resolve if he is to bring any trophies to the Bernabéu this season. There are a few concerning areas that needs to be improved for the Whites to re-emerge as the all-conquering team that history has shown us.
---
#1 Lack of intensity from the beginning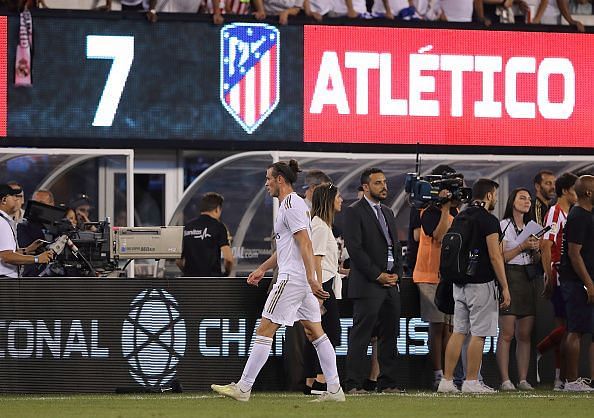 Real Madrid conceded four goals in the first 30 minutes, with two of them coming inside the first 10 minutes.
The first goal was scored in the first minute with that being the first goal attempt by any side. Atletico Madrid started the game with a lot of intensity but Real Madrid did not match their city rivals' intensity one bit. This has been a problem of Real Madrid for a couple of seasons now with Zidane himself bringing up this issue in his post-match press conferences back in the 2017-18 season.
This lack of intensity from the start hurts Los Blancos, as they concede at the very start of the game and have to spend the rest of the match trying to play catch up. Against teams such as Atleti, who are content to sit in a low block and counter when given an opportunity it turns out to be a huge issue. Real were ripped apart on every counter-attack by Atletico, who looked to convert any ball turnovers by Real Madrid into goal-scoring chances. Ironic considering how Real Madrid has always been one of the greatest counter-attacking teams on the planet.
#2 Kroos as a Defensive Midfielder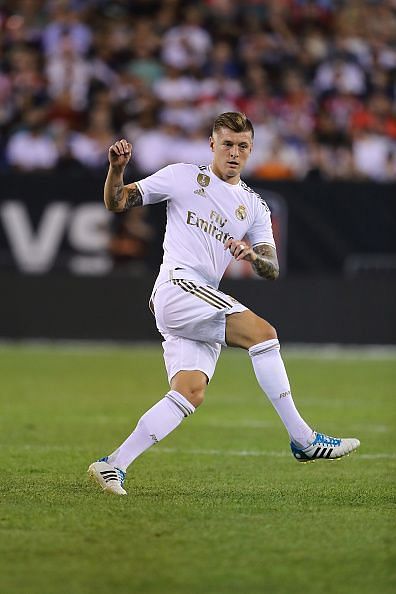 Let's get this straight. Toni Kroos is one of the best midfielders on the planet right now if not the best. But he cannot play as a lone defensive midfielder. He simply does not have the understanding and work rate required to be a defensive midfielder.
His best position is to play as an slightly more advanced central midfielder, where his defensive responsibilities are considerably less and he's allowed greater freedom to control and regulate the team's offense.
The next best option is to play him in a double pivot with a natural DM by his side. The only season where he worked well as a lone defensive midfielder was in the 2014-15 season. But that was because the team could always outscore their opponents and didn't have to worry about their defense.
When Casemiro returns he will take his place; but what if he gets injured? With the only other natural defensive midfielder in the squad in Marcos Llorente sold to Atleti, who covers for Casemiro? This is something Zidane has to figure out before the transfer window closes.
#3 Lack of a proper system
So the lack of a proper defensive system has been an issue in Real Madrid ever since 2017-18. Without a proper defensive system in place, Real have been conceding goals left, right and center.
The only reason Real Madrid won the Champions League that season was that the offense was still functioning and the team had Cristiano Ronaldo, who could bang in goals when needed.
Without the goal-scoring machine on their side, Madrid has often struggled to score goals as evidenced by their record-breaking goal drought last season.
Real Madrid with Ronaldo, in his last 2 seasons, scored 2.79 and 2.47 goals per game respectively. Without him, in 2018-19, this dropped to 1.66 goals per game.
This lack of goal scoring prowess would still have been okay if they had a proper defensive system in place. Real Madrid conceded 1.21 goals per game in 2018/19. Compare this to FC Barcelona and Atletico Madrid who conceded 0.95 and 0.76 goals per game respectively, it shows how much the Whites concede as compared to their direct rivals.
Real have world-class defenders on their side but still concede some thoroughly avoidable goals. They don't have players who can score tons of goals, and the lack of a proper defensive structure leads them to concede goals.
Of course, this was just a pre-season friendly and it is better to lose in such a way now than to lose during the season.
Zidane still has time to fix all these issues before the season starts and there's still hope for all the Madridistas around the world.
Edited by Aaditya Narayan