What if Gareth Bale had gone to Barcelona and Neymar to Real Madrid?
10.08K //
13 May 2014, 19:36 IST
Atletico Madrid, Barcelona and Real Madrid have been involved in a cutthroat competition since the beginning of this season for the La Liga title and the final match between Barca and Atletico will decide the winner whereas the European Cup will be taken away by Real Madrid or Atletico.
This year, apart from the brilliant squads of these three sides, two players have been talked about a lot and thrown into the limelight- Gareth Bale and Neymar. Both secured their high-profile moves last year to Real Madrid and Barcelona, the teams they wished to play for. The transfer amounts were 100 million euros and 57 million euros respectively but the actual amounts are quite disputed.
Gareth Bale is deployed on the right wing of the attacking three by Ancelotti whereas Neymar plays on the left wing where he plays for Brazil as well. While Neymar played as a left centre-forward for Santos and Bale played across the attacking midfield at Tottenham.
Neymar and Messi were expected to become a dangerous attacking force for Barcelona and Real Madrid had already got their fearsome attacking trio in the form of Ronaldo, Benzema and Bale.
Bale had a slow start to the season due to injuries while Neymar settled down quite well with crucial goals in his first El Clasico and the Supercopa. Bale bounced back after his return with the sensational goal in the Copa Del Rey final becoming one of the highlights of Spanish football this year while Neymar's form of late has been patchy and he has been injury-prone.
So far, it hasn't seemed that Neymar and Messi have been able to establish a great rapport whereas Bale was happy playing with Ronaldo. Yet both of them have made good contributions for their respective teams. It is debatable as to who had a better debut season, but I would go with Bale as both statistics and team performances indicate he has been more influential.
Bale stats 13/14: 42 games - 19 goals, 20 assists
Neymar stats 13/14: 40 games – 15 goals, 15 assists
At a point of time Barca wanted Bale and Madrid wanted Neymar. Barcelona  reportedly bid for Bale in 12-13 whereas Madrid were willing to pay up to 120 million euros for Neymar. Let us create a hypothetical situation where Gareth Bale would have gone to Barca and Neymar to Madrid.
BALE TO BARCELONA
It wouldn't have been easy to prize away Bale thanks to Daniel Levy. This transfer wouldn't have broken the transfer record as such (because Neymar to Madrid would have).
Having 26 goals and 15 assists in 44 games during his final and most productive season at Tottenham, he would have been great in supplementing the attack.
He would have got his preferable left wing position at Barca. He could add a new dimension of counter attacking football to the side.
Barca have a shortage of left-footed players (Messi and Alba) and would have got one more player of that kind.
Bale has certain traits of Ronaldo such as height, blistering speed, dribbling and goal scoring as well. So Barca would have got their own Ronaldo along with a certain Lionel Messi they already have. Bale would be a unique addition as a tall player to Barca's attack.
Barcelona would have got a different kind of player in Bale, very unlike the La Masia graduates they have had since implementing the tiki-taka style. They would have got a highly incisive, attacking player in Bale.
Bale and Alba would have paired up quite well in defense as well as in attack. Barcelona would have natural wingers in the form of Bale and Sanchez/Pedro. Also he could have been used as an inverted winger (RW) alongside Pedro (LW) and Messi (CF).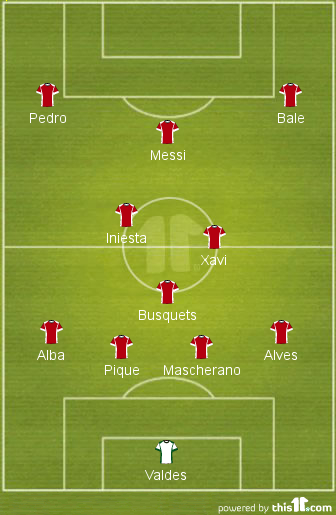 Bale who can play as a secondary striker/centre forward, could have been used backup striker or a False 9 in Messi's absence.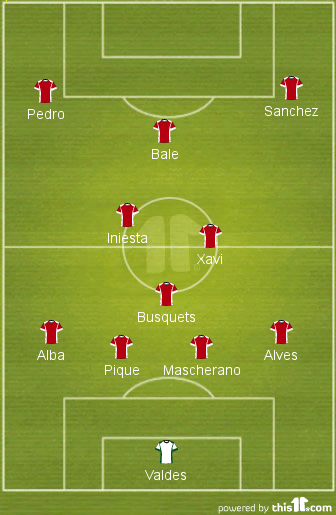 Also, he might have been asked to play as per the tiki-taka philosophy which might limit his attacking potential (as it happened with Sanchez).
Settling down at Barca would've been difficult and he would have been in Messi's shadow (potential ego clash).
This is what the probable lineup could have been with Bale.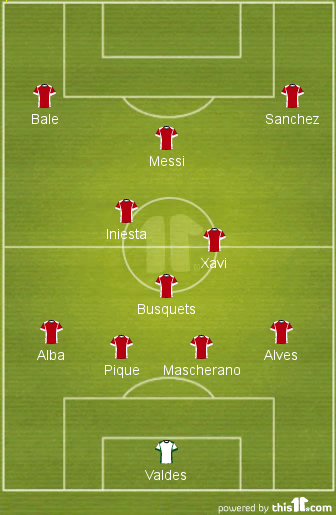 NEYMAR TO REAL MADRID:
This could have been a world-record transfer. The first person who would have been affected by this would be Cristiano Ronaldo.
Neymar could have been the jewel/centerpiece of Madrid's attack even though they have Ronaldo. Yet both could end up fighting for space to score.
Neymar is a prolific goalscorer as he scored 136 goals in 225 appearances for Santos.
Neymar would've played as CF so that he could unleash his goalscoring ability. Also, he would have done a good job assisting Ronaldo as well. Neymar tends to drift down to the left quite often and Ronaldo to the center.
But Neymar would have been a significant improvement over Benzema and with him Madrid's attack would have been even more threatening.
Neymar would link up with Isco/Modric quite well like he did with Ganso at Santos.
Also, Ronaldo would be the preferred free-kick taker unlike now where Bale is in the contention with Ronaldo to take free-kicks.
Neymar is compared to Messi more often due to his goalscoring, speed, ability to slip past defenders with ease, dribbling, potential to be the best in the world and his height as well. So Madrid could've got their own Messi.
Neymar is a more marketable player with several endorsements  and is a household name. Madrid could make huge profits through Neymar.
This could have been Madrid's formation with Neymar: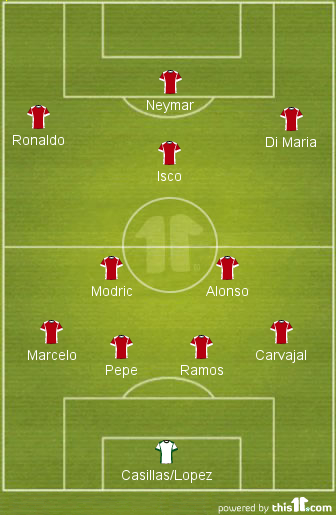 In Ronaldo's absence, Neymar could also play as a LW.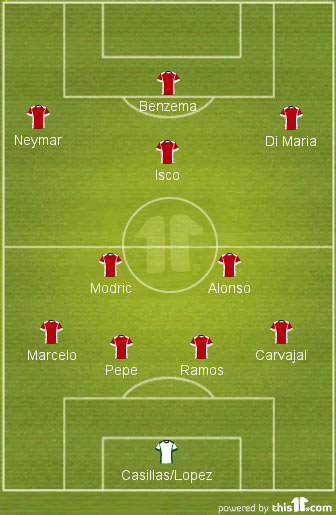 Both players are doing well at their respective clubs but this situation though hypothetical would be truly mouth-watering!