Where do Premiership soccer stars go on holiday?
3.05K //
04 Mar 2012, 14:31 IST
Kicking a ball around a field with 10 of your mates for an hour and a half each week may not sound particularly taxing, but our footballing heroes end each season in dire need of a recharge. And so most of them head off on their holidays, visiting destinations like Barbados, Sardinia, New York and Thailand in search of relaxation and recuperation.
If you want to  spend your holidays brushing elbows with Wayne and Colleen this year, or simply want to know where to go to avoid their presence, check out these destinations, havens for the best and brightest soccer stars.
Sandy Lane, Barbados
As exclusive and discerning as Caribbean resorts get, the Sandy Lane Resort on the beach in Barbados nevertheless let in the likes of Andy Carroll and Wayne Rooney last summer. Built in a classical colonial style with wooden verandas and stone terraces, Sandy Lane looks out over the azure blue seas and lush tropical foliage of the island.
Guests can relax in one of the on-site pools, dine to the blissful sounds of live piano, or laze leisurely on the hotel's own private beach, said to be one of the best in the world.
And don't worry about the likes of Carroll and Rooney misbehaving; they were apparently nothing but gentlemanly during their stay here, perhaps because old-timer Gary McAllister was there as well, keeping an eye on his younger counterparts.
Capri, Italy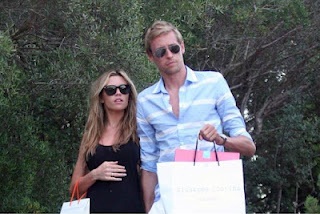 Long a resort of choice for the rich and the famous, with movie stars such as George Clooney, Kirk Douglas and Anne Hathaway visiting this sumptuous Italian island, Capri has now been discovered by footballers. And one of the most recent visitors here was Peter Crouch, who, along with his svelte wife Abby Clancy, stayed here ahead of his move to Stoke City in August 2011.
I am, however, reliably informed that Crouch did not visit the famous Blue Grotto while holidaying in Capri; at 6 foot 7 in bare foot, he simply couldn't fit inside.
Ibiza
Perhaps more predictably, the party island of Ibiza is a big hit with plenty of Premiership stars, including Steven Gerrard and Jamie Carragher, who, with a bevy of Scouse pals, holidayed here together in the summer of 2010. Other footballers who let their hair down and indulged in the frenetic night life here include the likes of Spanish World Cup stars Pepe Reina, Fernando Torres and David Villa.
Coincidentally, all five of these players have suffered alarming dips in form and injury since staying on this enchanted Balearic isle; maybe too much partying isn't good for an athlete after all. Who knew?
Ascot
Ever the country gent, Man Utd's perennial sub striker Michael Owen loves nothing more than flying off to his Cheshire stables in his personal chopper and putting his horses to pasture. So it is no surprise that the world's most boring footballer elects to stay home during his one annual break, making the most of June's Royal Ascot horse-race.
No safari holidays or Thai beaches for this chap. Of course, Owen had the small matter of his horse, Brown Panther, racing in showcase event the King George V Stakes at Ascot, and was chuffed to bits to see his trusty steed cross the finish line in first place. Now, I wonder if he had a bet on?
Los Angeles, California
Mischief maker and amateur philosopher, Joey Barton, raised a few eyebrows last summer by dressing up as a hipster and decamping to California for a few weeks. Whereas we are used to seeing Barton fighting with his team-mates and shouting at passers-by, photos documented Barton as he hobnobbed with bands like Vampire Weekend, singers like Morrissey and played it cool in the City of Angels.
Curiously enough, Barton was denied a U.S. Visa just weeks later as his then team, Newcastle United, embarked on a summer tour of the states, fuelling speculation that Barton perhaps had been less than truthful with border officials when he visited earlier that summer. Where next for Barton? Maybe walking holidays in Skegness, or a Buddhist retreat in India?
John is a travel writer who, most summers, can be found embarking on punishing walking holidays or relaxing down by the Sea of Cortez.
Image Courtesy: http://www.flickr.com/photos/randystorey/4588425107/ Photo by Rand O'Graphy on Flickr.com. Used under Creative Commons Licence.
Please like O-Posts on Facebook
Follow the site on Twitter