Who are the Arsenal of today?
1.07K //
10 Dec 2012, 00:33 IST
Arsenal are in a rut, there's no denying that. We've been in miserable form since the 3-1 win at Upton Park, for which no one has the answers for, not even Arsène. It's worrying that no one seems to have a clue anymore, whether it's to do with contracts, tactics, form, or any other issues a modern football club faces. What's even more worrying is that no one has the stones to admit it. The most annoying thing about Arsenal at the moment isn't the fact that we're not winning, or that we've got an orderly queue out the door when January rolls around, or the fact that people are getting excited about a Championship trickster. I'm talking about a fundamental problem we've had since the beginning of the season: Arsenal are boring.
Not in a good way either. Gone are the "glory days" of 1 nil to the Arsenal. Gone are the days of legendary defenders, tough midfielders, and strikers sharper than butcher knives. The Arsenal of late is dull, predictable, and easy to intimidate. The pace is slow, the morale low, and the home crowd uninspiring. This problem isn't just on the pitch, it's inside the psyche of every person involved. The fans don't believe in the team anymore, which causes the players to lose belief in themselves. There's no one man to save us again and again, as seasons before. There's no person to count on to pick up the team by the scruff of its neck and carry it to the finish line.
While ultimately the team comes before any one man (if this summer is anything to go by), you have to wonder, who's our Superman? When the chips are down, who's the player ready to step up and spur the team on to victory? A few years ago, Chelsea fans would point to Frank Lampard, Liverpool fans to Steven Gerrard, Arsenal to Cesc Fabregas. Captains either by example, or by sheer aggression.
Time has passed, players have left, and what remains doesn't provide the same spark of yore. Gone are the beautifully weighted through balls, long-range volleys, and antics that Arsenal used to be known for. Don't get me wrong, the players we have at our disposal are capable of bringing back the fun of the Arsenal way, but they've only shown these capabilities in patches. We no longer score for fun, we no longer defend like Fort Knox, and we no longer bully the opposition to submission in midfield. What we are is a team lacking mettle, sorely in need of a player to step up to the plate and provide the belief required to help dig the team out of trouble. We have no stand-out warrior, and there lies our issue. Everyone looks to each other to liven up the game, but instead falls flat, tired of trying to force what isn't there.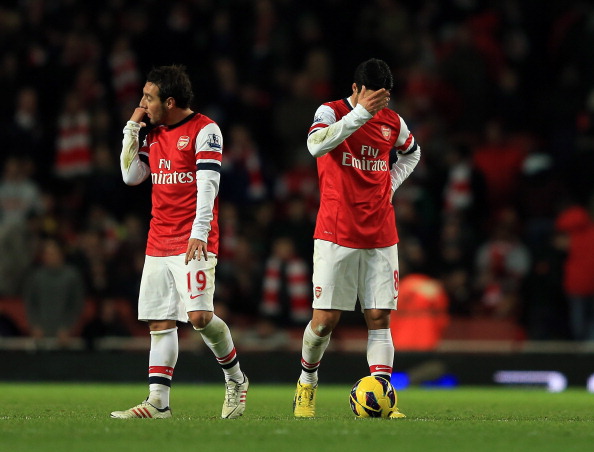 Looking back to any year in the past 16 of Arsène's reign, there have been many players with a never say die attitude, players who'd kick your shins off for the three points. To avoid looking too far back to heroes long gone, I'll take the 2011-12 team as a prime example. Almost every critic in Europe called Arsenal a one man team, but that label only goes skin deep. Yes, we relied on Robin van Persie almost exclusively for goals, but he was also the player who kept hopes alive until the last kick of the ball. People fed off his positive example, and the team thrived because of it. No matter the score, the players pushed for the win. Alex Song would try his trademark through-lob. Theo Walcott would always get his head up to spot the run of RVP, while Sagna blazed a trail along the right flank. Thomas Vermaelen would puff out his chest and run the entire length of the pitch to get on the end of a last ditch cross. Despite the adversity at hand, the team pushed for the win. In many ways, they reminded me of the Invincibles. You could see it in their eyes, as confidence oozed from their play. They knew they could beat any team they came against, as long as they gave it their all. They had a game plan, and stuck to it until the end. Everybody knew what had to be done to win. Yes there were rough patches, but we scrapped our way to a third place finish. In a way, despite the disappointing start, that was one of my favourite seasons. Not because we finally spent some money, not because Arsène admitted his mistakes, and not because RVP stayed off the injury table. I was so proud of that team because despite everything the out of touch "pundits" harped, we were a team. We lost as a team, won as a team. That couldn't be said for most money padded toddler teams, including the champions of England. Everybody had a purpose, and no matter how insignificant some players seemed on the face of things, everybody was an instrumental piece of the puzzle.
Now, we may not have come anywhere near the success everybody was hoping for, but the players became galvanised to the point that they didn't care who was on the pitch, what the score was, or where they were. They played to win.
I struggle to compare our current side to those past, simply because we have very little continuity. Each year, our spine gets ripped out. Eventually, new players emerge to form the next "core" of the team, but, come next summer, all that hard work is inevitably undone. We're a side with no midfielder above 6 feet tall. We're a side with 4 strikers and 2 wingers. We're a side with world-class defenders who don't always click. Right now, we're disjointed. Sound familiar? Don't worry, it's the Arsenal way. It's only when the players settle down and find a frequency that works for everyone, can we expect to see the Arsenal of old. While it may take some time, I believe with this crop of players, success is easily attainable. They'll just have to work at it.
What we need to recover is the Arsenal spirit, and the rest will fall into place. We've shown patches of the "never say die" Gunner attitude, but the odd burst of confidence isn't enough. It needs to become the norm.
This is the team we need to become. Personnel can come and go, but the club carries on.
Victoria Concordia Crescit.