Why are Arsenal's seasons injury ridden?
2.50K //
07 Jan 2015, 02:12 IST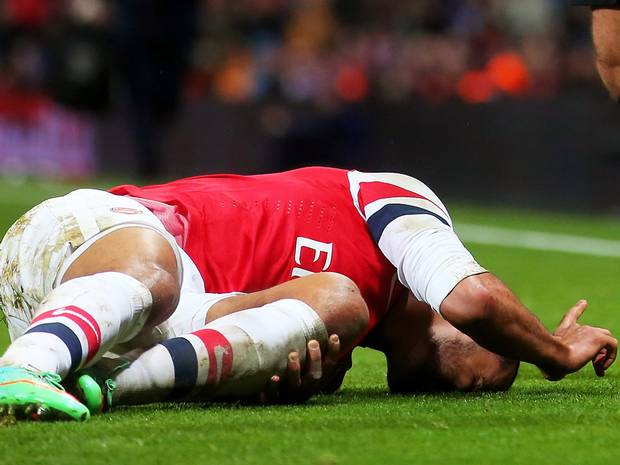 The question that is on everyone's mind. Every poor performance from the Gunners is blamed on injuries. But are these injuries just recurring bad luck? Or is anyone to blame? Arsene Wenger has said he doesn't know why Arsenal have had so many injuries this season and admits the club has picked up more than he expected.
A report by the Daily Telegraph reveals that Arsenal have lost players for more than 13,000 days to injuries over the past 10 seasons. Only Newcastle United have lost more. In the same period, Chelsea's player injuries have amassed 7,000 days, Liverpool 9,000, Manchester City 10,000.
What Arsene Wenger has to say
"Most of the injuries we have are joints problems and accidental problems and post World Cup traumatic injuries. The only muscular problems we had consistently were Arteta and Ramsey. Ramsey's is quite surprising because he's not normally a guy you'd expect to be out for this long. He's young, got good stamina, so it's really surprising and we really haven't found out why."
"We played two more Champions League games straight after the World Cup, let's not forget we played eight Champions League games from the start of the season and we weren't really prepared. We had to go Wednesday night to Besiktas and Saturday evening to Sunderland. It is demanding and it is the only explanation I have. But I cannot deny that we had more injuries than planned"
What I have to say
It was interesting that Wenger picked Ramsey and Arteta. Earlier in the season, Arteta and Ramsey suffered soft muscle injuries. Ramsey compounded his injury in an inconsequential Champions League match, suggesting that the intensity of the training was too great, thus making them vulnerable. It also comes down to the size of the squad and Arsenal don't carry as many players as their top four rivals.
Chelsea on the other hand manage it so well, like thay have done by giving their players mini-breaks this season. Jose Mourinho has been simple, clever and tactically effective in managing injuries and frankly, Arsenal have had fewer players affected by World Cup fatigue.
The Possible Saviour
Shad Forsythe, a member of Germany's backroom team, was brought in before the start of the season to counter this issue, but he will take time to settle in. He was so trusted by coach Joachim Low that at the 2010 World Cup, he used to deliver the final words in the locker room before the players took the field.
People try to look at a major reason to Arsenal's injuries but honestly, it's a lot of minor problems. There has to be a focus on giving players breaks and that's exactly what Shad emphasised on when he was with Germany.
However, I think over time Forsythe will make his mark. He has worked with Germany for 10 years and has been largely credited with keeping the team fit and healthy, before, during and after major tournaments. Before that, he worked at the US Olympic Training Centre in San Diego. Shad has also worked for EXOS, an American organisation who are influential in what the founder, Mark Verstegen, defines as "performance culture".
A certified strength and conditioning specialist, Shad will work alongside Tony Colbert in overseeing the first-team players' fitness and rehabilitation programmes.
The medical staff is good, they're experts in their field and they, on occasions tell Wenger to rest players and then it's up to the manager to decide whether to rest the player, because he is in the red zone and put someone else in. I don't feel that on every occasion Wenger entirely takes the right decision in this regard.
The most important thing is the way they carried out their pre-season training. It is a well known fact in conditioning, that if you train your players too much, first of all you increase the injury rate and secondly you develop short term fitness – in other words fitness that lasts for 3-4 months.
The failed revolution
20 years back, Wenger arrived in England, and everybody saw his techniques as revolutionary. But if you compare that with what people in the continent were used to in the late 90's, he was doing what people were already doing in Spain, Germany and Holland.
Arsenal's training ground was state-of-the-art when it was first opened in 1999 but since then Chelsea, Manchester City, Manchester United and Tottenham Hotspur have overtaken them by building more modern facilities.
The problem with most revolutionary people is that they are only revolutionary once in their life. So if you were revolutionary 20 years ago and from then on keep doing the same thing, then after 10 years you become average. In another 10 years, such as now for Wenger, you will have slacked off from the race.
So bad luck and co-incidences? I think not.