Why Chelsea must keep Frank Lampard
1.77K //
27 Dec 2012, 15:45 IST
575 appearances. 190 goals. 121 assists. 12 major trophies. 3-time Chelsea Player Of The Year. It's very hard to look past one man in the last decade or so at Chelsea. One man who has and is still vital to the Chelsea cause.
Frank Lampard, it was reported by certain newspapers (read tabloids), had been asked to leave the club in January. Though this is a could most probably be a highly false report, with Roman Abramovich around, there is always a possibility for such decisions. The English midfielder is just past his prime and his legs are slowing down. He isn't as injury-free as before and not as mobile either, but Frank James Lampard Jr, is indispensable if Chelsea want to have consistent success in the immediate and long-term future.
There is one recurring theme, on a player level, in football. As a player grows older, his on-field importance decreases but only to increase, exponentially, his off-field importance. At 34, Lampard is still not "well" past his prime, he has much to offer not only on pitch but more so, off it. In the post-match interview with Lampard and Luiz, when asked about his free-kick, Luiz said that it was the man next to him who had taught him how to take it. He said Lampard would spend quite some time after training teaching him and he himself would stay back to perfect his technique.
It is exactly that for which Lampard is essential now. Just take a look at United. With all due respect to them, they have players who are 38, 39 still starting matches, with no problem over contract issues or playing time. United stuck with Neville, Giggs and Scholes in the squad even when youngsters like Cleverley and Rafael were emerging. Over the period of two years or so, they eased these youngsters into the starting XI frame, while still holding onto their veterans. The aforementioned players have aided these youngsters by a big measure, passing on their experience and knowledge to them, while constantly motivating them and keeping them going. That is why now, – hate them or not – United have a fairly capable yet young squad. Lampard is, to put it simply, one of the nicest guys at Chelsea. He would be as interested in a youngster's development as he is in his.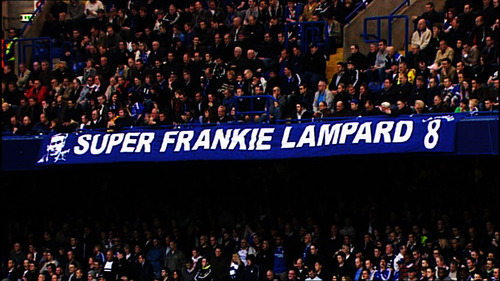 Moreover, come the crunch matches, we will need Lampard's composure and experience on field. Yes, we may be able to manage a few games but long-term success becomes a light further and further away in the darkness. We saw it last season with United, again. They had to call back Paul Scholes from retirement because the young players were crumbling under the pressure of having to put on their best, week in week out. We saw it this season in Chelsea; injuries to Terry and Lampard coincided with a slump and loss of form, eventually ending in Robbie's sacking and Champions League elimination. You think, maybe with Terry and Lampard, that game at Juventus might've been a whole different story.
If Lampard's lessons to Luiz resulted in that beauty of a free-kick, just imagine the wonders we'd see if say, Lampard is made to mentor Kevin de Bruyne or Josh McEachran in addition to the likes of Juan Mata, Oscar and Luiz. We'd have another Lampard or two, handpicked and guided by the man himself. And maybe, when he finally decides to hang up his boots, he could be given a coaching role at the club, still as much a part of Chelsea as ever.
I am being frank here (pun intended), he is not at his best. Yes, he is growing old, he is slower, he is losing the ball sometimes. But with Frank Lampard, whatever you don't have, you will always have his commitment and sincerity on field. What many don't notice is that Lampard has gone through a big transformation in the space of a season or two. In 2010-11, Lampard was still our chief playmaker, our ring-master. But with the arrival of Juan Mata and later, Eden Hazard and Oscar, he isn't so anymore. One and a half seasons ago, Lampard was a wonderful attacking player who certainly was not the best defender. In the space of a season or so, he has moulded himself and changed his game in such a way that he can still do what he does best for the team – our top scorer for last season – and shift the paradigm on a previously missing part of his game – defending. Remarkable, considering his age and the lack of playing time he's experienced.
All in all, Frank Lampard is Frank Lampard – indispensable. His impact and mentoring of the youth would mean a set future for us and if he can still put in performances like he did vs Villa and score belters like that, then, there is so much more left of Frank Lampard for the world to see.
We don't call him Super Frank, for no reason.