The reason why Manchester City is tactically inefficient
1.08K //
21 Dec 2012, 00:01 IST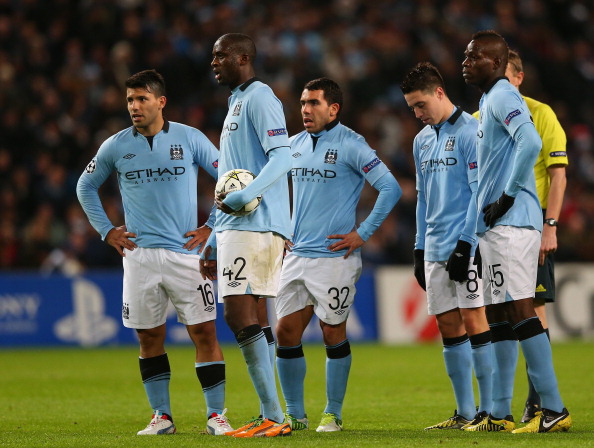 Manchester City are a wonderful team, there is no doubt about that. However, City finished last place in their Champions League group with a miserable 3 points by their name and no wins. There are tactics that they aren't getting right.
Against the weaker teams, Man City can afford to play Tevez, Aguero, Nasri and Silva together. However, this system runs into problems when up against stronger opposition who are very good on the counter attack such as Real Madrid, Borussia Dortmund and Manchester United. It is against these sides where I think Mancini's tactics fail his team.
Mancini, this season, has found it problematic to find a suitable formation with the right players against the top sides. The reason is because his team is set up to play one of two ways: to play a compact and defensive game, or a game based on fluidity and attacking intent. The problem is that it can't do both.
This is the heart of the problem which Mancini faces and the factor which has led to their poor performances in Europe.
Against the weaker teams, City must play at least three of Aguero, Tevez, Silva or Nasri, preferably all four of them. The reason is that in such games, the responsibility is placed on City to break down the other team's defensive block – which you would expect to be tight and compact. Naturally, City would have the majority of the possession and would be the team who are expected to win the game. Such a strategy is pretty safe to use as long as they are playing against a team who do not counter attack very well. The negative aspect of this strategy is that against teams who can counter well, City can be left exposed. A major reason for this is the way City are set up when aforementioned players start.
All four players play centrally. Aguero and Tevez are both strikers who play in the middle, while Silva and Nasri are not natural wingers and prefer to drift inside. Since this is the case, the only natural width City have is with both fullbacks pushing forward to support the play. It is essential that the fullbacks get involved in the attacking play, otherwise any team would find it difficult to create chances against a well organised defence. The reliance on the fullbacks to provide natural width can prove to be a problem. The reason is because when both fullbacks push forward, they can leave huge space behind them which can be exploited by the opposition players.
Manchester United recently took full advantage of the space to create two goals in open play. The fullbacks going up by themselves is not a problem in itself. It only becomes a problem if the rest of the team cannot compensate for this particular movement.
Silva and Nasri do not cover for their respective fullbacks' forays forward. It is left up to Clichy and Zabaleta to track back to defend themselves, even if they have advanced further up the pitch than Silva or Nasri.
Secondly, Yaya Toure is crucial to City's attack in that he often creates danger with his driving runs forward from deep areas, especially in transition. While this is all well, the harsh reality is that this means he leaves Barry isolated as the lone holding midfielder. In essence, the style of Toure often means that City's 4-2-3-1 shape becomes a 4-1-4-1.
People often debate whether Toure is better suited to a deeper role or a role behind the striker. The truth is that he can do both roles fantastically well. The problem is that he's asked to do both in the same game. Furthermore, this means that Barry is often forced to go forward with Toure in order to close up the distance between them and this leaves space in front of the two centre backs.
Also, Barry is not mobile enough to move laterally across the pitch. This is a crucial tactical error in City's shape, because it means that Barry cannot cover for the fullbacks when they've gone forward. If Barry was as dynamic as a Ramires, for example, City's 4-1-4-1 formation could work theoretically. Sadly, this is not the case. Mind you, Garcia and Rodwell are similar types of players to Barry, so they wouldn't make a tactical difference if they played instead of Barry.
The overall pattern seems to be that Mancini chooses to overload the middle and take numbers off the flanks in order to play four creative players all at once. While this system of play is not radical, it does require the players to do so. The problem City have – and is the ultimate problem Mancini has to solve – is how to bring some width to the system, so that they can expand when they have the ball, while keeping compact when they lose the ball. At the moment, City don't do either.
I get the feeling that City are not playing to the potential that they have. They have spent a great amount of money on players without a cohesive system in mind. Considering the money spent, City shouldn't be having so many – and consistent – tactical problems to deal with, and they should be dominating the league. Inefficiency in the transfer market is largely to blame and future managers (should Mancini not be in charge next season) will have the same problems as Mancini has: Too many players on highly paid wages that do not fit together in a cohesive system.
Having said all this, it still must be said that Manchester City are a great team with plenty of great players. They deserved to be champions last season. However, this season is different. Manchester United have strengthened and Europe taught them a lesson. In order to win the Premier League this season and to advance to the last 16 of the Champions League next season, Mancini has to find a way to incorporate his highly paid players into a better balanced system, otherwise he might no longer be wearing his blue scarf in the technical area of the Etihad Stadium.