Why Pep Guardiola is not the right man for Bayern Munich
1.55K //
25 May 2015, 12:05 IST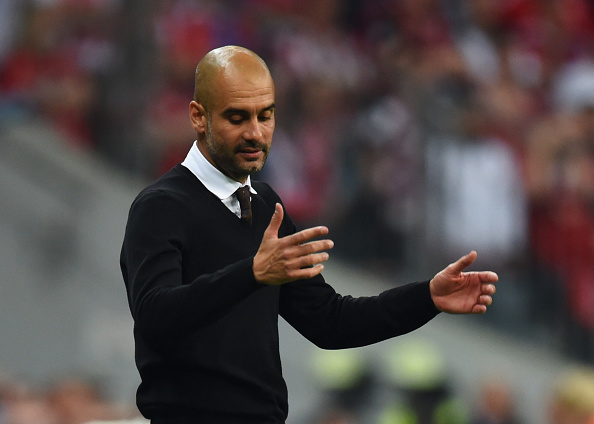 Probably the most prominent question in the mind of Bayern Munich fans surrounds Pep Guardiola's ability to take them further than where they stand today. But unfortunately, the lingering does not stop there. It turns from a question within, to a discussion with friends, to a heated argument and occasionally into a fight where they start questioning each other's loyalty to the club.
If you track 'Bayern' across various social media platform and follow the conversation of Bayern fans, then rest assured you would come across #PepOut or #PepIn every now and then. The real question of whether he is doing a good job at Bayern or not remains unanswered as these discussions tend to be heavily biased with most eventually going off topic.
After numerous discussions and tweets on social media, I decided to scribble my thoughts down with an intention to provide a thorough analysis of why Herr Pep Guardiola has a fantastic start at Bayern but, as time passed, showed he is certainly not the right man to lead the Bavarian giants to international glory (I know there is a slight possibility that this may haunt me in a year's time, but I am willing to admit I'm wrong when the time comes).
Regardless of where you stood on Pep's situation by the end of the first season, his second clearly showed that he was not the right man for the job anymore. And here's why I think so.
Bayern struggled against top teams in Bundesliga
It started off with the strangest transfers imaginable. One fine morning, the Bayern family woke up to the news that Real Madrid midfield star Xabi Alonso became a Bayern player. A team that is building and preparing itself to dominate Europe over the next few years buying an aging midfielder. On the other hand, a much-needed Medhi Benatia took weeks to be signed, that too only because of a series of injuries, which forced that transfer.
The season's first few weeks started with a loss in the DFL Super Cup to Borussia Dortmund, an unconvincing win against Wolfsburg, a draw against a weak Schalke and a goalless draw against Hamburg who were fighting relegation the season before. In the second half of the season, Bayern were humiliated by Wolfsburg, drew Schalke again (but this time at home), and lost to Borussia Mönchengladbach.
But all those details were insignificant with the Bavarians' high goal difference wins every now and then against the likes of Paderborn and Hamburg who were fighting relegation. Bayern may have won the Bundesliga, but did they really win it? The table below shows the club's performance against teams positioned 2-6 (who currently qualified to Europe) at the time of writing.
Augsburg has game in hand against Borussia Mönchengladbach and if they win, Bayern would drop down to the bottom. Bayern collected only 12 points out of a possible 30 with a negative goal difference! This illustrates the fact that Bayern's domination against inferior teams won them the league while it was bound to spell disaster in the KO stages of Europe's most prestigious tournament (and it did)!
Bayern did well only in the home legs in Champions League
Bayern had progressed to the semi-final, they all said. The club had reached two consecutive finals with Pep Guardiola, they all said. But the question on how Bayern reached would never be asked! The Bavarians played 6 away games, lost 3, drew 1 and won 2. It was their home form that rescued them until they were matched against a team that does not hesitate to punish you for every mistake you commit and to barely anyone's surprise they were eliminated.
What if Bayern weren't lucky enough to draw Porto in the quarter-final but rather drew Barcelona, the Champions League campaign wouldn't look all that glorious as it did for some would it? Once again, delusional score lines against AS Roma and Shakhtar Donetsk have kept the fans happy (I won't mention Porto because that game was really a show of power and not just about goals).
Guardiola's approach to the game since the press conference, after the semi-final draw, exhibited considerable respect for the opponent. While other managers who faced Lionel Messi said they will find ways to stop him, Pep said there was no way to do that. While in the second leg, as the match was still underway, Pep took time to go and praise Messi at half time. Some may deem that as a normal act considering the relationship between the two, but he could have waited till the game ended.
Some will blame injuries for Bayern's 3-0 loss to Barcelona but could that really be considered as a reason? I can understand not scoring goals, but Bayern's talented list of defenders were all present and, yet, if it wasn't for Neuer the game would have ended in the favour of their opponents.
Why did Bayern end up winning the home leg, especially when the starting lineup was exactly the same? We are aware that even a depleted Bayern is stronger than a full team Juventus and yet the Italians managed to eliminate Real Madrid with their best player missing in the first leg and barely having an impact in the second.
Guardiola's suicidal tactics have been the main reason behind Bayern's downfall against the bigger, more experienced teams. And since this has been going on for a second year in a row, it does not look like Guardiola is willing to change his approach as he enters his last year of contract.
Other factors contributing to Guardiola's bad campaign at Bayern
Three consecutive losses in the Bundesliga.
A 19-year undefeated run against Freiburg broken.
Four consecutive losses in all competitions (Dortmund in Pokal, Bayer Leverkusen in Bundesliga, Barcelona in Champions League and Augsburg in the Bundesliga).
Least number of points collected by Bundesliga champions since the 2010/11 season.
At various points throughout the season, you would feel that Guardiola has lost pragmatism because of his obsession with innovation, which led to him being tactically predictable. Bayern's management may not have a solid reason to let him go, and if they do it will cost them a lot.
It might just be practical for the club to let him see his contract through, but it's becoming clearer each day that Pep Guardiola is no longer the right man to lead Bayern to a global domination.