Will Lampard bid farewell to Chelsea?
1.07K //
28 Dec 2012, 15:21 IST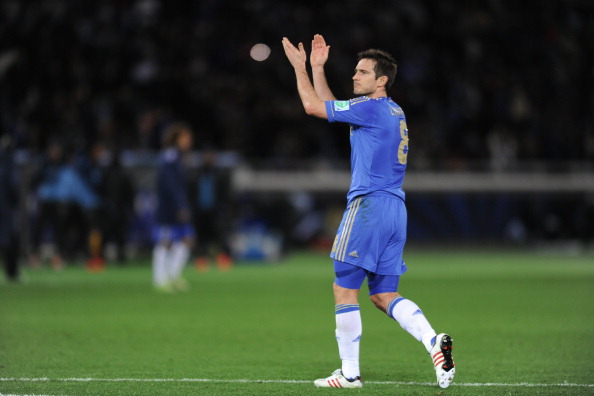 What name comes to your mind first when you think of a goal-scoring midfielder? Well, going by recent statistics, a lot of names come under that category, but let me narrow it down for you.  This midfielder has scored over 20 goals a season for five seasons running from 2005-2010, one of the best midfielders that the world has seen, known for his work-rate, range of passing and goalscoring ability. Probably one of the best products of the West Ham youth club, it's Frank "Frankie" Lampard. What defines him is his vision, his perseverance for challenging every half tackle, his grit to win the ball back and his undoubted shooting ability, an epitome of a hard-worker.
Frank has been one of the catalysts  for Chelsea's growing success from a mid-table side to title contenders; a regular on the team sheet, and an ideal role model for any budding midfielder out there. Such are his accolades, that many people believed that no club in the world would want to let go of him if he were to be playing for them.
However, ever since the arrival of Roman  Abramovich, the club has seen its highs and lows.
Abramovich is a shrewd owner who has the nose for sniffing an opportunity to gain the upper hand, and can resort to extreme measures to achieve success. Many people believe that if Chelsea are what they are today, a lot of the credit should go to the Russian's money injection. However not everything is as good as it seems.
Roman has been a keen observer of Chelsea FC and is not shy to let his feelings be known when his club are in a rough patch of form. End up on the losing side, and you might have to face the wrath of the Russian. Many reputed world class managers failed to prolong their stay at Chelsea under Roman's reign. The likes of Scolari, Hiddink, Grant and Carlo Ancelotti all failed to earn their owners trust, despite three of those names bringing in silverware during their stay.
Attention to detail, slick passing and movement and fear in the opposition is what Roman wishes to see. And he's ready to go to the extremes to achieve that.
The Chelsea old guard, which comprises of Terry, Lampard and Ashley Cole are all under immense pressure to perform at their very best. Be at your best or leave it to the rest, is exactly what defines the scenario in the Chelsea camp. And what appears to come as a shock for every football fan alike, is that Frank Lampard has been asked to find a new club in the January transfer window.
Lampard recently became Chelsea's all time top goal-scorer in the Premier League – a feat which is very often held by a striker. The very fact that it's being held by a midfielder speaks volumes about how important Frank is for Chelsea.
With their recent trend of sacking managers, and now with their attitude towards their senior players, one might start to think, is Chelsea FC trying to make a joke out of itself?
Chelsea meant the whole world to Lampard, a club he truly loves and wishes to end his illustrious career in. But if things continue to unfold in the same manner, the club is sure to have a tough time with their fans and players alike.
Speaking of their squad, they do have strength in depth, with Oriel Romeu, Josh McEachran(on loan to Middlesbrough), Kevin De Bruyne (on loan to Werder Bremen) and Essien (on loan to Real Madrid). But with Frank Lampard, you get that extra bit which a midfielder of today would lack.
If Frank is to leave Chelsea, I will lose the little respect I had for Chelsea FC.
If an important player wants to leave a club, it's normal. But if a club wants to get rid of you, then it obviously defines stupidity and disgrace.
Being a Man United fan, I immensely respect Lampard and feel sorry for him. It's safe to say that had he chosen Manchester United, none of this would have happened.
Frank Lampard, a year after he joined the club: I'm happy here, why do I need to think of other clubs when I get it all in London?
Frank Lampard now: I'm really happy here, anyone who knows me well would tell you how much I love playing for Chelsea.
Some things never change.