Wolves 1 - 1 Manchester City: 3 talking points from the stalemate at Molineux
435 //
26 Aug 2018, 11:27 IST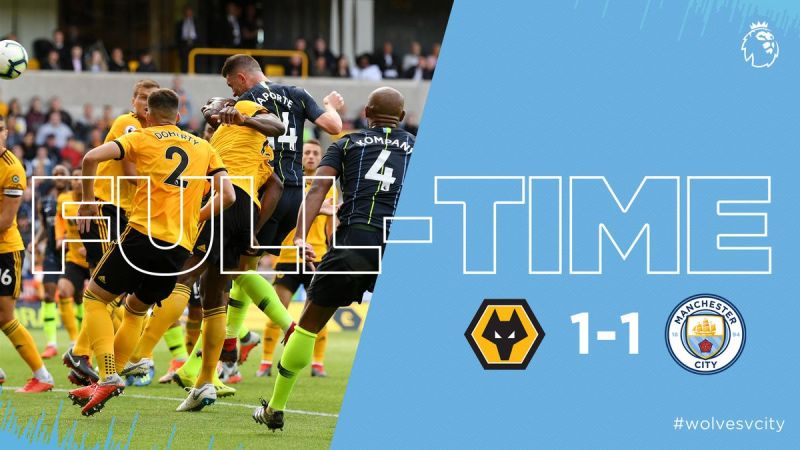 The winners of the Championship last season faced off against the defending Premier League Champion at West Midlands in front of a frenzied fanbase greeted by flares and cannons. It was the battle of the league newcomers against the league superstars.
The first half saw some eye-catching and enthralling football produced by both the sides. Though Manchester City was the better team in terms of possession and number of attempts, Wolves made life hard for the defending champions with some half chances of their own.
Costa was fantastic throughout the first half giving Benjamin Mendy a hard time on the right flank. 
Sergio Aguero's shot rattled the post immediately after a Wolves goal got disallowed for offside. Just a minute later Rui Patricio denied Raheem Sterling a goal with a stunning save which could be the best save of the season. Manchester City had few more chances, but some quality defending from Boly and Coady made sure that it was goalless going into the break.
City started the second half in the front foot with a quick free kick, and a couple of corners followed that but to no avail. The first breakthrough came when Willy Bolly met a Moutinho cross and bundled the ball home at the back post.
That goal made City relentless in their struggles for an equalizer, and after David Silva's shout for a penalty was waved off by the referee, City got their goal by a rocketing header from Aymeric Laporte. 
City kept the pressure piling up, but the Wolves defence and the goalkeeper were up to their task. In the last minute of the game, a Sergio Aguero free-kick hit the crossbar again and denied Man City crucial away victory.  
Here are the three talking points from a controversial draw at the Molineux Stadium.
---
#1 Controversial Wolves Goal
Wolves were outstanding throughout the match keeping Man City on their toes and never let the visitors looked comfortable. However, their only goal came from a Wily Boly header which looked like it hit his hand and went into the back of the net.
He also looked slight offside the moment after the ball hit the player before him. The linesman failed to call the handball which Pep Guardiola might regret watching it later on.