Zlataner: The French affair with Ibra!
5.36K //
11 Nov 2012, 13:40 IST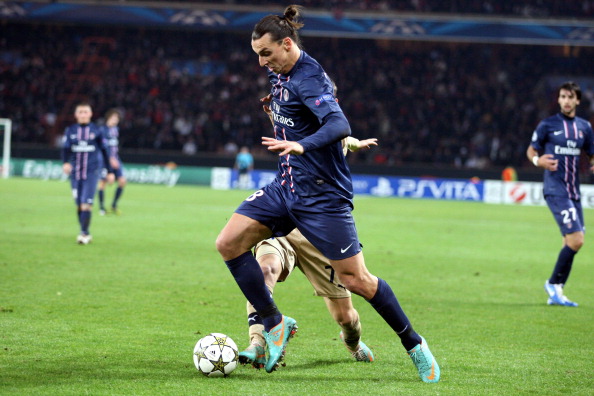 The media's obsession with the game is an old affair. And in a country like France, where the Ligue 1 (pronounced leeg – aan, please excuse my emphasis) has lost its zeal amongst other more popular leagues in Europe, it is no different. For once it seemed as if the French had a private party going on, playing a little game in their own backyard, from where the good lads would be picked by either the Northern or Southern neighbours for big bucks. But a superstar's arrival seems to have changed all that.
When the new high spenders Paris Saint-Germain bought Swedish superstar Zlatan Ibrahimovic from Milan, the media gurus in France breathed a sigh of relief. They, after a very very long time, after the likes of Zinedine Zidane and Eric Cantona, now had a footballer to focus upon, to "wag" about, literally. Ibrahimovic cost PSG an initial transfer €20 million for a three-year contract. The transfer, valued at €180 million in total, made him the most expensive player in combined transfer fees and the second best paid footballer in  the world behind Samuel Eto'o.
At 31, Ibrahimovic has still got a good few years of top flight football left in him. Back with Carlo Ancelotti at PSG, he is not making his transfer seem too expensive, as with ten goals from ten appearances in the league, he's already the top-scorer, and with key goals in Europe, Ibrahimovic is still the workhorse who the club is slowly building around.
For the French media, it is a faire d'affaires which has just started. When PSG recently lost to Saint-Etienne on Saturday, their first league defeat of the season, sports daily L'Equipe ran a peculiar headline creating a new verb in the French dictionary – "Les Verts Zlatanent Paris" (The Greens Zlatan Paris), the verb here being "Zlataner" which means "to Zlatan". Ironic, sarcastic, novel. Je zlatan, tu zlatan, il zlatan…please complete the conjugation for yourself, for I lost track of my French language skills long ago.
The verb, still hot from the oven, probably from the wacky imagination of some witty sports editor, still hasn't found a meaning but popular usage seems to be tending towards something of the sorts of to dominate, overpower or subdue or to have one's way. The meaning is quite justified for a player who dominates almost every match Paris play, with a virtuoso performance, signifying the will and sheer power and personality to stand out. Everybody in the French media is joining the Ibra bandwagon, from the major daily Le Monde to a dedicated satirical website called www.zlatanfacts.fr which makes Rajnikanth-styled-popular jokes, one saying Lance Armstrong wouldn't dare to inject himself with Zlatan's blood because he couldn't cope with it. The French do have a strange sense of humour.
The popular puppet comedy show Les Guignols de l'Info now features a Ibra puppet, a distinguished honour only reserved for political celebrities till now. On the show, in a particularly funny sketch, Ibra the puppet is shown to wear a perfume, Eau de Zlatan, made from concentrated Zlatan sweat.
Boy, that would sell. PSG could recover his monthly salary from sales alone, you bet. Zlatan that!
And this love affair is not limited to the media only, as the public are loving him too. They see a revolution of sorts (pun intended). The French league averages an attendance of 18,800 per game which has been 42, 800 for PSG till now, this season. French football definitely needed a figure like Ibrahimovic to get back into business, and it seems that they indeed are doing so. And meanwhile Ibrahimovic is scoring incredible kung-fu kick goals against rival teams, because he doesn't seem to care what the public or media thinks. I guess that for a big fish in a small pond, it is not a big matter. Aloof and moody, sporting a ponytail and being the cool, instinctive striker that he always has been. Go Ibra!