With Fortnite Winterfest 2022 finally here, players can enjoy the annual holiday update that brings them free presents, exciting new items to use in-game, and the chance to gain additional XP through special event quests. While some of these quests can be challenging for loopers, others are fairly simple and take very little effort to complete.
One of this year's Winterfest quests tasks players with finding slices of Pizza in the Cozy Lodge over the course of three days. Fortunately, this quest will be active for seven days in total, which means that players simply need to log in on any three days within that time period to complete this quest.
For those who are unfamiliar with the Cozy Lodge, this is where loopers can redeem free presents during Winterfest 2022 and it's located on the main menu of the Fortnite user interface. Completing the newly added quest of finding a Pizza slice amongst all of the in-game presents can be tricky for some.
Nevertheless, players who successfully complete this quest will be granted 16,000 XP as a reward. Here's a comprehensive guide on how to find a slice of Pizza in Fortnite's Cozy Lodge.
---
Fortnite Winterfest 2022 Challenge guide: Check the Cozy Lodge every day to potentially find a slice of Pizza
With Winterfest 2022 quests now live in Fortnite, players are trying to complete them as quickly as possible to receive XP and gain one account level up after completing all 14 quests. One of these challenges requires players to check the Cozy Lodge for slices of pizza over the course of three days.
To head to the Cozy Lodge, players need to click on the snowflake icon at the top of the menu bar, next to the 'Play' tab. You will then be taken to the Cozy Lodge, where players can generally open presents during Winterfest events.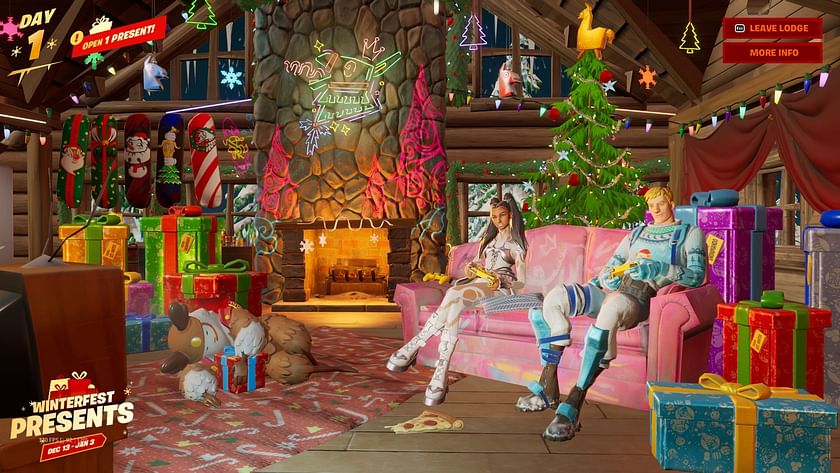 Once you're there, click on the presents to navigate towards the left or right of the Lodge to look for pizza slices. Fortunately, the very first pizza slice is fairly visible, located right next to the carpet on the floor. All you need to do is click on it and you will see the first phase of your challenge completed in the quest tab.
Since pizza slices are expected to spawn in random locations every day, it's crucial that you become familiar with the surroundings of the Cozy Lodge and explore every clickable item, ranging from the bells located above the speakers on the right side to the refrigerator on the left side of the room.
Once you complete this Fortnite challenge for any three days before next Tuesday, you will be rewarded with 16,000 XP on your account level and Battle Pass. As these are seasonal event quests, players must complete them on time, so they don't miss out on the additional XP that Epic Games is providing to its player base during the season.
While players continue to work on completing their quests, some of the event's challenges will grant free rewards, such as the Curling Iron emote that fans can obtain after playing with five friends across any game mode during Winterfest 2022.