Ring Luck Royales have become a staple fixture in Free Fire as this Luck Royale is incorporated into the game every few days. Fiery Ring is the latest addition, offering a new blazing hot-themed cosmetic collection. The Fiery Flash Bundle is the star of this show, while other items, including heads and masks, have also won players' hearts.
You will have to spend Diamonds to make spins to collect the cosmetics or the Universal Ring Tokens. The event also features an exchange section where you can use the tokens to redeem the items from the prize pool.
---
New Fiery Ring featuring Fiery Flash Bundle kicks off in Free Fire
Garena inaugurated Fiery Ring in Free Fire on September 23, 2023, and has scheduled its conclusion on October 6, 2023. The Luck Royale features the highly desired Fiery Flash Bundle, among other themed cosmetics. You can win these items by making the spins using Diamonds.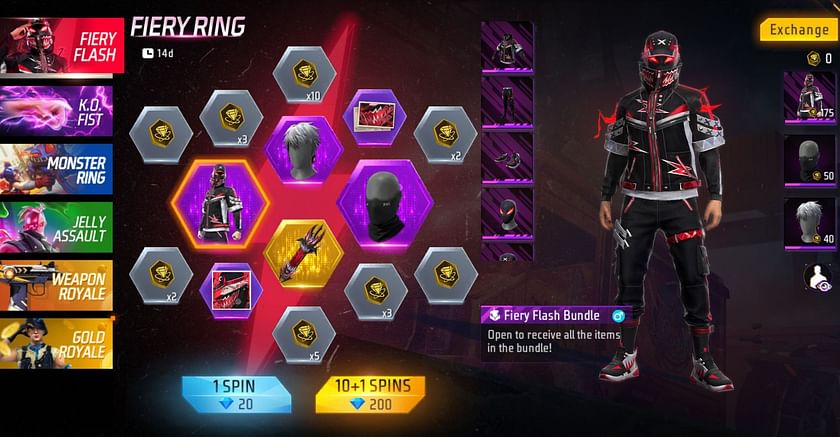 As always, a single spin is priced at 20 Diamonds, while the second option of 11 spins costs 200 Diamonds. You will randomly draw one of the following items:
Fiery Flash Bundle
Knitted in Darkness (Mask)
Ash Flash (Head)
Blazing Flash Skyboard
Fiery Flash Avatar
Fiery Flash Banner
1x Universal Ring Token
2x Universal Ring Tokens
3x Universal Ring Tokens
5x Universal Ring Tokens
10x Universal Ring Tokens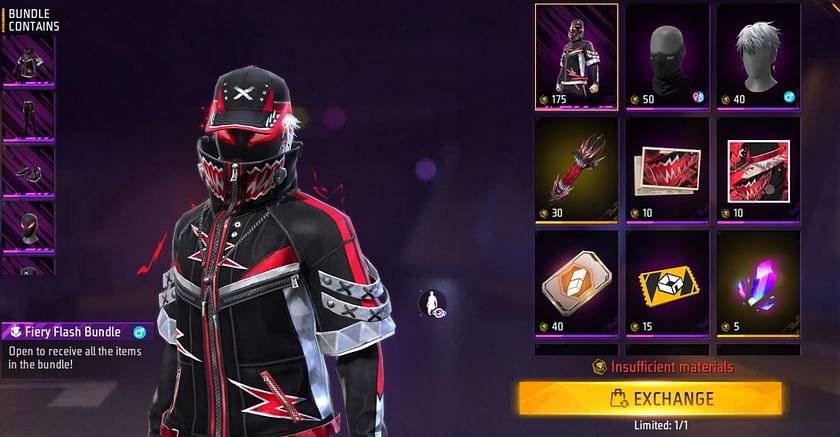 If you do not obtain the Fiery Flash Bundle, the door to the exchange section is open. You have even greater variety in this section, and the rewards up for the taking are:
Fiery Flash Bundle – 175x Universal Ring Tokens
Knitted in Darkness (Mask) – 50x Universal Ring Tokens
Ash Flash (Head) – 40x Universal Ring Tokens
Blazing Flash Skyboard – 30x Universal Ring Tokens
Fiery Flash Avatar – 10x Universal Ring Tokens
Fiery Flash Banner – 10x Universal Ring Tokens
Name Change Card – 40x Universal Ring Tokens
Room Card (1 Match) – 15x Universal Ring Tokens
Cube Fragment – 5x Universal Ring Tokens
Carnival Carnage Weapon Loot Crate
Crimson Heir (PARAFAL + Woodpecker) Weapon Loot Crate
FFWS 2021 Weapon Loot Crate
Royal Warrior (AC80 + SCAR) Weapon Loot Crate
---
Steps to collect Fiery Flash Bundle and other themed items from the new Free Fire Fiery Ring Luck Royale
Here are the instructions for you to follow: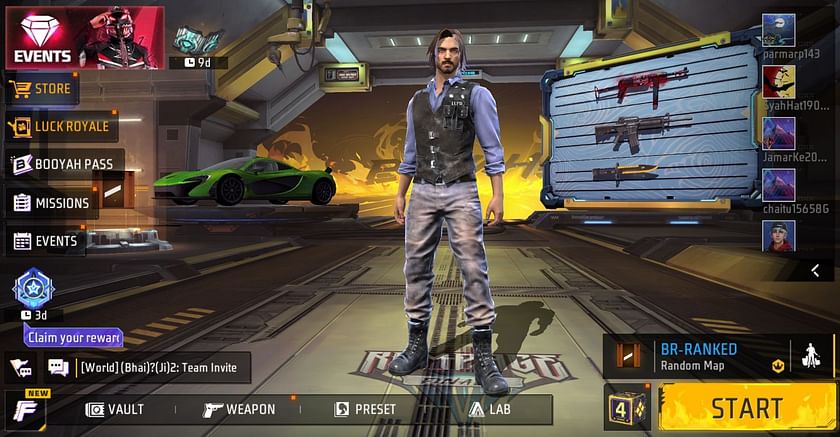 Step 1: Browse the Luck Royale section in Free Fire and select Fiery Ring from the list. To access this section, click the corresponding option from the horizontal menu on the left side.
Step 2: Make spins by clicking one of the two options: 1 spin for 20 Diamonds and 11 spins for 200 Diamonds.
Step 3: If you fail to receive the outfit directly, you may access the Exchange section by pressing the button in the top right corner. Select the Fiery Flash Bundle or any other reward and hit the exchange button.
You will be charged Universal Ring Tokens and will receive the select item that is permanently yours to keep.
---
How many Diamonds do you need to get Fiery Flash Bundle in Free Fire?
You may have to spend about 2,000 Diamonds on spins to obtain the Fiery Flash Bundle in Free Fire. You will likely receive the outfit or collect sufficient tokens in these many spins. However, this amount may vary depending on your number of Universal Ring Tokens.
Although the outfit's rarity and design outweigh the price tag, only those with spare in-game currency must participate in the Luck Royale.
Check out the latest Free Fire MAX redeem codes here.