Little Master Gloo Wall is the latest cosmetic addition available in Free Fire. This exclusive item is part of a dedicated Little Monster Wall event and comes accompanied by four other rewards. The skin is behind five locks, and you need to pick the correct one to receive it. The only catch is that undoing each lock requires you to spend Diamonds.
If you choose the incorrect one on your first attempt, it will disappear, leaving behind four items in the prize pool. Since the rewards do not repeat, increasing your odds of getting that Gloo Wall skin with each turn, the subsequent lock-picking cost increases. More information on the Little Monster Wall event can be found below.
---
New Little Monster Gloo Wall skin goes live in Free Fire
Little Monster Wall debuted on several Free Fire servers on September 20, 2023. Its Gloo Wall skin from the Glee Spree Brand is this event's highlight, and you may get yours by spending Diamonds until September 26, 2023.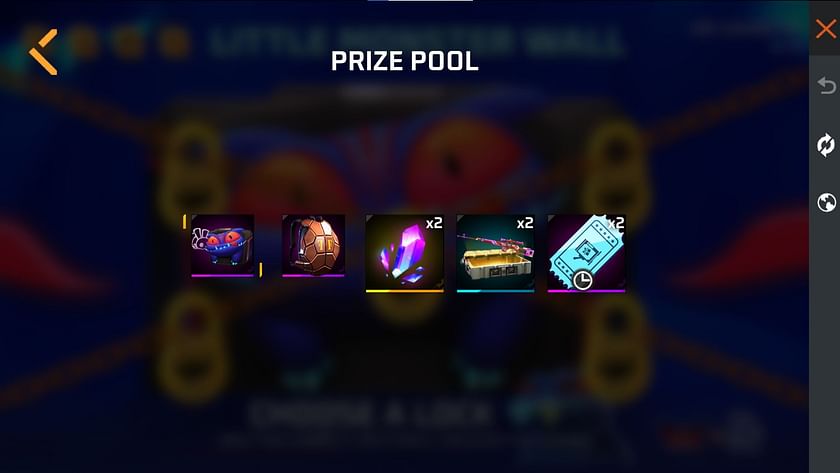 As mentioned earlier, when you pick the correct lock, you get Little Monster Gloo Wall. If you don't get this cosmetic on your turn, here are the other items you stand to yield:
Turtle Shell
2x Cube Fragments
2x Swordsman Legends (SVD + M60) Weapon Loot Crate
2x Luck Royale Voucher (Expiry date: October 31, 2023)
You will receive the Grand Prize after picking the final lock unless you're lucky enough to get it on your first four tries. The Little Monster Wall event guarantees you Little Monster Gloo Wall skin alongside four other items by spending a fixed number of Diamonds.
---
Steps to get new Little Monster Gloo Wall skin in Free Fire
You may follow these steps to collect the Little Monster Gloo Wall skin in Free Fire:
Step 1: Access the Diamond event section within the game by clicking the option in the top left corner.
Step 2: Select Little Monster Wall to access the new web-event interface.
Step 3: Use Diamonds to pick locks. Continue this process until you have received the Grand Prize.
Once you have received the Little Monster Gloo Wall skin, it is a permanent addition to your inventory. You can equip it through the vault.
---
How many Diamonds do you need to get Little Monster Gloo Wall in Free Fire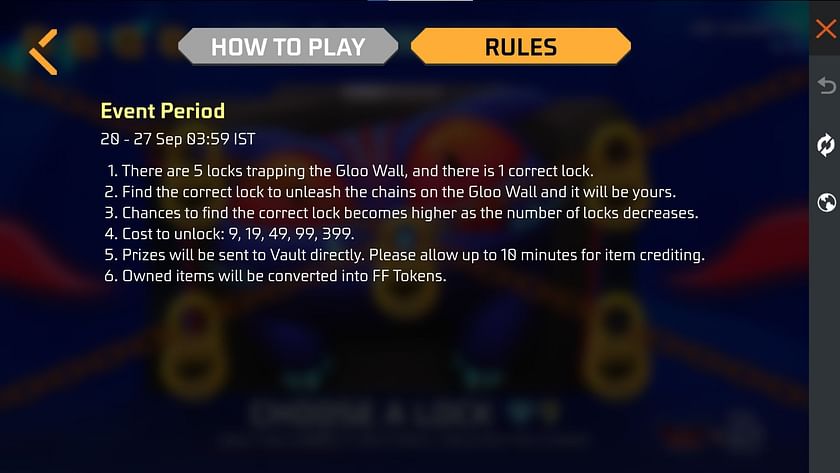 The cost of the Little Monster Gloo Wall stands at 575 Diamonds. The increase in its price every time an incorrect lock is selected has been accounted for here. The exact pricing details are:
1st lock - 9 Diamonds
2nd lock - 19 Diamonds
3rd lock - 49 Diamonds
4th lock - 99 Diamonds
5th lock - 399 Diamonds
You can take part in the Little Monster Wall event and avail yourself of the opportunity to claim an exclusive cosmetic, given that your account has sufficient Diamonds. That said, it's worth noting other Gloo Wall skins are available in the comparable price range within this game's store.
Check out the latest Free Fire MAX redeem codes here.
Edited by Soumyadyuti Ghosh