Free Fire MAX, developed by Garena, is one of the most popular mobile games, offering a plethora of features to help players test their limits on the battlefield and achieve higher ranks as they progress. Given the large player base, it's no surprise that competition in the game is intense, as players always look to rank up and be the best.
One of the salient aspects of Free Fire MAX is the ranking system, which the game has in common with other battle royale games like PUBG, BGMI, Fortnite, etc. Ranking is an essential part of battle royale games as it helps players understand their position among others and drives competitive spirit between them.
As players keep ranking up, their rewards also keep increasing. It is a good way for the developers to make more money, as players who are invested in the game and are willing to spend money to acquire diamonds will gain possession of powerful items from the store to speed up progression and keep moving up the leaderboard.
In Free Fire MAX, there are two ranked modes: "Ranked Battle Royale Mode" and "Ranked Clash Squad Mode." They can be unlocked by reaching level 8 and level 12, respectively. Once reached, players can grab the free tier rewards.
---
Ranking System in Free Fire MAX
Free Fire MAX has a seven-tier ranking system, with some having separate sub-tiers. Players must accumulate enough Rank Points (RP) to keep advancing to higher levels. Rank Points are earned by performing well and winning in ranked matches.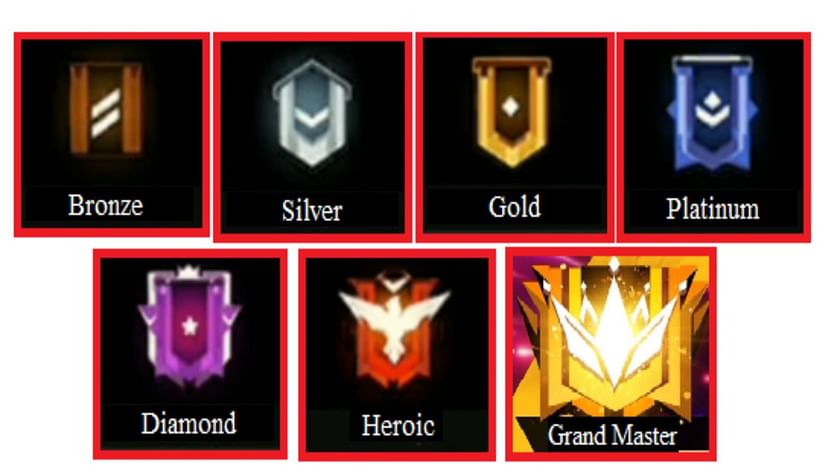 Players belonging to similar tiers are usually placed together in ranked matches. At the end of a match, points are awarded to them based on their number of kills, damage dealt, survival time, and final standing. When players earn 1,000 rank points, they are moved to the Bronze Tier. Here's a breakdown of the rankings in Free Fire MAX and the number of rank points required to move up:
Tier 1 - Bronze (1,000 points)
Tier 2 - Silver (1,300 points)
Tier 3 - Gold (1,600 points)
Tier 4 - Platinum (2,100 points)
Tier 5 - Diamond (2,600 points)
Tier 6 - Heroic (3,200 points)
Tier 7 - Grandmaster (Top 300 players regardless of rank points)
At the end of each season, players will receive different rewards and rank tokens based on the number of rank points received. Players will start at a tier lower than what they ended the previous season in when the next season begins.
For example, if players end a season in Bronze and Silver tiers, they will begin in Bronze tier 1 or 2. Likewise, if players end in Gold and Platinum tiers, they will go back to Silver tiers 1 and 2 next season, and so on. Though not many players might be happy with this, the rewards earned throughout the season will still be retained by players and won't be impacted when they move down a tier.
Check out the latest Free Fire MAX redeem codes here.