The Mystery Shop has returned to the Indian server of Free Fire MAX, allowing players to obtain exclusive items at massive discounts. It will be active for seven days, giving gamers plenty of time to acquire the items they want.
The Ramadan-themed event has brought two costumes as grand prizes — the Adventuring Hero Bundle and the Adventuring Princess Bundle. The former can be equipped with male characters, while the latter can be used on female characters.
---
New Free Fire MAX Mystery Shop has two prize pools, featuring Adventuring Hero Bundle and Adventuring Princess Bundle
The new Mystery Shop arrived in Free Fire MAX on April 7, 2023, and will remain open until April 13, 2023. It has two prize pools, one with the Adventuring Hero Bundle and the other with the Adventuring Princess Bundle.
Listed below are the items featured in these prize pools:
Prize pool 1
Adventuring Hero Bundle
M1014 – Green Flame Draco Token
XM8 – Destiny Guardian Token
Diamond Royale Voucher
Rampage Hyperbook Token
Drachen Fist Token
Dragon Gangster Bundle
Tease Waggor (emote)
Rap Swag (emote)
SKS – Hysteria
Desert Eagle – Merciless Necromancer
Gloo Wall – Netherworld Troops
Katan – Black Honor
Falco
Prize pool 2
Adventuring Princess Bundle
UMP – Booyah Day 2021 Token
MP5 – Platinum Divinity Token
Name Change Card
Incubator Voucher
Galaxy Hyperbook Token
Superstar Weekend Bundle
Kungfu Tigers (emote)
Shuffling (emote)
M60 – Spirited Overseers
G18 – Lava Lustre
Gloo Wall – Freezing Flame
Detective Panda
Moco Skywing
To start, players should head to the event and make a spin to receive a discount percentage. They will be allotted one of the two prize pools, which they can switch by spending 10 diamonds.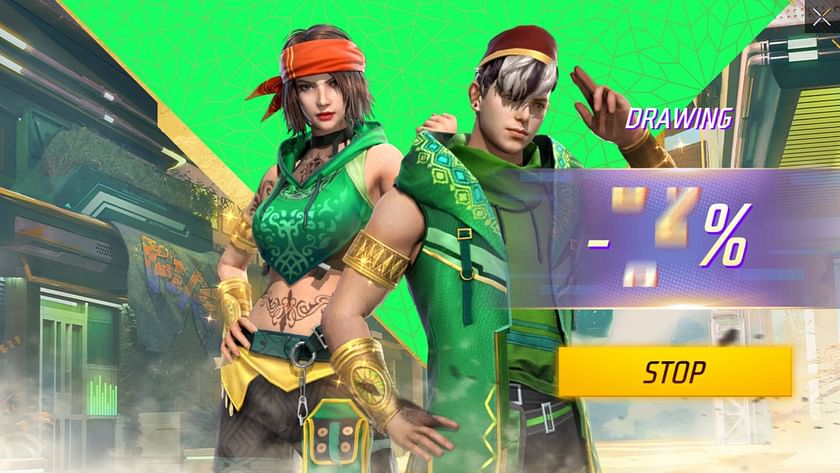 Once players are in the Mystery Shop, they can use diamonds to purchase items such as emotes, bundles, and more. After buying items worth a certain number of diamonds, the progress bar will fill and unlock the grand prize in the prize pool, which players can then purchase.
It is worth noting that players will be automatically switched to the other prize pool after purchasing the grand prize from the first one. They can then do the same thing, i.e., purchase items to complete the progress bar and unlock the grand prize.
---
Steps to access the Mystery Shop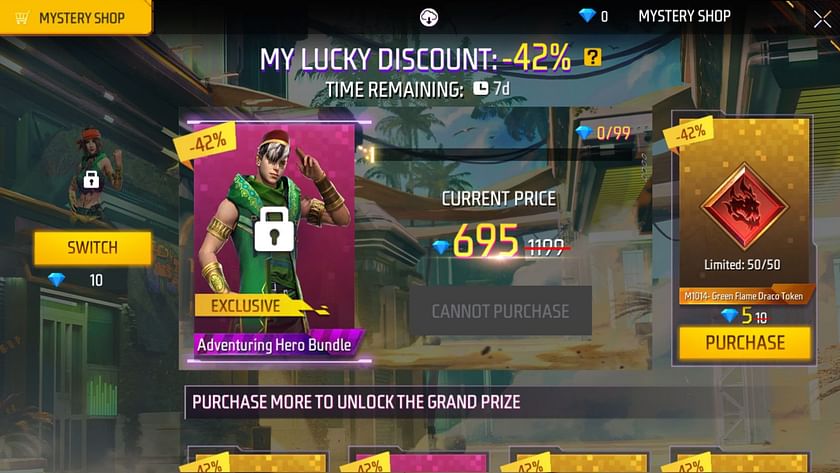 You can follow the steps below to access the Mystery Shop and get items at a discounted price in Free Fire MAX:
Step 1: Boot up Free Fire MAX on your device and tap the Mystery Shop icon on the main lobby screen.
Step 2: Make the spin to get your discount percentage. Upon doing so, click the "Enter" button to enter the event.
Step 3: You can finally start purchasing the required items from the event.
Note: The prize pools may vary from user to user depending on if they already own an item in the pool.
Check out the latest Free Fire MAX redeem codes here.
Edited by Rachel Syiemlieh