With the ongoing Glee Top-Up event ending in a few days, the next Hyperbook Top-Up for Free Fire MAX has been leaked. This particular event will bring the Runestone Hyperbook into the game, enabling users to get a range of exclusive rewards. It will be made available for the India, Singapore, and Bangladesh servers starting April 12, 2023, as revealed in the Emerald Storm calendar.
Interested users can purchase diamonds during the event's duration to get their hands on the Runestone Hyperbook. Read on to learn more details about the Hyperbook Top-Up event.
---
Free Fire MAX Hyperbook Top-Up event rewards include Teal Core Loot Box, Runestone Sickle, and more
The Free Fire MAX Hyperbook Top-Up event will start on April 12 and end on April 18. As with all other events of this kind, you can purchase diamonds to obtain the unique Runestone Hyperbook, for which you may be rewarded with the following items:
Teal Core Loot Box
Motorbike – Teal Rush
Teal Glow Backpack
Runestone Sickle
Katana – Whetted Runestone
Groza – Runestone Sigil
Earthly Force
Gloo Wall – Weathered Rust
It is worth noting that getting all these Free Fire rewards after obtaining the Runestone Hyperbook will not be free. You will have to unlock the regular pages of the Hyperbook chronologically using a specific number of tokens.
While getting the Runestone Hyperbook is free, the rewards you'll want to obtain will require you to pay a lot of diamonds. This is why you should only consider moving ahead if you have a significant amount of in-game currency.
---
Other events in Free Fire MAX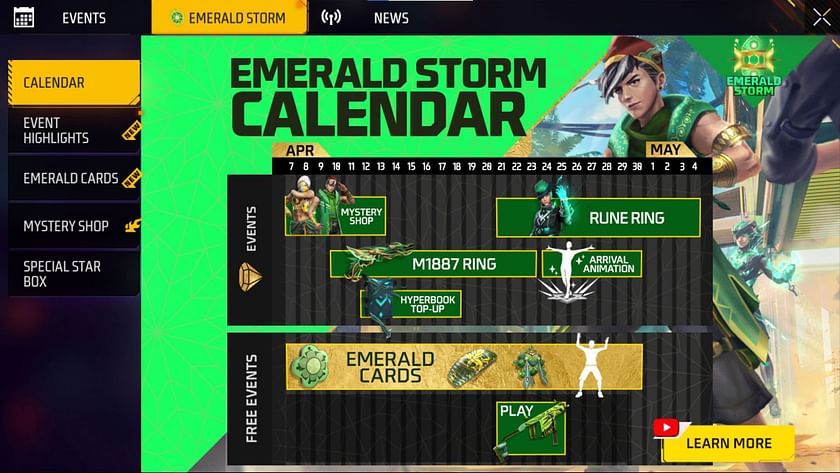 The Hyperbook Top-Up event is one of many events that Garena is set to release through the Emerald Storm celebrations. Other events present as part of it are as follows:
Paid events
Mystery Shop (April 7 – April 13)
M1887 Ring (April 10 – April 23)
Rune Ring (April 21 – May 4)
Arrival Animation (April 24 – April 30)
Free events
Emerald Cards (April 7 – April 30)
Play for free rewards (April 21 – April 24)
All of these events are designed to keep players engaged in the game while providing them with various themed rewards. Aside from this, the game will also feature a few regular events like the ongoing Play Rampage United.
Check out the latest Free Fire MAX redeem codes here.
Edited by Sandeep Banerjee