Free Fire is one of the most celebrated gaming titles in the battle royale industry. Featuring impeccable graphics and immersive dynamics, the game is greatly loved across the globe.
Garena has introduced the V Badge, which is one of the rarest and most exclusive items in the game. This badge is only accessible to those participating in the game's official Partner Program. The badge appears in-game next to the player's name and profile at the top right of their avatar.
This article discusses everything one needs to know about the Free Fire V Badge and Partner Program.
---
Free Fire V Badge: Everything you need to know
V Badge in Free Fire refers to the Confirmed Badge, which indicates that the owner is a professionally verified player by Garena. Professionals and YouTubers who compete in Garena LAN events and other big competitions have V badge made available on their profiles.
Creators who want to apply for the V badge must meet the specific requirements. Developers only consider those who have crossed these requirements and are offered badges and many fantastic rewards.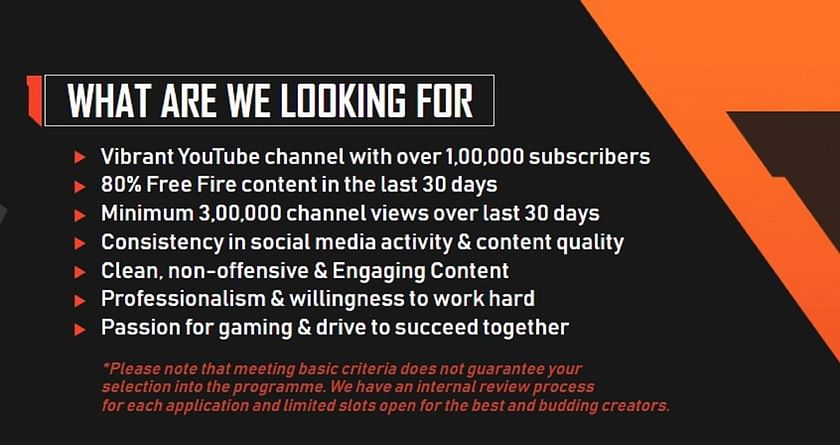 Gamers are required to have the following requirements to be able to register themselves in FF Partner Program:
YouTube channels possessing 1,00,00 subscribers
3,00,000 channel views and 80% content based on Free Fire within the previous 30 days
Consistency in terms of social media activity and content quality
Non-offensive, clean, and engaging content
Professionalism, willingness to work hard, passion for gaming, and a drive to succeed together
Apart from the V badge, gamers also receive many amazing benefits from Garena, which helps make more amazing content and reach a better audience.
The V badge also helps one gain respect in the gaming community for being a verified gamer associated with Garena. The badge features perks like financial compensation, which are handy for budding creators to grow their channels on YouTube and other platforms.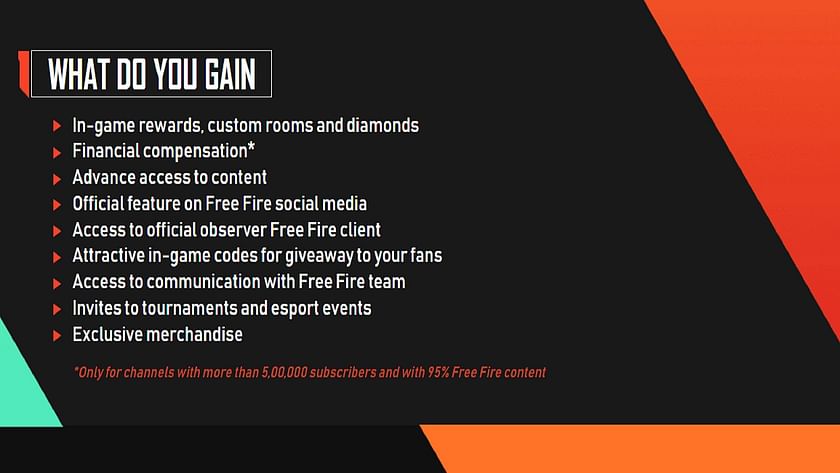 Here are the benefits that players receive from the Free Fire Partner Program:
In-game rewards - custom room cards and diamonds
Financial compensation (For channels with 5,00,000 subscribers and 95% Free Fire-based content)
Advance access to content and official observer client
Opportunity to feature on the social media handles of the game
Chance to communicate with the game's team
Special invites to tournaments and esports events
Exclusive merchandise and unique codes for giveaways
---
Guide to applying for Free Fire Partner Program
Gamers can use the following guide to apply for the FF Partner program:
Head to any browser on your smartphone or PC and browse the FF Partner Program's official website.
Open the website and click on the 'Apply Now' button.
Upon clicking the apply button, players will get a form where they must add their name, phone number, email address, channel link, etc.
Players are advised to fill out the form carefully without any errors and click on the Submit option.
After that, they can wait to receive an official response from the officials. Once the Partner Program criteria is met, gamers will receive the benefits.
Check out the latest Free Fire MAX redeem codes here.
Edited by Sijo Samuel Paul