Patrick Reed cannot avoid controversy. During his appearance at the DP World's Hero Dubai Desert Classic, he was mired in controversy from the beginning and it hasn't ended after the tournament's final shot.
Reed finished second to Rory McIlroy, but everything except for his performance is making headlines. A cheating controversy engulfed the golfer on the 17th hole - right in the middle of his charge for the top of the leaderboard.
Reed responded to the controversy on Twitter:
"Some people love controversy. But what happened on the 17th hole at the Hero Dubai Desert Classic was a non-issue. As the DP World Tour confirmed, I was not asked to identify the tree my ball struck (that was done by the ShotLink volunteers and several marshals), I was asked to describe the distinctive markings on the ball I was playing.
"I am looking forward to this week's Asian Tour Flagship event at Royal Greens."
He captioned it by saying that he thinks it's time to get back to golf.
It seemed as if the golfer and those involved made a mistake in identifying the ball. Golf analyst Brandel Chamblee said:
"When we zoom out and you see in these palm fronds, there are scores of golf balls in there and since most professional golfers predominantly play Titleist Pro V1s, it's reasonable to assume it's littered with Pro V1s in there."
Reed is suing Golf Channel and Chamblee for their statements. It would be the second defamation case he's levied against media channels recently as he lost a case against CNN for their anchors discussing where the LIV money comes from.
It seems as if there will be no punishment for any hypothetical cheating. Since Patrick Reed didn't even win, it's less of an issue.
---
Patrick Reed was mired in controversy from the start
The cheating incident (or non-incident, according to Patrick Reed) for the LIV Golf star was not the only issue he endured during the Hero Dubai Desert Classic.
When he first arrived, he went to greet Rory McIlroy, who completely ignored him. He turned and threw a LIV golf tee at the world number one before walking away.
Later, McIlroy defended his actions, saying he was shocked Reed thought it was appropriate after McIlroy was subpoenaed on Christmas Eve as part of the ongoing debate:
"I was subpoenaed by his lawyer on Christmas Eve. So of course, trying to have a nice time with my family and someone shows up on your doorstep and delivers that, you're not going to take that well. So again, I'm living in reality, I don't know where he's living. If I were in his shoes, I wouldn't expect a hello or a handshake."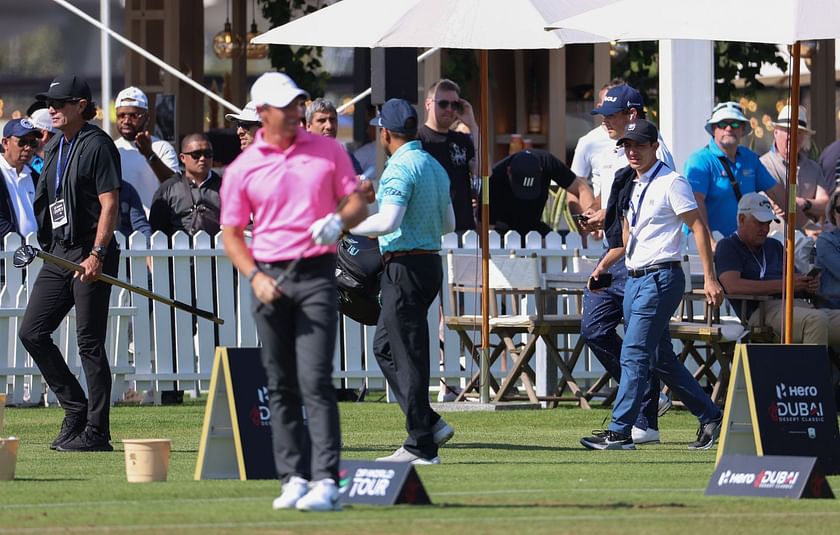 Reed responded by saying that McIlroy was behaving immaturely:
"Funny how a small little flick has turned into basically me stabbing him and throwing a tee at him. He saw me and he decided not to not to react. But it is one of those things. If you're going to act like an immature little child then you might as well be treated like one."
Now that this tournament is behind him, perhaps Patrick Reed can truly get back to golf.