2nd Sultan of Johor Cup: India stun Germany 3-1
994 //
12 Nov 2012, 18:40 IST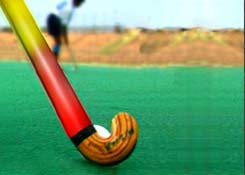 Indian Junior Men's hockey team continued their stellar run in the second Sultan of Johor Cup, stunning five-times world champions Germany 3-1 at the Taman Daya Hockey Stadium in Johor Bahru, Malaysia.
The match, which got off to a delayed start after the second half of the day's opening match between Australia and Pakistan (where Australia came back from a goal down to wallop Pakistan 5-1), resumed only after 90 minutes of rain delay.
It was India who wrested the early initiative with Akashdeep Singh launching an attacking move in the 5th minute but was unable to translate that into a goal.
Three minutes later, Mandeep Singh gave India the lead to put the onus on Germany to stage a fightback. Mandeep soon added another to his name as India assumed control over the match.
India continued their attacking ways and earned their first penalty corner in the first half but the goal was disallowed as the Indian players rushed towards the semi-circle even before the ball was pushed in for the short corner.
Mandeep nearly scored his third goal in the 23th minute when he came up with a superb solo effort, but poor finishing let him down.
Germany exerted pressure on India, forcing as many as three penalty corners towards the closing stages of the first half, but none of them yielded goals.
India led 2-0 at half-time.
Germany attacked with more purpose at the start of the second half and finally reduced the margin in the 41st minute when Alexander Schollkopf scored off their fourth penalty corner.
Barely had the two-goal deficit been reduced, Akashdeep Singh restored the two-goal cushion for India, finding the target in the 42nd minute to make it 3-1.
Germany pressed hard and earned two consecutive penalty corners in the 50st minute but to no avail. India thwarted the German attacks in the dying moments and racked up their second straight win.