A Look At The Heritage of Indian Hockey
2.23K //
12 Mar 2011, 00:27 IST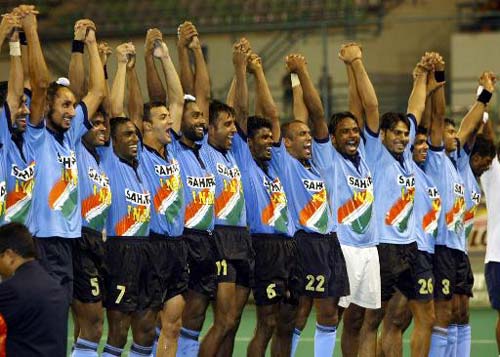 Right from the very beginning 'Hockey', presently the National Game, has been the part and parcel of Indian sports. Having its roots laid firmly in the Indian soil this game has brought many moments of joy and fame. India was once the best Hockey team having given birth to various legends like like Dhyan Chand, Balbir Singh, Dilip Tirkey and many more.
Whatever be the present scenario the name of Indian team has been written in golden letters on the sands of time. History of hockey in India: The first hockey club in India was founded in the 1885-86 in Calcutta. Soon after, similar clubs started in Bombay (present day, Mumbai) and Punjab as well. It was the Olympic Games in the 1928 in Amsterdam that India recorded a smashing victory in its debut game only giving a boost to the promising future that lied ahead. A record win of six straight Olympic gold medals by the Indian team, created from 1928-56 has till today been an unbreakable record.
The forming of Indian Hockey Federation (IHF), as the central administrative body, strengthened the game in the country. Today, though not as popular as cricket Hockey is one of the most viewed games in India. It is due to its sheer importance that this game has been made the national game.
If we take a look at the hockey players that India has produced so far, it is a long list of talented stars. But the name of two players that come to mind first, the two who left a long lasting impression in the field of hockey are Major Dhyan Chand and Dhanaraj Pillay.
Major Dhyan Chand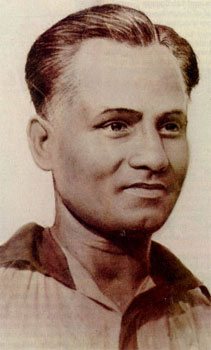 Born: 29th of August 1905 at Prayag (Allahabad), Uttar Pradesh
Known as the 'Hockey wizard' this legendary player had so many skills that he is considered to be the all time greatest player the game of Hockey has ever seen the world over. He had such skills and abilities that a lot of myths were generated about him. It is also said that once his hockey stick was changed in a match as it was thought that it had some stuff that attracted the ball. For his extra-ordinary services to the nation, the Government of India celebrates Dhyan Chand's birthday (29th of August) as National Sports Day. The Indian Postal Service issued a postage stamp in his memory, and the Dhyan Chand National Stadium at New Delhi has been named after him. He was honoured by the Padma Bhushan award by the Government of India in the year 1956.
Dhanraj Pilllay
Born: 16th of July 1968 at Khadki, a small town near Pune, Maharashtra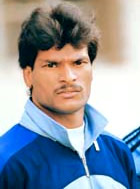 An extremely good forward with sharp attacking attitude, Dhanraj Pillay skills rose to become one of the most prominent Hockey players of the nation. He has been the only Hockey player who has participated in 4 Olympic Games (held in the years 1992, 1996, 2000 and 2004), 4 World Cup Tournaments (held in 1990, 1994, 1998 and 2002, 4 Champions Trophy Tournaments (held in 1995, 1996, 2002 and 2003), and 4 Asian Games (held in 1990, 1994, 1998 and 2002). He also acted as the Captain of the Indian Hockey team , and led the team to victory in Asian Games 1998 and Asia Cup Hockey 2003. Dhanraj was the highest goal scorer in the Hockey event at Bangkok Asian Games 1998, and has been the only Indian player to appear in the World Eleven team at Sydney World Cup Tournament 1994.  Due to his excellent performances and sheer dedication towards the game the government of India awarded him with the highest sporting honor of India, the Rajiv Gandhi Khel Ratna award for the year 1999-2000 and by the Padma Shri award in 2000.
Tournaments in India:-
A number of hockey tournaments are played in India. The most important among them are the following.
All India Hockey Tournaments
* All India MCC Murugappa Gold Cup Hockey Tournament, Chennai
*All India Gurmeet Memorial Hockey Tournament, Chandigarh
* IndianOil Surjit Hockey Tournament, Jalandhar
* All India Chhatrapati Shivaji Hockey Tournament, Delhi
* All India Aagha Khan Hockey Tournament, Mumbai
* All India Bombay Gold Cup Hockey Tournament, Mumbai
* All India Obaidullah Khan Gold Cup Hockey Tournament, Bhopal
* All India Jawaharlal Nehru Hockey Tournament, Delhi
* All India Lal Bahadur Shastri Hockey Tournament, Delhi
* All India Sanjay Hockey Tournament, Delhi
* All India K D singh Babu Memorial Invitational Prize Money Hockey Tournament, Lucknow
* All India Ramesh Chander Memorial Hockey Tournament, Jalandhar
* All India Liberals Hockey Tournament, Nabha
* All India Shri Shadilal Rajendra Lal Memorial Hockey Tournament, Shamli
* All India Indira Gold Cup Hockey Tournament, Jammu
* All India Beighton Cup Hockey Tournament, Kolkata
* All India G.P.Kuppuswami Naidu Hockey Tournament, Kovilpatti
What ever be the present condition of Indian Hockey, all the Hockey fans are still hoping that soon the team's performance will improve and it will regain its lost glory. All that is awaited is the birth of new talents. This land of Hockey legends is waiting for some young and fresh players that might soon change the face of Indian hockey and bring back its popularity among the masses..!