An evening with Sir Claudius
862 //
20 Dec 2012, 21:35 IST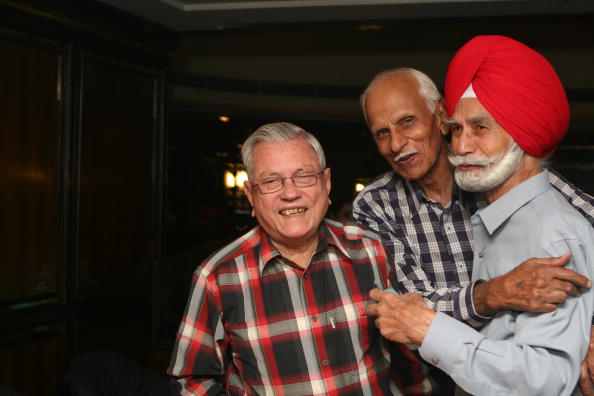 A month before the Sydney Olympics in 2000, I told my editor in The Indian Express about the idea to compile profiles of India's fascinating experience in the Olympic Games through the living legends of Indian sports. He agreed and gave me a green signal. I was off to Calcutta, my hometown, on a whirlwind tour of a city where you would easily find the 'Who's Who of Indian Olympians'.
The first name which came to my mind was Sir Leslie Claudius because of his staggering record in the Games – three gold and one silver medals. Upon reaching Calcutta, I called him in the morning on his landline (mobile phones were not so common and he didn't had one).
"Hello, my son." The voice of Indian hockey's famous legend still rings in my ear.
We decided that we'll meet at the Customs Tent House in Maidan. Mr Claudius played for Customs in the domestic Calcutta Hockey Leauge and in the Beighton Cup. Every evening, the legend used to drop in there for some chit-chat and cards.
Mr Claudius was very sober and punctual. The time was fixed at 5 PM. But I reached 30 minutes before the schedule and waited just opposite the Customs Club, which is stones throwaway from the East Bengal Club.
He was there, right on time on his scooter.
We had a long chat on everything from Dhyan Chand, Roop Singh, death of his younger son Robert, who died in a car accident in 1979, to his silver in Rome in 1960 which he said was the saddest moment in his life. "I never thought India will win a silver under my captaincy. I was so unlucky. I can't explain you the pain when we lost to Pakistan in the final," he had told me.
Though India regained the gold from Pakistan in Tokyo four years later, Mr Claudius had already retired from the game a year before the Games.
While he played cards, Mr Claudius sipped nimbu chai, served by one of the very old staffs at the club. They and his colleagues at the club used to address him as 'saheb' because he was an Anglo-Indian. But he spoke in Bengali and Hindi and mingled with them like one of those retired, senior citizens of the country who wanted to kill their evening time in addas and cards. He was a giant among the lesser mortals. But Sir Claudius never gave an impression to his much younger friends about him being a legend.
At times, his pranks and jokes made me believe that he was indeed a man who had a big heart. He never made anyone feel that he was not an ordinary man; a sportsman who had won three Olympic golds!
I remember him telling me that had it not been for football, he wouldn't have become a hockey player. He started off as a footballer with the then Bengal Nagpur Railways (BNR) in Bilaspur where he was born. He had played alongside India's football Olympian, Sahu Mewalal, who also was from Bilaspur till they shifted to Calcutta.
"Hockey was never my passion. I just slipped into the local team as a makeshift player. Football has always been my favourite game. But I guess destiny had written something else for me," he said.
"Sahu was a great footballer. We played so many matches together. It was one my most memorable experiences, having played together with such a marvellous footballer."
He never drifted away from that over our two-hour conversation. He flipped the cards and sipped chai and then would again nod his head and look into my face with a smile.
"My son, this is my life now. I spend the evening here at the Customs Tent. It's my second home. If I don't come here, I feel there's something which I've missed," he told me.
That lovely evening with the legend at the club will forever be etched in my memory.
Mr Claudius will be missed.